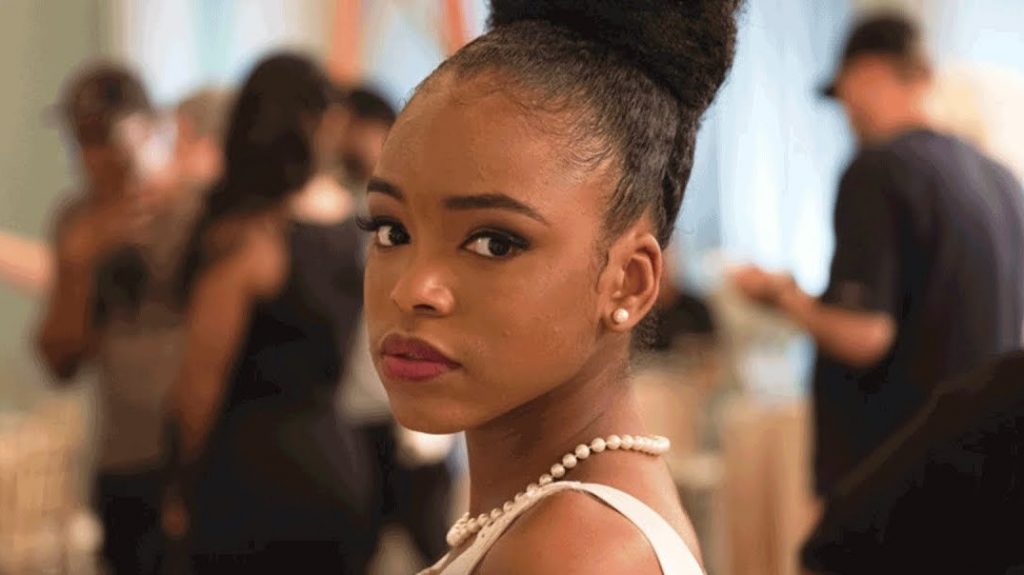 Hello World,
You better lick your fingers and affix them to your edges cuz  OWN's "Greenleaf"  was snatchin' edges like a hot pressing comb to trembling flesh! Yaaas, it was a sizzling Season 2 Finale to say the least! So let's get into this Greenleaf Finale Recap, Season 2 Episode 16: The Pearl…
Mother of Pearl…
My favorite "bad girl" of gospel Le'Andria Johnson starts the episode off crooning "Better days are coming."…"Sometimes it feels cold and you feel all alone, but better days are coming." Lady Mae is obviously reminiscing as she pulls out a newspaper clipping from when her deceased brother Uncle Mac won the Man of the Year Award earlier this year. (So I saw Uncle Mac aka GregAlan Williams at the Atlanta premiere of "A Question of Faith" on Monday night. He actually stars in the movie which comes out on Friday!")
She also takes a look at a mysterious deed and a double strand of pearls. Meanwhile, Bishop is having Maricel move all of his suits from their bedroom to Jacob's old suite! When Grace asks Maricel why is she moving his suits, she replies "Bishop told me to!"Also, behind Le'Andria is Charity singing background while Jabari watches.
Since it is finally time for the St. Josephine Society Debutante Cotillion that evening, Lady Mae gives the pearls to her granddaughters Zora and Sophia. "They were a double strand, but I had them separated so the two of you can share." She then explains that a pearl is created when a parasite creeps into oyster. "Something painful and out of place turns into something beautiful." She further explains how the kingdom of God is like a "pearl of great price." (I loved the parable about the "Pearl of Great Price" as a child. I guess the precious jewelry motif communicated how precious it is to have a personal relationship with God.) I wonder if she thinks some precious healing can come from the death of her brother. After all, he was a parasite who crept into the Greenleaf gravy train where he found his victims.
The bonding moment is short-lived though as Isaiah's car horn beeps from outside and Zora rushes out the door. Lady Mae correctly surmises that Isaiah isn't the best of boyfriends, but that doesn't matter to Zora, she tells Sophia. "The heart wants what it wants. Or else it does not care." "Selena Gomez?" asks Sophia the millennial. "Emily Dickinson," Lady Mae answers.
Lady Mae then calls her sister Mavis (Yes, Oprah finally shows up again!) and tells her she found their mother's pearls and that she has the deed for Mavis' club. "I think you still own it." Remember Mac supposedly took her club from her to punish her for trying to out him as a child molester! Wearing a regal blue taffeta gown that cinches at the waist and flairs out and her hair swept up in a bun high atop her head, Lady Mae is ready for the cotillion!
But that doesn't stop her from shutting down Kevin, yes, Kevin who has finally returned to the Greenleaf estate! "I came to apologize," he says. "I was wrong to leave like that. I was having difficulty accepting who I am, and what I've done. But I'm ready to be a father again." He asks her to tell Charity what he said, but she is not trying to hear his excuses. Still Kevin persists. "He's my son, and I have rights." Chile, Lady Mae asks Maricel to have Kevin's car brought to the front of the estate so that he can leave. Kevin calls Aaron. "I'm going to need your help," he tells him. I guess it's official now. Kevin and Aaron are a thing…
Lucy Pearl…
It's cotillion time! Time to get their dance on! But not before all of the preliminaries. The Greenleafs, all adorned in their finery, take family pictures and even Darius is included! And then Sofia and Zora, who are dressed in cotillion white and are escorted by Bishop and Jacob, respectively, are presented to society. Both girls boast grade point averages over 4.0! Then Bishop and Sofia and Zora and her father Jacob dance! Lady Mae, while standing next to Tasha Skanks, says, "Like a page in 'Southern Decor.'" Remember that Tasha saw Lady Mae's home in "Southern Decor" magazine and purchased artwork by the same artist whose artwork was also featured in Lady Mae's home? Then Lady Mae says, "I'm so glad it worked out. It always does." And then we see Tasha and Rochelle Cross exchange a look. Something is up between them for sure. Also, am I the only one who is wondering what happened to Bishop's Parkinson's Disease? He was moving with ease!
Speaking of Bishop, Rochelle slithers up to him and says, "Come dance with me. I was hoping for some quality time." What woman says that to a married man whose wife is nearby?! When Bishop offers to spend time with her at Calvary i.e. in a professional setting, she makes her intentions crystal clear.  "I'm interested in a more personal connection. I have been since day one. Even a man of God is still a man." Bishop wants her attention, but at the same time, he doesn't want to draw attention to them in a public setting so he kind of thwarts her advances.
Rochelle goes back to Tasha and reveals the secret I've been wondering about since she showed up. "I told that brother of mine there is more than one way to skin a Greenleaf. I don't care how we do it as long as it hurts bad." And there you have it. Remember I said in a previous recap that the caretaker who died in that church fire started by Bishop was supposed to have a daughter not a son. Could it be that Rochelle is that daughter and Basie was the younger brother? Obviously, they are siblings…I know this is TV, but they don't look alike at all, right?
Pearl Jam…
Once the presentations are done, Zora and Sophia are free to have fun or jam with their boyfriends on the dance floor. Jacob cannot help but smile as he watches his baby dance. He tells Kerissa that she should be able to hang out late for the evening, but he changes his tune once she tells him that she found a condom in their daughter's room. Actually, Jacob's mouth drops open. Although it may look like Zora and Isaiah better known to me as Gospel Chris Brown or Christian Breezy (what someone called him on Twitter LOL) are having a great time, they are actually bickering on the dance floor. Per usual, he storms off and Zora chases behind him. But this time, Sophia follows the two. She witnesses Isaiah hitting Zora and runs back to tell Jacob what happened! Jacob then runs up on Zora and Isaiah. After Jacob hits Isaiah, he says, "You better be happy I didn't kill you boy." Obviously, this is a spectacle in the middle of the cotillion. Then Zora runs off again and locks herself in the bathroom. Isaiah calls on her cell phone, apologizes yet again, promises never to hit her again and says, "Come away with me. I love you."
The only family member who didn't see the drama unfold at the cotillion is Charity who is on tour with Jabari and  Le'Andria, who replaced Tamela Mann for some reason. Anywho, after having an intimate dinner, Jabari and Charity are ready for more intimacy! The biblical kind. Yes, chile. With Alicia Keys and Maxwell singing "Fire We Make," Jabari and Charity are in bed about to kindle a fire of their own. But she is stalls. First, she tells him, she has only been with Kevin. And then she tells him she had an emergency Caesarian section which left a scar. She hesitantly shows him the scar. He kisses the scar and says, "Charity, you're beautiful." What a hottie he is!
Pearlie Mae…
Now that the cotillion is over, Lady Mae has other business she wants to address that evening. Since she's not coming home to Bishop, she probably has more free time. She goes to see her sister Mavis, who is packing. "You're moving?" "I've got an offer from an investor to open a club in Stockholm. You know white folk love their blues," Mavis replies.
Lady Mae wastes no time in telling her that she still owns the club, but Mavis tells her she doesn't want the club anymore. Lady Mae says, "I want my sister back." Mavis replies, "You can't have me." After telling her that she is her sister, Mavis says, "Sister. You don't know what that word means." She then tells Lady Mae to give the deed to Gigi. Honey, then Lady Male pulls out all of the stops. "I forgive you for James." She explains to her sister that she knows about the one time that James and Mavis got together. "Is that what he told you? I can't even count the times I threw your husband out of here." Wow. "He never loved you. He just thought you was pretty." Again, wow. Mavis says that James only wanted Lady Mae to build his church business. (Sadly, many churches are primarily businesses but that is not the case for all churches, thankfully. Just sayin'.) But you know my Lady Mae has the one-liners for eternity and back. " I think what he chose is a wife so what does that make you." Take that, take that!
Across town in the parsonage, Jacob and Kerissa have the blues too. "How do you want to handle this?" Kerissa asks Jacob the morning after the cotillion. Kerissa cannot understand why Zora, who was raised to have self-esteem, is accepting abuse from her boyfriend. "There is something inside of her that is broken or unfinished." But Jacob tells her that his sister Faith had a boyfriend who treated her in a similar fashion and she accepted it too. Sooo…We know that Mac had a penchant for light-skinned young girls, but then again, Faith wasn't very light-skinned. Could he have abused Zora in her formative years too?!!!
Jacob goes to Zora's room to check on her, but quickly discovers the teenager is gone! They later discover that Isaiah is gone too!
Also the morning after, Lady Mae shows up at the Greenleaf estate. Grace comes down the stairs and asks, "Have you been out all night?" Apparently, she drove around all night long after her meeting with Mavis. Bishop also appears and Lady Mae says, "I want you out of this house. You told me it only happened one time!"
Bishop doesn't even put up a fuss. "So be it," he says. Lady Mae asks Maricel to bring her breakfast to the sunroom. Bishop leaves and goes to the Biltmore Hotel, the site of the cotillion, where he is welcomed into the open arms of Rochelle!
What a season! What a season finale! Are your edges intact?!! Check out a snippet of the fiery finale below!
Thank you sooo much for reading my Greenleaf Finale Recap, Season 2 Episode 16: The Pearl and my other recaps so far. If you would like to keep up with OWN's "Greenleaf," and my recaps, please click on this link to subscribe to my blog 🙂!
Any thoughts?
Comments
comments