Hello World,
My favorite "bad girl" of gospel Le'Andria Johnson is back with her new album "Bigger Than Me," which is available where you buy music as of TODAY! On behalf of RCA Inspiration, she debuted singles from her album in the packed out The Gathering Spot in downtown Atlanta last night, and I was blessed to be able to hear her new music in person. Another gospel great Marvin Sapp said something on his "Unsung" episode on Sunday that I've been thinking about since then. He said he is not sure if he wants any more hit songs because they were birthed out of painful experiences. Well, Le'Andria may have at least one hit on her hands because her song "All I Got" is dedicated to her brother Gregory A. Johnson Jr. , who passed away last November. In addition to singing "All I Got," she also showed the video for the single. Check out the video of her singing a bit of "All I Got."
Below are a few pics I took as the video was screened for the audience…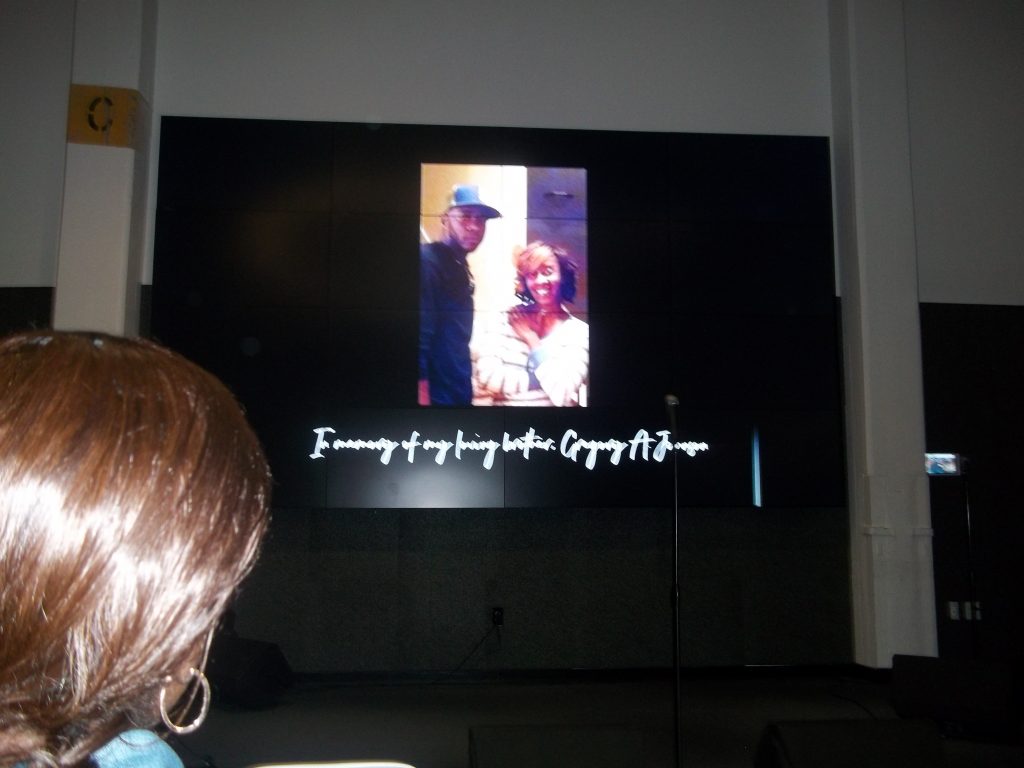 That is a picture of Le'Andria and her brother. Apparently, the video, which was directed by Derek Blanks,  was filmed on his birthday….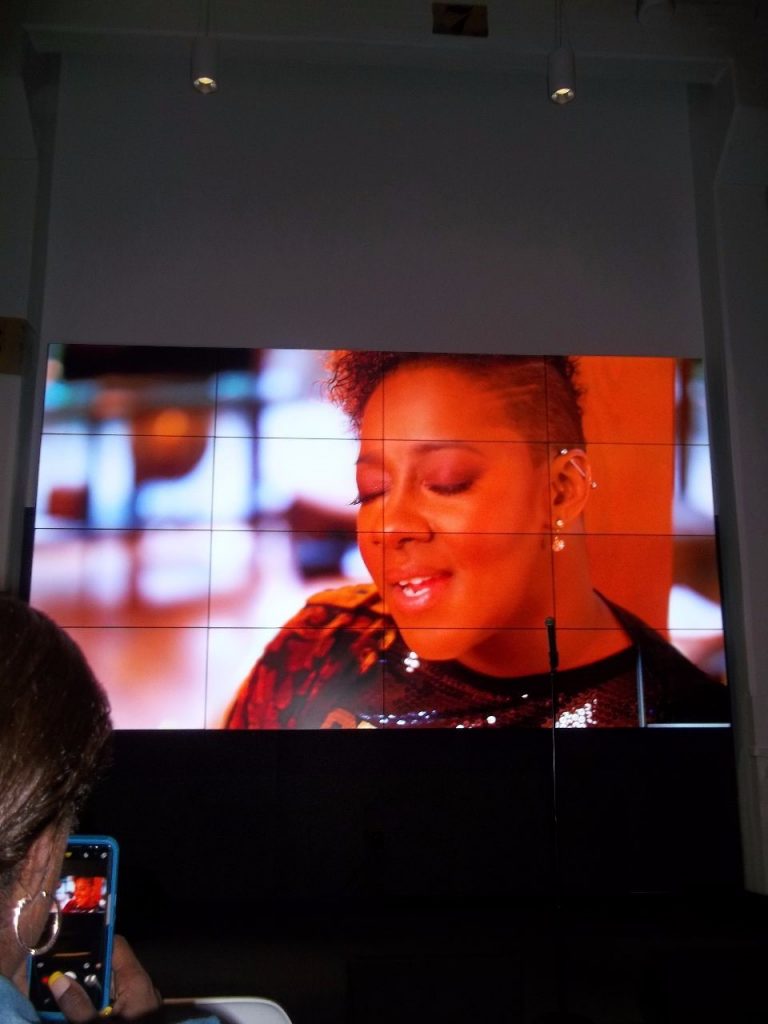 Saanging'…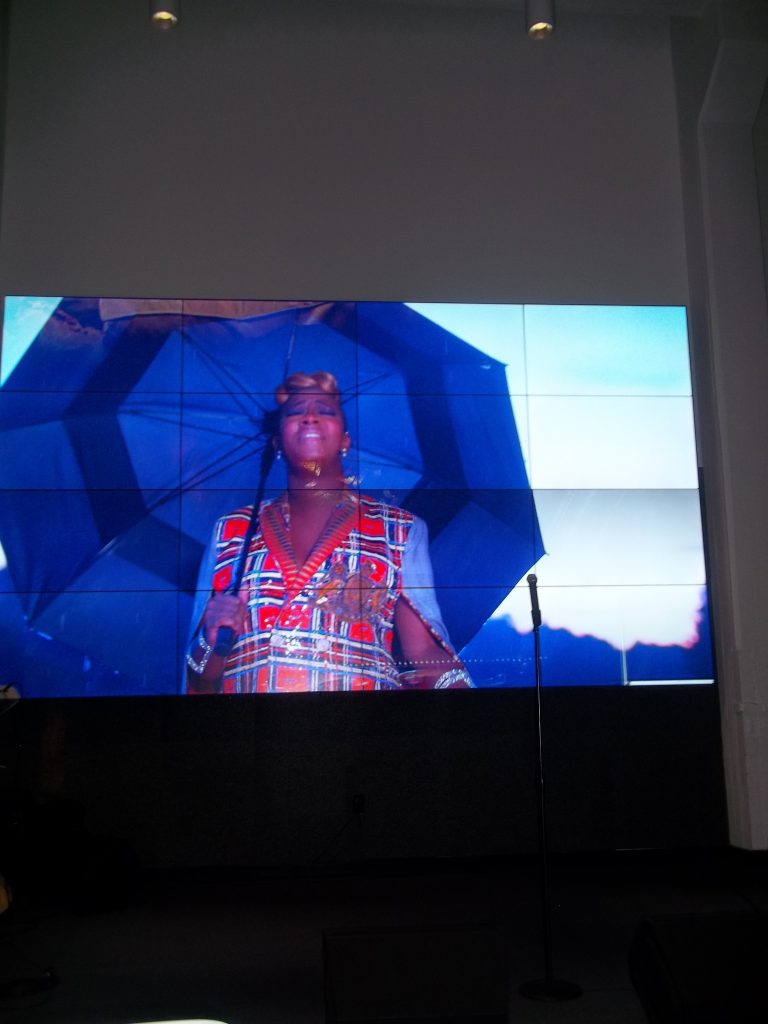 Sometimes you have to sing in the rain…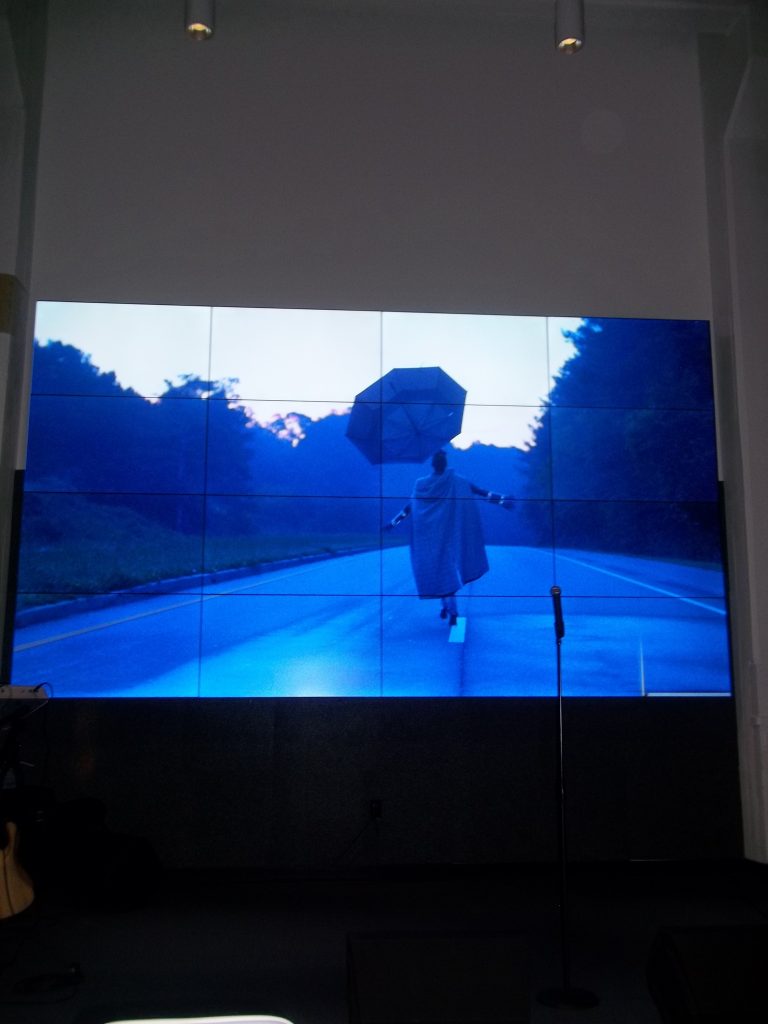 The last shot was beautiful…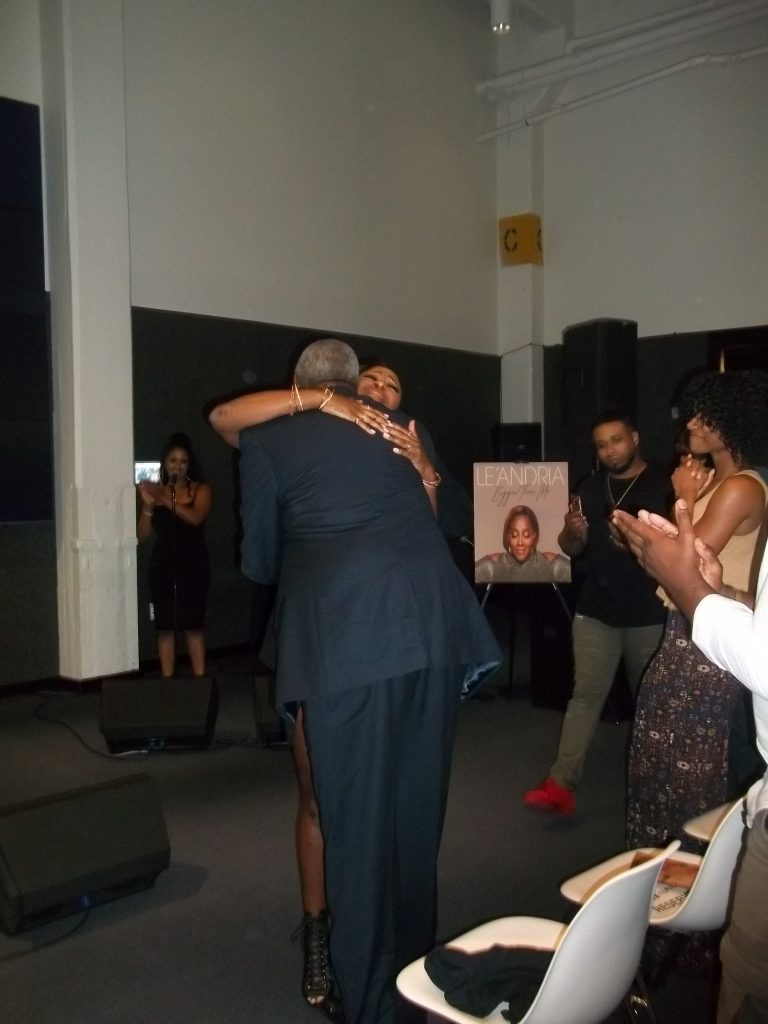 To her surprise,  Le'Andria's father Bishop Gregory A. Johnson Sr. was in the house. I'm sure it was an emotional night for both of them, but she had everybody laughing when she said she wouldn't have worn her short shorts if she had known her father was going to be there. I can relate! (And I still I want to know why I'm the only PK I know who can't sing especially when my father can 🙁  )
Another song she sang "Gone Too Long" is about when you've been gone too long from the presence of the Father. Every once in a while, I get rebellious with God and walk away but thankfully, I haven't got gone that long. And I'm diligently praying for those in my life who have been "gone too long" from God. She sang this song beautifully, but when she invited Zebulon Ellis and her brother Michael to sing the song with her, babaaay…Take a listen for yoself…
And of course, the title cut from "Bigger Than Me." See below….
Le'andria's producers Chuck Harmony and Claude Kelly of Weirdo Workshop were introduced as well. They have worked with Bruno Mars, Rihanna, Ludacris, Ledisi and legends such as Michael Jackson and Whitney Houston. Claude told the audience as they are usually "locked in a studio," they never get the opportunity to see how audiences respond to an artist in person. He also said that when Le'andria came to their location in Nashville, she had to walk by plaques commemorating all of the artists they have worked with in their career. When she walked by Whitney Houston's plaque, she told them that was what she wanted. "It wasn't about her fame though. It was about the effect that a positive female voice can have on generation."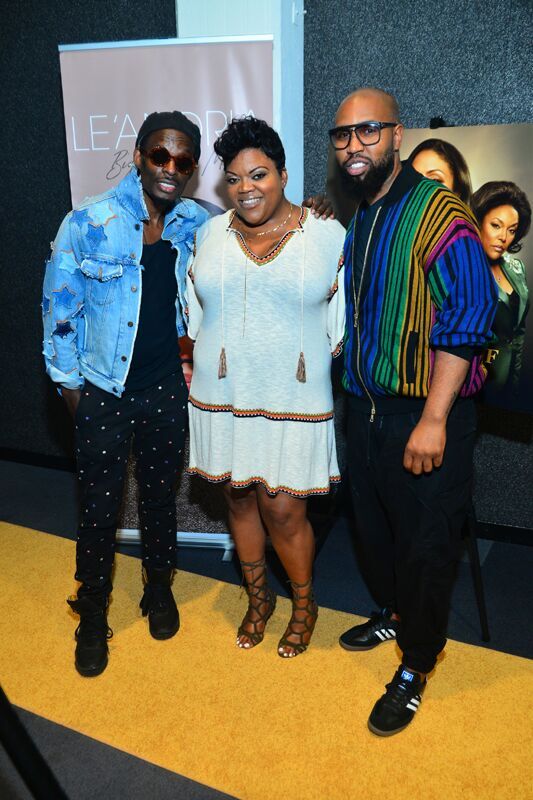 Chuck and Claude with Gabby Jones of RCA Inspiration….Photo Credit: James Pray for RCA Inspiration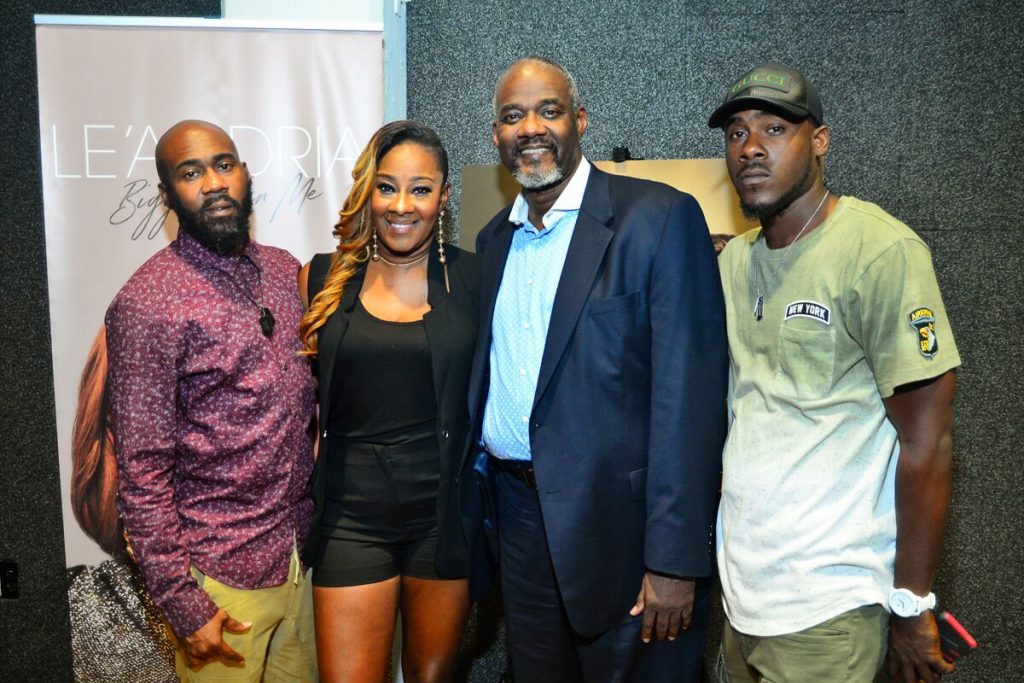 Here is Le'Andria with her father and brothers…Their genes are strong! Photo Credit: James Pray for RCA Inspiration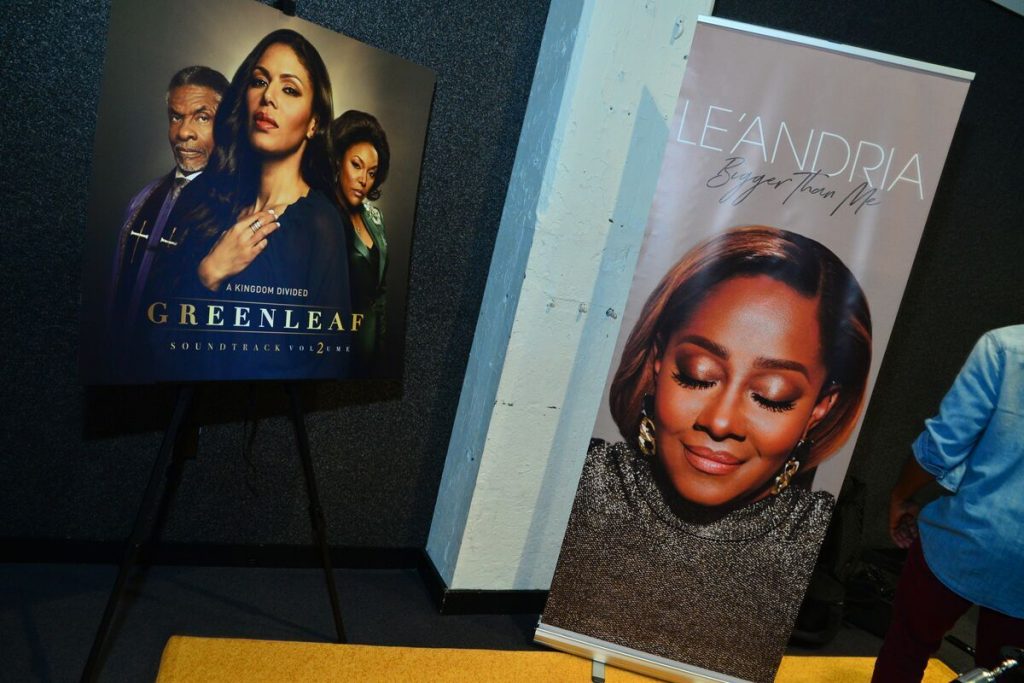 And for my OWN "Greenleaf" watchers, Le'Andria is on Volume 2 of the "Greenleaf" soundtrack!!! Photo Credit: James Pray for RCA Inspiration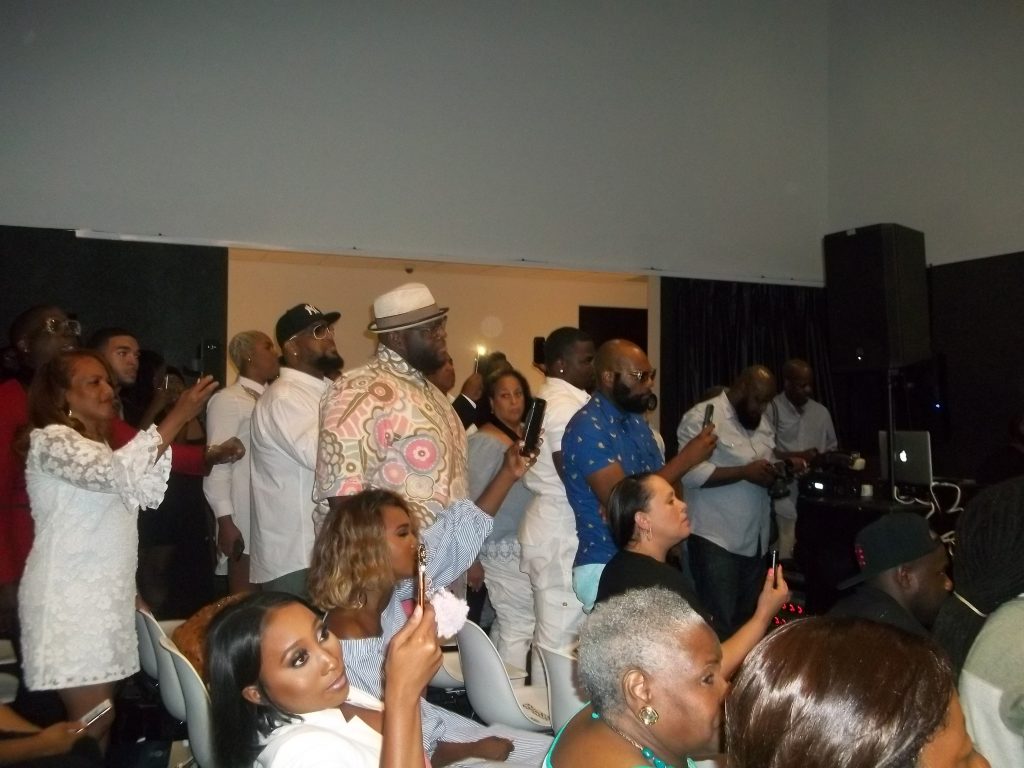 Judging by how folk responded to her performance last night, Le'andria  new album "Bigger Than Me" is fire! Get that!
Any thoughts?
Comments
comments