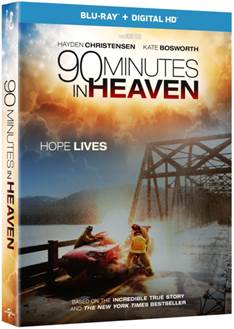 Hello World,
I wish I could craft eloquent words to encapsulate all that I feel about the terrorism that unfolded in Paris last Friday. As many have said, the best thing to do right now is to #PrayforParis and pray for our world leaders as they come together to address these heinous crimes of inhumanity. It disturbs me that "man's inhumanity to man" knows no boundaries! As pessimistic as this may seem and it is certainly not a reason to be passive, but we live in a fallen world where there will always be "wars and rumours of wars." It is only in Heaven where there will be "no more death or mourning or crying or pain, for the old order of things has passed away."
Below is a description of one man's encounter with Heaven…
Based on the true story that inspired a New York Times best-selling book written by Don Piper and Cec Murphey,  "90 Minutes in Heaven" is a thrilling and touching account of a struggle for life that is nothing short of miraculous. The movie is in Digital HD as of TODAY and will be in Blu-ray with DIGITAL HD, DVD and On Demand on December 1, 2015, from Universal Pictures Home Entertainment. Both the Blu-ray™ and DVD versions are filled with inspiring bonus features that take audiences behind the scenes of "an intimate story of survival and faith" (Movieguide®).
During the 90 minutes he is declared dead after a traffic accident, Don Piper experiences love, joy and life like he's never known. But when he finally wakes in the hospital, Heaven's bliss is replaced by excruciating pain and emotional turmoil. With the support of his family and community, Don clings to his faith and fights to recover the life he's lost. Featuring Hayden Christensen and Kate Bosworth, 90 Minutes in Heaven is an emotional and inspiring story of perseverance that will bring hope and encouragement to all who see it.
Hayden Christensen (Star Wars: Episodes II and III, Shattered Glass) and Kate Bosworth (Still Alice, Blue Crush) carries a film that Movieguide.org calls "Powerful and inspiring!" and what critic Joe Leydon of Variety describes as, "…more bluntly realistic than many other faith-based dramas in its depiction of an ordeal that likely would challenge the faith of even the most devout Christians." Available in time for the holiday season, "90 Minutes in Heaven" is a gift of comfort, hope and encouragement for when we don't have the right words to say.
BLU-RAY and DVD BONUS FEATURES
Meet the Real Pipers — The Pipers discuss how faith in the midst of crisis brought their family together.
The Making of 90 Minutes in Heaven — Stars Hayden Christensen and Kate Bosworth, along with the cast and crew, share their experiences in filming 90 Minutes in Heaven.
Giving Films — Learn how Giving Films is giving back
Below is former NFL Coach Tony Dungy speaking about the film "90 Minutes in Heaven."
If you want to be entered into a random drawing to win a free copy of a "90 Minutes in Heaven" DVD, click HERE to subscribe to my blog and receive an email whenever I post AND leave a comment on this post! I have 4 DVDs of the movie! The drawing ends on Friday, Dec. 4!
Any thoughts?
Comments
comments