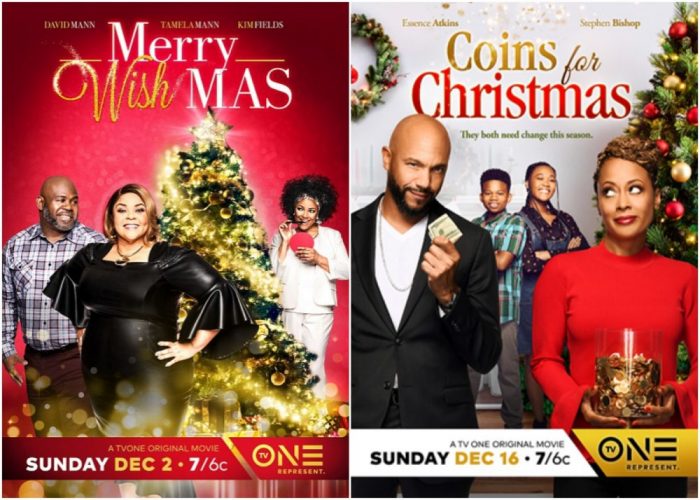 Hello World,
TV One brings the holiday spirit with premieres of two new original movies MERRY WISHMAS, debuting Sunday, December 2 at 7 p.m. and  COINS FOR CHRISTMAS, premiering  Sunday, December 16  at  7 p.m./6C!
MERRY WISHMAS , starring  Tamela Mann (The Manns), David Mann (The Manns), Kim Fields (Living Single), Towanda Braxton (Braxton Family Values), Chrystale Wilson (The Players Club) and  Elizabeth Omilami (Madea's Family Reunion), revolves around successful businesswoman Kenni (Tamela Mann) who hasn't returned home to the quaint town of Columbia, South Carolina in years. She's hoping for a peaceful visit when she finally returns home, but unresolved family issues threaten to make the Christmas holiday not so bright. She's reacquainted with Jessie (David Mann), an old high school friend with a fledgling wellness facility – the Beverly Living Center. She's instantly thrown into the lives of the center's residents and meets a host of colorful characters. When Jessie is faced with losing the Beverly Living Center, Kenni steps in to try and help save it. Family conflicts and relationship woes, however, threaten Kenni's efforts. It looks like only a miracle can save the center and mend broken relationships in time for Christmas.
MERRY WISHMAS  is directed by veteran actress Terri J. Vaughn and features a cameo appearance by rap artist  Yung Joc , best known for popular singles "It's Goin' Down" and "I Know You See It."
"Having the opportunity to direct my friends David and Tamala Mann was a huge blessing. The rewarding part was their willingness to challenge themselves to go deeper and I'm excited for viewers to see them in the more dramatic moments," said Vaughn. "The other blessing on this project was being able to direct my mentor and friend, Kim Fields. It was a very rewarding, full circle moment for us. I can't wait for the world to see!"
Y'all, I was actually on set for one day of filming MERRY WISHMAS and was able to interview some of the members of the cast and writers behind the movie! See that post here:  David & Tamela Mann, Kim Fields, Towanda Braxton & More Star in TV One's Christmas movie 'Merry Wish-mas!'
Below is a trailer for MERRY WISHMAS:
COINS FOR CHRISTMAS  stars  Stephen Bishop  (Being Mary Jane) (Remember he was on one episode of OWN's Greenleaf this season as well?),  Essence Atkins (Marlon),  TC Carson  (Living Single),  Kelly Price  (Saints and Sinners) and  Karlie Redd (Love & Hip Hop: Atlanta). The film chronicles single mom Madison (Atkins) who's saved all year to make sure her teenage kids have the best Christmas ever. That is until she gets fired from the bookstore she manages and comes home to find that the IRS has frozen her bank account due to delinquent taxes her ex-husband failed to pay. Desperate to pay bills and buy gifts for her children, Madison jumps into the ever-popular "gig economy." That's when she meets and eventually gets hired by arrogant, sidelined former professional football player Alec Darby (Bishop), who is also secretly on the verge of going broke. This odd couple butts heads time and time again but can the Christmas spirit help these two get past their bickering, learn from each and ultimately forge a lasting friendship?
Below is a trailer for COINS FOR CHRISTMAS:
MERRY WISHMAS and COINS FOR CHRISTMAS will be featured programming during TV One's Holiday Movie Marathon on December 24-25. TV One will also air Christmas movies every Sunday until December 23.
Written by Cas Sigers-Beedles, MERRY WISHMAS is executive produced for TV One by Roger Bobb, Angi Bones (Bobbcat Films), Terri J. Vaughn and Cas Sigers-Beedles (Nina Holiday Entertainment). David and Tamela Mann also serve as Executive Producers. George Pierre serves as Casting Director. For TV One, Tia A. Smith is Executive Producer in Charge of Production, Donyell McCullough is Senior Director of Talent & Casting, and Robyn Greene-Arrington is Head of Original Programming and Production.
COINS FOR CHRISTMAS is written by Rhonda F. Baraka and directed by Jamal Hill, with casting by Leah Daniels-Butler and George Pierre. The film was produced by Swirl Films, with Eric Tomosunas serving as Executive Producer. James Seppelfrick, Ron Robinson, Keith Neal and Darien Baldwin serve as producers. For TV One, Karen Peterkin is the Executive Producer in Charge of Production, Donyell McCullough is Senior Director of Talent & Casting, and Robyn Greene-Arrington is Head of Original Programming and Production.
For more information about TV One's upcoming programming, including original movies, visit the network's companion website at www.tvone.tv. TV One viewers can also join the conversation by connecting via social media on Twitter, Instagram  and Facebook (@tvonetv) using the hash tags #MERRYWISHMAS, #COINSFORCHRISTMAS,and #REPRESENT.
Any thoughts?
Comments
comments