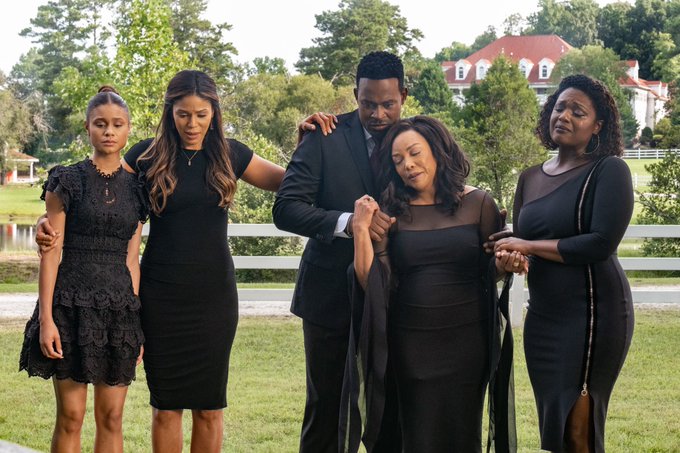 Hello World,
It.Is.Finished…My favorite church drama OWN's Greenleaf, after five fantastic seasons, is now over…Let's break it all down in this Greenleaf Recap Season 5 Episode 8, Series Finale: Behold…When you want your recap to be as good as the show, you've come to the right place…
Now Behold the Lamb…
Saints, unfortunately what we feared is true, Bishop has gone on to his final reward and is with the Lamb of God in that pasture in the sky. After last week's episode, when it appeared that Bishop had a stroke, I felt like I had lost a beloved family member rather than a character on a mere television show. And even the next morning, I felt melancholy. But that is what great television or any great work of art will do: illuminate real life so much that you have no choice except to contemplate what has been presented and incorporate the message in your real life. The reality is that we all have an expiration date and hopefully we will leave this sphere as Bishop did, having poured out everything in service to God and what He has called us to do for our fellow man…
This episode begins with Lady Mae laying next to Bishop's body. She gets the ring box that he presented her with earlier and puts on the first engagement ring that he ever gave her. She caresses his head and places one last kiss on his lips. Next to Bishop is the paper where he wrote, "I do."
In Grace's suite, she obviously has no idea what has transpired as she is fussing with her daughter about those topless photos that she sent to Dante that have magically spread through the Internet…(Hey, whatever happened to Dante and Nikki? I guess it doesn't matter now…)"Why didn't you tell me about this before?" Sophia says the photos are no big deal. "They're a big enough deal that you're considering changing schools," Grace says.
At that moment, Grace is interrupted by a telephone call from an Anne Holiday. Apparently, Anne is running NY1, and she has heard that CBS is doing an expose on Bob Whitmore and that Grace had a lot to do with that. Now, she wants Grace on her team as she is looking for "smart women of color." "Are you ready to get back in the game?" Anne asks her. Apparently, she runs 20/20. Remember, Grace is a journalist by trade. Anne tells her she will call her tomorrow to give Grace some time to think about her offer.
By this time, Lady Mae has appeared and Grace can tell by looking at her face that the news is not good. In the next scene, all of Bishop's family have gathered around him in the bed. It's a touching display depicting that Bishop was absolutely the center of the Greenleaf family.
In the next scene, the family have gathered for a small homegoing service on the property. I imagine this was filmed before the COVID-19 pandemic presented itself, but this small gathering fit with the social distancing guidelines we now have to follow. Charity beautifully sings "If I Can Help Somebody" as they gaze as Bishop's tombstone. Bishop was born in November 1954 which would make him roughly 66 years old. Did anyone see the exact dates?  He was way too young to die, but God knows best. Purple, blue and white flowers are placed on his casket, and it is so sad to see it lowered into the ground.
Percy Lee, the funeral home director, is the only one not in the family who is present. I imagine the reason he is there is twofold: his services obviously and the fact he was Bishop's best friend I believe. After the service is over, the family plus Percy walks back to the home. Lady Mae grips the hand of her son Jacob on one side and surprisingly, she grabs hold of Kerissa's hand on her other side as well. I liked that she did that because although Jacob and Kerissa are no longer together, Kerissa will always be an inextricable part of the Greenleafs…
After the service, the family gathers around the dining room table and reminisce about the patriarch of the family. AJ says, "How can I miss someone who I barely knew so much? No one has ever spoken to me like that before." He then promises to build the car that Bishop gave him whether it take a year or 10 years. (I guess car parts were in that box after all. And what was up with that A.J. doppelganger?! ) Grace says, "Bishop sat me down and said, 'Before you do anything, check your heart and make sure you're acting with love." She said he said that because Jesus only acted out of love. Lady Mae is there taking it all in, but her grief has mellowed her characteristic outspokenness. She is silent except when she gets a phone call. She excuses herself to another room to take it.
It's Misty from Calvary. The deacons minus that snake Connie Sykes have met and they want Lady Mae to lead worship service on the upcoming Sunday. After all, the church has thankfully severed its ties with Harmony & Hope Ministries and Phil has slithered away as well. "We need someone to remind us of where we've been, what we have achieved and what a blessing it all was," she says. Additionally, they want to honor Bishop. It's an offer that Lady Mae can't refuse.
Behold (Then Sings My Soul)
Although this episode begins on a bad (sad) note, not everything in the episode is bad. Noah has found a house AND he has secured a job as the director of campus security at a nearby college, Rhodes College. With Isabel not seeking alimony, he and AJ can move on with their lives with no strings attached to anyone. "I want him to have a nice place," Grace tells Noah as he is showing the house to her. A.J. is off to the side on a phone call. Once he gets off the phone, he announces that his CD4 count is up quite a bit after only being on medication for a week. Grace asks, "Can I give you a hug?" A.J. repeats, "Can I give you a hug. You're the one who set me up with this fancy doctor." For whatever reason, now that Bishop is gone, A.J. is more chatty than ever. When Darius calls Grace a few minutes later, he tells his mother that he wants to meet him and check him out to determine if he has "honorable intentions." Who dis?
Back at the Greenleaf estate, Kerissa is still there. They're discussing how they will co-parent Winkie. Jacob asks, "Do you think he gets that his grandpa won't be coming back?" Kerissa tells him even the adults are having trouble with that much less a child. She asks Jacob if she can leave Winkie with him for a few days while she looks for a place. She also tells him that she will be heading out a hotel for the night but Jacob says she can stay at the home although not with him obviously. Kerissa says, "I don't want to confuse Winkie, and I don't want to confuse you either." Then she says something that really surprises me. "It won't seem like one now, but this is our happy ending." "I know, " Jacob says.  Once Kerissa realized their marriage was truly over, she really seems ready to move on with her life. Good for her!
Speaking of being ready to move on with life. The three cousins – Sophia, Zora and A.J.- discuss what they think happens when someone dies. Zora compares it to diving in deep water. Sophia compares it to falling asleep. A.J. says he has no idea, but then adds, "I will still want to see what happens when you live." Okay, then, A.J….
And A.J. is not the only one contemplating the rest of his life. Darius and Grace are hugged up in the next scene. Darius is encouraging Grace to at least respond to Anne's inquiry. "Just call her back. You don't have to move to New York tomorrow." He also tells her that her children are no longer children. "Everyone's an adult," he says. Grace asks, "Are we adults too? You're always wanting to talk about the future." She asks about their future together. Darius tells Grace that if her future was in New York, he would accompany her there. Grace starts bawling in his arms then. "I didn't know accompany was the magic word," he says.
Later on, Lady Mae explains to her family that she has been asked to honor Bishop on Sunday. Grace says, "Daddy did lay himself on the altar for us." Jacob says, "Pop had this light that he took wherever he went. I guess that light is in us now."
Now that H&H has vacated, Lady Mae can stop by Calvary whenever she wants to and does so in anticipation of Sunday service. Karine tells her that she has restored Bishop's office to what it was before H&H showed up and takes Lady Mae there. She also tries to express her condolences about Bishop to Lady Mae. Lady Mae says, "Do me the kindness of not mentioning his name his week. My heart is a truckload of nitroglycerin, and his name is a bump in the road." She then asks if she can have a moment alone in his office.
Speaking of stopping by churches, Jacob stops by New Revelations Memphis Mission to see Tara James. She immediately says, "I'm so sorry about your father." Jacob explains that Bishop suffered a cerebrovascular accident or in another word: a stroke. She tells him that she hopes that the stress of digging up the past did not contribute to his untimely demise. She tells him all of this as she is passing out bagged lunches to her small flock.
Jacob finally gets around to saying what he came to say. "Look, my mother wanted me to ask you if you could give us three months to deal with losing my father." Tara praises Jacob for being upfront with her from the beginning and then shocks him by saying, "Can we call it even?" Close your mouth. You read that right. Tara no longer wants to take possession of the Greenleaf home. "I can't throw you out of your home," she says. Jacob reminds her that she said the home was her blessing from God. She replies, "Maybe the blessing is something else." More like someone else in my opinion…But more on that later. Bishop must have orchestrated that grace from Heaven. He is up there singing with all of the souls who have made it there but he sees to it that his beloved down here will still benefit his connections in high places…
When Jacob tells his mother what Tara James said, Lady Mae replies, "She really is who she seems to be. I don't know what to say."
Even after discussing it with Darius, Grace still hasn't returned Anne's call. She discusses the matter with Aaron, who has set up trust funds for Aaron and Sophia with the inheritance that Grace received from their father. Of course, he does so at his sister's direction. Grace says, "I want to be here for my family, but every time she calls me, I can't take the call." Similarly to Darius, Aaron tells her to at least take the call. (I guess we're never going to see Kevin again, huh? And come to think of it, I guess Mavis wasn't invited to Bishop's burial either.)
Behold Him…
The time has come for Sunday Service. The hallways of Calvary are crowded with people who are buzzing with excitement. Calvary is back, baby! And guess who shows up?! Tara James. She heard about the service on the radio and decided to come, and she brought members of her mission with her. She encounters Jacob in a hallway. She tells him that Tasha told her that he had a heart for the homeless so hopefully he doesn't mind that she brought along her members with her. He tells her that is true. Then he says, "What you did for my mother and family allowing us to keep the house means a lot to me." She explains that she is "rich in blessings" even if she will not own that big ole house.  When she says, "God is good," Winkie, who never talks it seems, replies "all the time." Tara seems to be the opposite of Kerissa, and it's obvious by the extra look that he gives Tara as she walks away that she is on his radar. And the look that she give him when she looks back to see if he is looking at her tells me the feeling is mutual.
The service opens with Charity belting out, "What a Mighty God We Serve," Lady Mae, who is adorned in purple, follows. She starts out with, "I know exactly what Bishop is feeling right now. Yes, Lord. " She takes a deep breath. "Good Morning, there is so much to say. I miss him so much." She tells the congregation that she has talked to him more in one week than she has in 10 years.
Go ahead Mae, we're listening. 🙏🏾 #Greenleaf pic.twitter.com/vDZ39MVQtK

— Greenleaf OWN (@GreenleafOWN) August 12, 2020
She declares that she wants "something new" for Calvary. "Behold the prophet Isaiah who says, 'I am doing a new thing. Do you not perceive it?'" Obviously, Lady Mae, similarly to Bishop, can preach. In her expansive voice, she knows what words to bellow and what words to nearly whisper to move all who hear her voice into a frenzy. "Calvary, we've been through a lot. We're asking God to help us love our past enough to let it go. Jesus, make me new. Say it with me, Jesus make me new. " AJ is moved by his grandmother's plea to God to make them new and he comes up to the altar to give his life to the Lord. Behold Him who is able to do even what is impossible.
Oh, man 😢 #Greenleaf pic.twitter.com/gXQBcanozs

— Greenleaf OWN (@GreenleafOWN) August 12, 2020
In the midst of all of this, Sophia says to her mother, "I think your work here is done." Wow, that's what Grace needed to hear. After the service is over, Grace goes to her mother who is in Bishop's office. "Mama, you got the church back." Apparently, she overheard Misty discussing the matter. The mothers also express their gratitude that A.J. has been saved. "He needs that peace," Lady Mae says. "Yes, we all do," says Grace. But Lady Mae knows there's more that Grace wants to say. "It's time for me to go," Grace says. "Not now," Lady Mae says. Grace says, "It's your time, and it's my time." Kneeling before her mother, she kisses her on the cheek.
Back at the estate, after the service is over, Grace, dressed in white, tells her family, who is gathered outside the house, that she will be back in a few days. She says, "It's just an interview." And Jacob replies, "For a job you're going to get." He asks her to look out for Zora in New York. Grace asks Charity to look out for Sophia. "She's wilder than she seems." Lady Mae tells her not to say goodbye. Instead, she tells her daughter, "Thank you for sowing discord in the fields of my peace. They needed it." Remember, Lady Mae said that to Grace during the first episode. How far they have come. Lady Mae dreaded her daughter coming back and now she is begging her to stay. But she does finally relinquish her to the rest of her destiny. "Go on, the Lord's going to take care of us."
To all of our #Greenleaf fans, as we close this chapter we cannot thank you enough. YOU made this show. Thank you a million times, and it still will never be enough. ❤️ pic.twitter.com/JX597Z88tz

— Greenleaf OWN (@GreenleafOWN) August 12, 2020
With that, Grace gets in the car that will take her to the airport. The driver, who apparently drove Grace onto the property in the first episode, says, "You're Pastor Greenleaf." Grace says, "It's just Grace Greenleaf now." And with that, the car exits the iron gates surrounding the estate as Grace looks back at the gigantic "G" affixed to them. What a ride this show has been…I will miss it…What about you?
Thank you sooo much for reading my Greenleaf Recap Season 5 Episode 8, Series Finale: Behold and my other recaps since 2016!!! If you would like to know what's ahead in the SPINOFF (which I think will be called Delilah according to the commercial at the end of the show), click HERE. I interviewed Craig Wright, the creator of the show AND Kriss Turner Towner, executive producer!!!
If you would like to keep up with my SPINOFF recaps sometime in the hopefully not so distant future, please click on this link to subscribe to my blog 
! Be blessed…
Any thoughts?
Comments
comments