Hello World,
I hope you had a socially distant Christmas with your family, friends and loved ones! I did 🙂 So y'all, last week, I wrote this post Why New Birth Pastor Dr. Jamal Bryant Was Right to Respond to 'Real Housewife' Monique Samuels & Say He Won't Appear on the Show Again…Apparently, I made a mistake so let me correct that first of all. In the paragraph which starts with, "And most revealingly about Monique, he revealed that while she is steady calling him out, she has been calling him, trying to get a come up," I attributed the quotes that follow to being about Monique, but actually Pastor Bryant was referring to woman he dated who lives in New York. During episode of 1 of the RHOP reunion, Monique provided information regarding his former girl friend's texts with Pastor Bryant as well as some of the conversations he had with this woman.
Well since Pastor Bryant released his clap back video, this woman, who has now been identified as Pastor Tunya Griffin, was interviewed by All About the Tea and Leonardo Blair of The Christian Post wrote an article Alleged Former Lover of Pastor Jamal Bryant Speaks Out After He's Accused of 'Egregious Sexual Conduct' about this interview. Below is an excerpt:
A woman who alleges she had a yearslong intermittent sexual relationship with Pastor Jamal Bryant of New Birth Missionary Baptist Church in Stonecrest, Georgia, is suggesting that he be removed from the pulpit because he's not fit to be a spiritual leader.

"We all have sinned and we've all fallen short, but we can't keep thinking that it's OK to get your 'get out of jail free card' every time you do this," said the woman, Tunya Griffin, who serves as associate director of university/community partnerships at the Rochester Institute of Technology.

"That's not grace at all. And so the response of the church is around this ideal: if somebody falls we help them get up. We clean them up and we bring them back into the fold. OK, yes, we do. They fall. We clean them up. We bring them back in. But that does not mean that you bring them back in to occupy the same space," she said.

Griffin spoke out about her relationship with Bryant in an interview posted on YouTube Tuesday in which she claimed the unmarried pastor pursued other relationships and fathered at least two children over the period they were intimate. Read the rest HERE.
Below is the All About the Tea Interview:
So I have a few reactions to this video. Firstly, I watched about 43 minutes of the interview which lasts for 1 hour, 24 minutes and 54 seconds. She starts off by stating that she and Pastor Bryant met at a speaking engagement where Pastor Bryant signed copies of his book World War Me: How to Win the War I Lost in 2011. After she read his book, she posted on social media about how good the book was. Pastor Bryant saw the post and slid into her DMs, she said. From that point, they had an off-and-on relationship which was sexual for a period of years. At the very beginning of this video, Tunya introduced herself. The first thing she said about herself is that she is a pastor. Now, as a pastor, she must be familiar with the passage to "flee fornication" as an unmarried person in 1 Corinthians 6:18. So that is the first problem I have with her. She has every right to tell her story, but throughout the video, she questions Pastor Bryant's character and morals, but what about her character and morals? She even had pictures of Pastor Bryant in bed which are displayed in the interview!
She also stated that Pastor Bryant contacted her about the time it was reported that he was reconciling with his ex-wife Gizelle Bryant. (This would be around September 2019.) Not wanting to be a homewrecker, she asked him about that and he said the reconciliation was simply a reality TV plot and not a real reconciliation. Monique produced texts between Pastor Griffin and Pastor Bryant that demonstrates this exchange. Once he explained the situation, apparently the two met in Buffalo, New York and spent time with each other as he was there for business purposes. Again, if you're a pastor, why are you in relationship with a man who is a liar? It says Proverbs 6:16-19, that are six things that the Lord hates and one of those is a "lying tongue."
She also talked about how his parents, who are in ministry as well, must be disappointed by his wrongdoings including allegedly fathering illegitimate children throughout the course of their relationship. In addition, she also said she was a parent at the beginning of the interview. If you're a parent, why are you seeing a man who is allegedly fathering children here, there and everywhere and not claiming them as his children?
And Pastor Griffin knows scriptures too because she refers to the Bible many times during the course of the interview…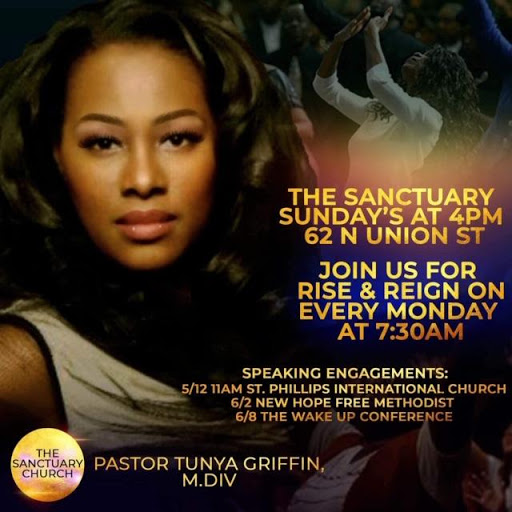 I must say that if these allegations are true, I really hate it for the flock at New Birth Missionary Baptist Church because they've already suffered through having a scandalous shepherd. But at the same time, I wouldn't want Pastor Tunya Griffin as my pastor nor my parent either…But for entertainment purposes alone, the video is worth watching…She even compares Pastor Bryant to President Trump…
And I let me share this verse as I conclude. Do with it as you will:
"Not many of you should become teachers, my fellow believers, because you know that we who teach will be judged more strictly." James 3:1
Anywho, episode 3 of the The Real Housewives of Potomac will be broadcast tonight at 9 p.m. on Bravo, and I will be watching…smhh…(shaking my holy head)
Will you?
If you would like to keep up with pop culture from a Christian perspective, please click on this link to subscribe to my blog 
!
Any thoughts?
Comments
comments