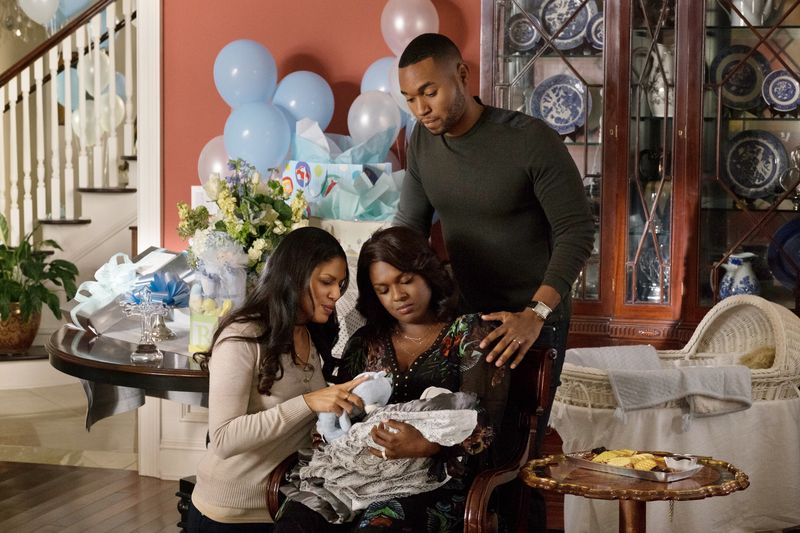 Hello World,
While Charity Greenleaf's pregnancy and motherhood was a major source of drama on OWN's Greenleaf, Deborah Joy Winans, the actress who portrayed her, had yet to experience pregnancy and motherhood. In fact, I asked her about this when I interviewed back in 2016. See the excerpt below:
And now you're pregnant on the show, do you have any children in real life?
I do not. I've got two nieces and three nephews so that's about all of the kids I have right now. I spoil them rotten and send them back home. Hopefully, in the future if the Lord blesses us to have kids of our own, that would be awesome.

To listen or read the entire interview, click HERE.
Well, Deborah Joy Winans and her husband have been blessed by the Lord in due time! Pun intended! See an excerpt of the ESSENCE article in which Deborah Joy shared about her pregnancy below:
Although a pregnancy can last up to 40 weeks, sometimes longer, actress and singer Deborah Joy Winans, best known for playing Charity on the OWN hit series Greenleaf, is prayerful that she will make it to 28. For the 37-year-old, that will be the end of a nerve-wracking process, but also a beautiful beginning.

"As long as I can get to 28, we should be okay," Winans tells ESSENCE, 26 weeks at the time of our conversation and expecting a son. "Once we get to 28 weeks, [my doctor] knows that he'll be good and healthy if he came that early. So, 28 is the goal."

Winans and her husband of eight years, Terrence Williams, knew from the very beginning that their unborn son would possibly come early. Before she found out she was pregnant, as she consulted her doctor about how to begin the process to conceive last December and stopped taking birth control, she found out, by her own inquiry, that she had fibroids. Not just one fibroid, but eight, and one in particular that is the size of a watermelon, having grown for what's estimated at eight years. Surgery, a procedure similar to a Cesarean section, was recommended to remove them all.

Read the rest HERE. 
And see her jubilant IG announcement below:
View this post on Instagram
I wish Deborah Joy Winans and her husband the absolute best in their pregnancy and delivery, and I looking forward to the news that their son (I wonder what what his name will be) has arrived! And I hope he inherits the Winans' gift of music as well!
Any thoughts?
Comments
comments