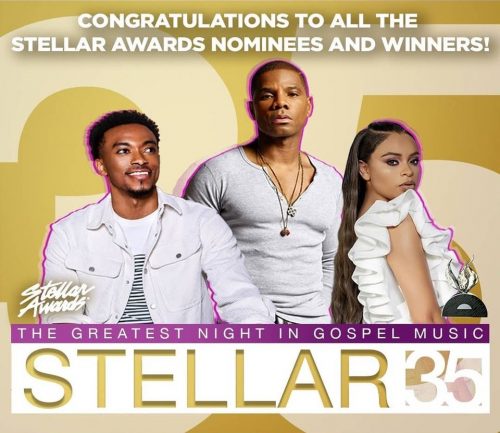 Hello World,
According to BET, not even a global pandemic could diminish the powerful spirit of praise, worship and celebration during the historic virtual broadcast of the Stellar Gospel Music Awards Sunday night on BET and BET Her.
Led by hosts Kirk Franklin, Jonathan McReynolds, and Koryn Hawthorne, the 35th Anniversary Stellar Gospel Music Awards awarded trophies in 28 categories for the year's best performances in the genre — including six statues presented to the night's big winner, host and Gospel icon Kirk Franklin.
Below is a list of winners:
Category #1
ARTIST OF THE YEAR
Tasha Cobbs Leonard; Heart. Passion. Pursuit. (Live at Passion City Church); Motown Gospel
Category #2
SONG OF THE YEAR
Deliver Me (This Is My Exodus); Donald Lawrence, William Stokes, Marshon Lewis, Robert Woolridge & Desmond Davis; RCA Inspiration
Category #3
MALE VOCALIST OF THE YEAR
Kirk Franklin; Long Live Love; Fo Yo Soul/ RCA/ RCA Inspiration
CATEGORY #4
ALBERTINA WALKER FEMALE VOCALIST OF THE YEAR
Le'Andria Johnson; Goshen; RCA Inspiration
CATEGORY #5
DUO/CHORUS GROUP OF THE YEAR
The Walls Group, Friend in Me, Wall2Wall Entertainment/My Block Records
CATEGORY #6
NEW ARTIST OF THE YEAR
Pastor Mike Jr.; Live Free; Black Smoke Worldwide
CATEGORY #7
ALBUM OF THE YEAR
Long Live Love; Kirk Franklin; Fo Yo Soul/ RCA/ RCA Inspiration
You can view the complete list of winners here.
Singer Tamela Mann performed her hit powerful single "Touch from You" at the 2020 Stellar Gospel Music Awards…Tamela lookin' good right? I see you lady…
Additionally, the night was marked by powerful performances and tributes to late civil rights icon Congressman John Lewis.
See the 35th Annual Stellar Awards Virtual Red Carpet hosted by Jekalyn Carr. Portions of this program were pre-recorded.
To relive all of the highlights, you can watch the Stellar Awards in national broadcast syndication in 210 markets starting August 29 – September 27 (check local listings).
Any thoughts?