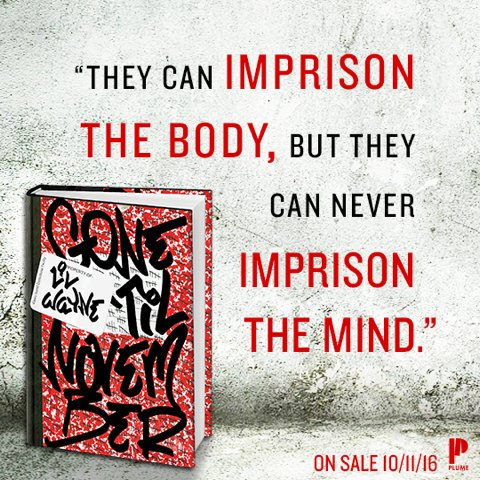 Hello World,
I recently read an article about Lil Wayne's new book Gone 'Til November: A Journal of Rikers Island in which the prolific rapper chronicles the eight months he spent in jail in 2010 as a result of gun charges. According to the USA Today article "Seven Things We Learned from Lil Wayne's 'Gone 'Til November,'"
4. He considered turning to Christian rap… briefly. 

In addition to a landslide of fan mail, Wayne also received a compelling letter from a church, urging him to use his artistry to spread the gospel. And for a moment, Wayne considered it. "I would truly have the power of having pop culture turn to God," he wrote. "I would have straight killers in church every Sunday."

But later on, the rapper said he had an epiphany that he was where he was supposed to be in his artistic journey — at least for the moment.
Although, Lil Wayne ultimately decided not to become a Christian rapper, I applaud the church that 1. paid enough attention to pop culture to know that Lil Wayne was in jail (0r even who he is) 2. took his salvation seriously enough to reach out him at what probably was his lowest point…And although he may not have turned his life over to God at this point, a seed was obviously planted and God can make it bloom in His own time…
It was a joyous occasion in the A when Atlanta rapper Gucci Mane who had served three years in an Indiana federal penitentiary was released earlier this year…I wonder if any church or any individual Christian thought to reach out to him for Christ when he was locked up…I certainly didn't…
So wanna know a secret? I'm not big on evangelizing…I've been around Christians all of my life, and I became a Christian when I was a teenager but the evangelism piece has always scared me…I remember times when I was a kid I would go along with my father and a group from the church who would knock on doors and tell people about Jesus Christ. I enjoyed that mostly because I liked to see how other people lived, and I enjoy people watching so it was an opportunity to see people up close in their natural habitats so to speak…I think the last time I did that I was in my early 20s….but I would be hard pressed to do that now…I'm not shy about the fact that I'm a Christian but as far as saying the words, "Have you considered giving your life to Jesus Christ?" or something similar doesn't roll off my tongue so easily…I will give you an example why…
I remember once in my early 20s, I said something like that to a girl who I met in the gym. She was a kind of popular underground singer in Atlanta but she seemed to be going through some things at the time and I told her how the Lord was working in my life. Incidentally, I told her how I would never go to this one concert venue The Tabernacle (Check out a post I wrote about The Tabernacle – Should Beyoncé and Jay Z Have Bought a Converted Church Mansion?) in the A because it used to be a church and how a place that had been dedicated to uplifting the Lord was now being desecrated….Well, the devil is busy because shortly after that conversation, I was given a free ticket to see Jill Scott, one of my favorite artists, at the Tabernacle, and you know I went…Chile, that singer just about the first person I saw up in there…my testimony on behalf of the Lord was literally shot to hell…
All of that to say, I'm not a holy rolly type of Christian…I enjoy much of the secular world, and I enjoy the Christian world too…Thank God my husband is the same way…We kick it on Saturday wherever we find ourselves and we kick it in church on every Sunday too…I remember when I was a little girl telling my parents that if every day would be Sunday in Heaven like that old gospel song "Walk Around Heaven All Day"suggests, I just want to stay here…LOL…They laughed too…I pretty much know I don't always live up to the ideals I profess although I'm much better than I used to be…and I don't cloister myself around Christian culture either, but that is another discussion for another day…
But despite my ability to navigate the secular and the saved worlds, every morning, I get on my knees and worship God in prayer because knowing Him is my only salvation. As the old saints say, He is my rock and my shield…And in His word, He says…
"Therefore go and make disciples of all nations, baptizing them in the name of the Father and of the Son and of the Holy Spirit, 20 and teaching them to obey everything I have commanded you. And surely I am with you always, to the very end of the age." Matthew 28:19-20

So even though I can be a hypocrite and I will never be the type of Christian who wants to be in church every day, I'm going to open my mouth (and not just write) and tell somebody (and they don't have to be famous either) about Jesus sometime soon…
Any thoughts?