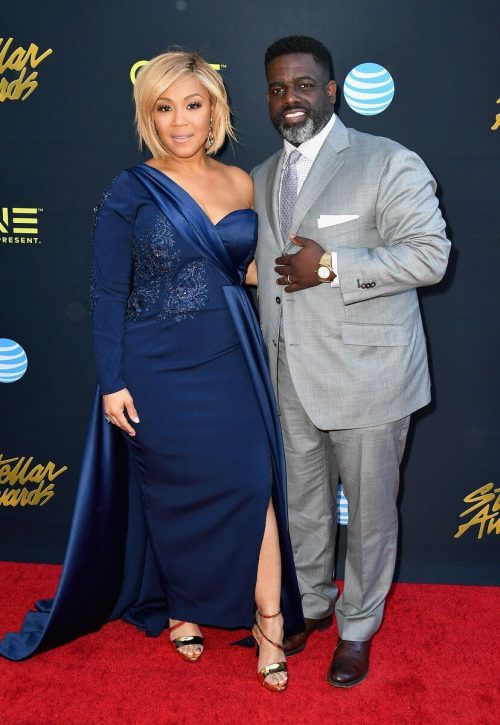 Hello World,
I don't know if I agree with this but TV One has announced the start of production in Los Angeles for the new original reality show WE'RE THE CAMPBELLS.  The reality show follows gospel music power couple Warryn and Erica Campbell as they balance raising their family, building their own individual empires, growing their flourishing church ministry and maintaining their strong faith. Married since 2001, WE'RE THE CAMPBELLS will allow viewers to follow Warryn and Erica as they manage their hectic daily work schedules while fostering a healthy marriage and raising three children with the help of their core group of family and friends.
At the center of this close-knit and loving musical family is Erica Campbell – in addition to her busy roles as a wife and mother, she is one half of the award-winning Gospel music super duo Mary Mary, an entrepreneur, co-host of the popular nationally-syndicated Reach Media program Get Up! Mornings with Erica Campbell and First Lady of a thriving church ministry.  Her equally ambitious husband, award-winning music veteran Warryn Campbell, has produced music for many of today's most influential artists, is the founder of record label My Block Inc., and Pastor of the fast-growing church ministry, California Worship Center.
WE'RE THE CAMPBELLS will film between the family home city of Los Angeles and Dallas, where Erica divides her time while taping her daily radio program. Slated to premiere in June 2018, the nine episode docu-series will highlight the obstacles many families face while trying to balance careers, maintain a healthy marriage, and raising their three children Krista, Warryn, and Zaya.
WE'RE THE CAMPBELLS is produced for TV One by Entertainment One (eOne).  Executive Producers are Tara Long, Mark Herwick, Kim McCoy, Warryn Campbell and Erica Campbell; Co- Executive Producer is Narvin Russaw. For TV One, Tia Smith is the Executive in charge and Sr. Director of Original Programming & Production; Donyell Kennedy McCollough is Sr. Director of Talent, and D'Angela Proctor is Head of Original Programming and Production.
Below is a trailer for WE'RE THE CAMPBELLS:
So I think they're an adorable family, and I will watch, but I think reality shows are toxic for marriages long term. I mean, Erica only has to look at what unfolded on her previous reality show Mary Mary with her sister Tina and her husband Teddy. I wrote about that saga in my post "Why Mary Mary May Need To Get Off Reality TV…My Open Letter to Erica & Tina Campbell." And later, I interviewed Tina Campbell about the show including her husband's infidelity in "Mitchell Solarek is NOT Tina Campbell's Manager & More: My Interview With Mary Mary's Tina Campbell." The couple has made the mess their message in their web series "10 Minutes with Teddy & Tina," but look (and you really could look) at all they went through!
And it's not like the other Campbells haven't experienced infidelity too. On that show Black Love on OWN, Warryn Campbell revealed that he cheated on Erica with another woman and got the woman pregnant! See the revelation below:
I had never heard that before but it's likely we, the viewing public, will learn even more about their marriage AND their children. Like I said, I will watch but I hope this show is only on for a short period not six seasons like Erica & Tina Campbell's reality show Mary Mary. And remember when the show started, they were a solid duo and now when they perform together it's a reunion for a special reason…
So will you watch Warryn & Erica Campbell's reality show WE'RE THE CAMPBELLS on TV One?
Any thoughts?
Comments
comments