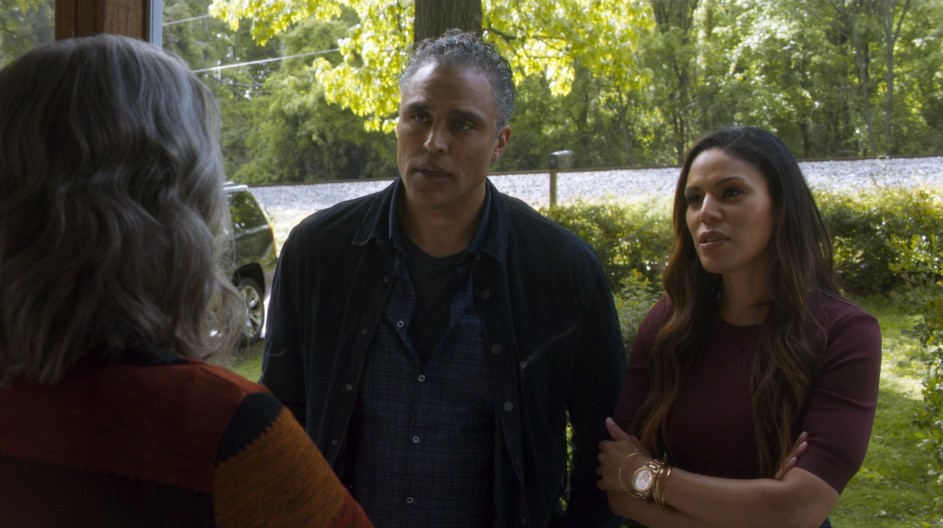 Hello World,
I know many saints don't celebrate Halloween but clearly OWN Greenleaf writers had some tricks up their sleeve on this Halloween night that I will reveal in this Greenleaf Recap Season 3 Episode 10: The Promised Land so keep readin' y'all…
Promises Promises…
This episode starts with a solemn scene as Lady Mae is at her laptop at Calvary alone and late into the night. She crafts an e-mail to her children and grandchildren confirming what we have feared since Season 3 began: Bishop and Lady Mae are legally divorced. I must say I didn't think this would actually happen and I still wonder if the all of the "t"s have been crossed and the "i"s have been dotted as far as the documentation is concerned. Despite the dismantling of the family she and Bishop have built for more than 40 years, Lady Mae tells them they are still entering the Promised Land that they must take possession of with hope. She says she is aware of their "past sins but they are ready to grow. We are no longer married but we are still your parents." She refers to them as her angels before she ends the correspondence.
In the next scene, Jacob and Kerissa are playing detective over at Triumph as Tasha Skanks has left without a trace and reason why although we (the audience) know what's up. Kerissa speculates that maybe Basie is back, but Jacob feels that if Basie had returned, he would have have heard something. "Memphis ain't that big and Basie ain't that small." (That's a nice line.) At any rate, now that Tasha is gone and Kerissa has turned Zora over to God, Kerissa is finally available to take on all of the duties of a First Lady. She hires a new accountant. He has an African accent I think. He promptly notices some irregularities in the accounting…
At Calvary the next day, Grace and Rochelle meet with the murderess (per Lady Mae's description) Coralie Hunter. Coralie is seriously considering the deal the district attorney offered her although she will be in jail for 20 years. 20 years in jail is better than life in jail after all. Grace pleads with Coralie to allow the lawyer they've hired to advocate on her behalf as this case is expected to set a precedent. Coralie aine tryin' to hear that legal jargon, but Rochelle gets to her with a personal plea. She tells Coralie that her mother went to jail, forcing her and her little sister to be in the system and moved around like "hot potatoes that nobody wanted. I know that you don't believe in Jesus but you're going to have to have faith." That story does the trick and Coralie meets with the new attorney.
Following that meeting, Bishop happens to walk by Rochelle, who is in a conference room at Calvary by herself. She takes the opportunity to ask him about the rumors she has heard. "Are you legally divorced?" she asks. Bishop confirms the rumors are true. "Lady Mae and I are officially no longer together." Of course that news brings a smile to Rochelle's face. She invites Bishop to do some "daytime drinking to celebrate or console as the case may be." Bishop says he would like that. Maybe I'm a sheltered pastor's daughter but I don't know any pastor who is quick to sip like that! What y'all think?
The time for "A Day With Lady Mae" is almost here as Maxine Patterson is back! Lady Mae tells Maxine that Bishop looks "lost in his own church. Maxine replies with, "It's won't be his for long."
Bloooop! #Greenelaf pic.twitter.com/VNAxFm3ZAT

— Greenleaf OWN (@GreenleafOWN) November 1, 2018
Y'all know that's a promise that Lady Mae intends to keep…
It's A Long Way To The Promised Land…
Zora is back. I must admit I appreciated a break from that hellion in last's week episode but like a bad weed, she's back. Zora and Isaiah, the boy she was willing to turn her back on her family for, are at a radio station 104. 8 FM where he is answering interview questions about his latest project. He says the project addresses the "tribulations on tribulations" he's endured and that it is an "amalgamation of pain." Yeah, whatever man…moving on…I don't know about the rest of the family but Zora will not be entering into her own promised land for some time.
Charity is back in her office at Calvary and looking mighty composed actually. Maxine's music director, a hottie I've seen before on some show but cannot remember exactly where I've seen him, stops by to discuss how they will move forward with plans for the music included in "A Day With Lady Mae." Charity starts to discuss a few ideas, but before she goes too long, the music director Michael asks if they can pause to pray. He was already fine, but now, he's looking irresistible and by the look in her eyes, Charity agrees with me!
The two continue to converse and Michael asks Charity to dinner. She declines because she has to care for her son on the night in question. Michael mistakenly thinks that since she has a son that she is married and apologizes for asking her out. Charity says that she is actually divorced. She also chooses to reveal that her ex-husband is gay only because Michael may see Kevin at some point while he is in town. Michael apologizes for her ex-husband's deception and says that "sort of deception is susceptible to prayer."
Maxine Patterson also has some ideas about how to plan "A Day With Lady Mae" but Lady Mae disagrees with Maxine's directions. Maxine wants Grace to be a part of the program for example, but Lady Mae suggests Jacinta Butler instead. Maxine asks Lady Mae if the theme for the event is "She Changes Everything" or is it "She Puts Everyone to Sleep?" LOL.  Maxine notices that Lady Mae has some sort of block when it comes her own daughter and asks her what is the deal with that. Karine interrupts the planning session to tell Lady Mae that Lionel Jeffries is on the phone, but she aine tryin' to hear him either.
Maxine, without Lady Mae at her hip, eventually sees Grace alone and uses the opportunity to ask her about her legal defense fund. She decides to contribute. But she also uses the time to ask Grace about her troubled relationship with her mother. "What's that all about?" Grace responds with "I don't know what you're talking about." That's right Grace. Keep family business in the family unless you're in therapy 🙂
Speaking of troubled family relationships, Rochelle tracks down her sister-in-law Tasha at her home. "Why aren't you at Triumph?" Rochelle asks her. "I quit," Tasha spits out.  She adds, "The funds have already been transferred from Triumph." In other words, Tasha wants Rochelle to just leave her alone, but Tasha has more to say first. "You're messing with an innocent man," she says in reference to Jacob. "He's a good man, Rochelle." Now Rochelle is perturbed. "Are you in love with him?" She doesn't outright answer the question but she asks Rochelle about the whereabouts of that "no account nothing brother of yours." She then escalates the conversation even more. "If you come back here, I will call the cops. And I might forget what story I'm supposed to tell them." Rochelle calls Basie afterward. "We've got a problem," she says. Basie and Rochelle thought they were finally on the fast track to their promised land, but there continue to be road blocks.
The Promise…
Y'all know that Grace is gangsta right? While Rochelle was talking about her childhood in foster care with Coralie, Grace was taking mental notes. Later on, she tells Darius to use his network of contacts to find out more information about a Rochelle who grew up in foster care with her sister and Darius obliges. He tells that there were three girls named Rochelle but only one could be their Rochelle and he even has a foster mother to interview! Rochelle, you 'bout to be discovered chile. That's a promise.
But while we wait for that to unfold, Rochelle has more business with Bishop. Now that Bishop is single, she is passing time with him out in the open on Percy's porch no less. (Percy does not make an appearance on this episode though.) Bishop complains that he is "running a church from the guest room of a house next door to a mortuary." Rochelle promises to help him find a new place and the two drink champagne to that. They don't kiss as far as I can tell but they do nuzzle.
Another couple that I don't like are figuring out their way around each other as well. Now that Zora is free is a bird, she mistakenly feels that freedom will be a part of her relationship with Isaiah. But that is not the case. She tells compliments him on the presales of his album and casually mentions that she forgot she applied to Spelman College. Apparently, the couple now reside in Atlanta where the school is located. She is thinking of setting up an interview, but instead of encouraging Zora to continue her education, Isaiah criticizes her. He says "Spelman doesn't take high school drop outs." Ouch. She should have stayed in school. But Zora calls him out on not claiming her during the radio interview to a female fan. He says, "I'll claim you when you start acting like someone who deserves me." He also knocks some food out of her hand. It looks like she decides to contact Spelman anyway, secretly of course so that her behind won't be beat. I just don't get it. Has he made some promises to her that we are not aware of because I just don't get the attraction…
But maybe it's just a case of the apple not falling far from the tree. Kerissa calls Tasha about her leaving Triumph in such a hurry. Tasha, who sounds high or drunk or both, says, "Why are you you calling me all mad? It was just a kiss. Don't hate me Kerissa." Now Kerissa knows that Jacob is up to his old tricks again and has not kept his promise to be faithful. At Triumph, Kerissa calls Jacob "trifling" and says that he is supposed to be a "strong tower" for the family and is nothing but a "twig." In fact, he is worse than a twig. He is a "puddle of need, desires and bad decisions." Wow, but he deserved every bit of that rebuke and probably more. But on the other hand, Kerissa continued to stay with Jacob through all of his past philandering and maybe that was the pattern that Zora observed growing up: My man may abuse me in a myriad of ways, but I shall stay and be abused any way. And in the midst of all of us, the new accountant interrupts them to tell them that $200,000 is missing from the church's account!
Back at the Greenleaf estate, Charity answer's Michael phone call. Since she was busy with her son on the night he originally wanted to go out to dinner, he asks her out for another night. She agrees at first, but tells him that something he said about her ex-husband got under her skin. He says that Kevin deceived her about that "struggle with his sin" but Charity doesn't approve of how he describes Kevin. Michael says, "Charity, you deserve better," and Charity responds with, "Maybe that's not you." So this is some growth for Charity. Usually, she just accepts any positive attention she gets without being selective about the source.
Across town, Darius and Grace go to see the woman who may have been one of Rochelle's foster mothers. At first, she doesn't remember Rochelle particularly with the last name Cross, but she does remember a Rochelle James who had a little sister! Gigi wastes no time in telling her father what she discovers. She goes over to Percy's house to tell him in person. He has some news to share as well, but he allows her to go first. "Rochelle Cross is Daryl James' daughter. She is the half-sister to Basie Skanks."
The secret is out. #Greenleaf pic.twitter.com/6hP6RNQLxv

— Greenleaf OWN (@GreenleafOWN) November 1, 2018
Bishop looks crushed and we never find out what was his news. Maybe we will find out in a future episode.
Speaking of hidden identities and this is THE SHOCKER of the night, Lady Mae pays a visit to Lionel Jeffries in the nursing home. "What do you want Lionel?" she says. "I want to talk about my daughter!" Y'all, we've been wondering why in the world does Lady Mae hates her daughter so much. Even Maxine Patterson is perplexed. But now we know!!! I don't know if a paternity test was ever conducted to confirm it but that is one reason among others in my opinion why Lady Mae is less than fond of Grace. And Grace is the oldest child too! You mean her first child wasn't even Bishop's? That's crazy! (Oh, I don't recall Lionel ever saying Grace's name  so it's possible that he may be referring to another one of Lady Mae's daughters although that is not likely to me. What y'all think?!)
Speaking of crazy, Rochelle comes back to Tasha's house and Tasha gets a lamp. I guess she is going to attack her sister-in-law with it, but before she does that, she sees Basie at the door!!!
Basie is back. Heaven help us. #Greenleaf pic.twitter.com/4jT1oI9Lly

— Greenleaf OWN (@GreenleafOWN) November 1, 2018
Yes, my favorite short man character since George Jefferson is back! Brother and sister are both dressed in black. Basie says, "I've heard you've been a bad girl!" LOL. The funny thing is that Tasha looks like she loves some Basie too even while she was pining way for Jacob for the whole episode. But who doesn't love a bad boy with some attitude unless it's one who hits you like Isaiah. That's another matter altogether. Anywho, that's it and that's all…
Thank you sooo much for reading my Greenleaf Recap Season 3 Episode 10: The Promised Land and my other recaps so far. If you would like to keep up with OWN's "Greenleaf," and my recaps, please click on this link to subscribe to my blog 🙂!
Any thoughts?
Comments
comments