Hello World,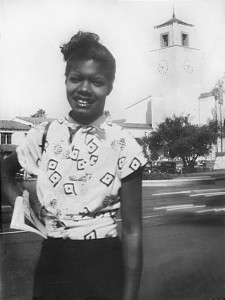 Like the rest of the world, I was awash in sadness when I learned that one of the great American writers Dr. Maya Angelou transitioned from this earth…But in the days since, after careful contemplation, while I know that those who intimately knew and loved her will continue to grieve this magnificent loss, the rest of us have her treasury of words to discover, uplift and ponder as long as we live…
I first heard of Dr. Maya Angelou when I was a little girl…I cannot remember the exact moment I encountered her words, but to a little girl who was often "feeling unpretty," her poem "Phenomenal Woman" was like water to a parched, quivering soul….Her words inspired me to bloom, grow and reach for the sun…If you have never read this poem, this edict of hard-won self-love, read below…
I've known I would be a writer since I was a scrawny six year old and so I looked to those who had claimed this path before me to light the way…And she was one of those sojourners who had traveled to the places I hoped to go and see and experience…and illuminate through my own words…
I don't know if I will ever be an editor in Cairo, Egypt or speak French, Spanish, Italian, Arabic and the West African language Fanti or be nominated for a Pulitzer Prize or match any of the slew of accomplishments she claimed…I have my own path to travel now…But the example of her life is a beacon that anything is possible for a black girl, a girl who once thought of herself as "a too-big Negro girl with nappy black hair, broad feet and a space between my teeth that would hold a No. 2 pencil" ( her words from the People Magazine archive) or anyone that feels marginalized due to barriers, internal or external…
Dr. Angelou, I am proud that you are now among the most heralded of ancestors and as a fellow writer and sojourner, I claim your ancestry as I labor to give birth to the words that will live after me…
If you want to learn more about Dr. Angelou, tune into the OWN network, the network owned by Oprah Winfrey, today. Oprah, who was mentored by Dr. Angelou, is showing several programs which included Dr. Angelou, according to Entertainment Weekly. The schedule is below:
5 p.m.: The Oprah Winfrey Show: Conversations with Dr. Maya Angelou
6 p.m.: Super Soul Sunday: Oprah & Dr. Maya Angelou Part 1
7 p.m.: Super Soul Sunday: Oprah & Dr. Maya Angelou Part 2
8 p.m.: Oprah Winfrey's Legends Ball
9 p.m.: Oprah's Master Class: Dr. Maya Angelou
Any thoughts?
Comments
comments