Hello World,
For those of you who won't make it to Sunday School this morning because of Daylight Savings Time (I'm opening my eyes wide right now because of that one hour), you don't have a church home or you haven't heard about Sunday School but want to know more, I've got you with a brief Sunday School lesson for you…Touch your neighbor and say, "Brief." LOL…
In all seriousness as this subject requires, I cannot imagine living in a world in which I did not have the right to vote and yet that was essentially the case a mere eight years before I was born…Because of three marches in March 1965 from Selma to Montgomery, Alabama, particularly the march that occurred on March 7, known as "Bloody Sunday" because of the violence the officers unleashed on the peaceful protestors, the Voting Rights Act of 1965 became a law with the signature of President Lyndon B. Johnson…
I believe it is no coincidence that "Bloody Sunday" occurred on a Sunday…Sunday is the day that Christians celebrate the resurrection of Jesus Christ as he paid for the sins of humankind by shedding His blood and dying on the cross…One of the ultimate lessons in life is that without sacrifice, nothing changes…And the ultimate sacrifice is sacrificing your life or blood…
Because of the sacrifices paid by those involved in the American Civil Rights Movement, black Americans now enjoy many freedoms including the right to vote without facing discrimination although the Supreme Court weakened the Voting Rights Act of 1965 in 2013 with it's decision to allow several states to change their election laws without federal preclearance.
That being said, the best way to honor the sacrifices of those on "Bloody Sunday" and in the other marches is to vote in every.single.election.
And, we have to remember that sacrifice is a key tenant in change as we grapple with how to stop black boys from being targeted whether by police officers or others in this country and Christians in Africa and the Middle East from being targeted by Boko Haram and ISIS…
Because "Injustice anywhere is a threat to justice everywhere," as Dr. King said…
And as President Obama, the ultimate fruition of Dr. King's sacrifice and dream, said yesterday in Selma at the commemoration of the 50th anniversary of Bloody Sunday…
Because Selma shows us that America is not the project of any one person. Because the single-most powerful word in our democracy is the word "We." "We The People." "We Shall Overcome." "Yes We Can." That word is owned by no one. It belongs to everyone. Oh, what a glorious task we are given, to continually try to improve this great nation of ours.

Fifty years from "Bloody Sunday," our march is not yet finished, but we're getting closer. Two hundred and thirty-nine years after this nation's founding our union is not yet perfect, but we are getting closer. Our job's easier because somebody already got us through that first mile. Somebody already got us over that bridge. When it feels the road is too hard, when the torch we've been passed feels too heavy, we will remember these early travelers, and draw strength from their example, and hold firmly the words of the prophet Isaiah: "Those who hope in the Lord will renew their strength. They will soar on [the] wings like eagles. They will run and not grow weary. They will walk and not be faint."

To read President Obama's entire speech, go to medium.com.
So that was your brief Sunday School lesson…
I wasn't able to be there yesterday, but my friend LaTosha Brown was there. She wrote about her conflicting emotions as she prepared to go back to Selma, her hometown, this weekend in her blog post "Selma Is More Than A Place; Selma Is A People!" on her blog Latoshalove.blogspot.com. Little did LaTosha, who is an Atlanta transplant, know that not only would she be returning to her hometown to honor a critical time in our nation's history she would also be able to march across the Edmund Pettus Bridge in arms length of of first black president of the United States…LaTosha is just behind First Lady Michelle Obama and is wearing the black sweater with white hearts 🙂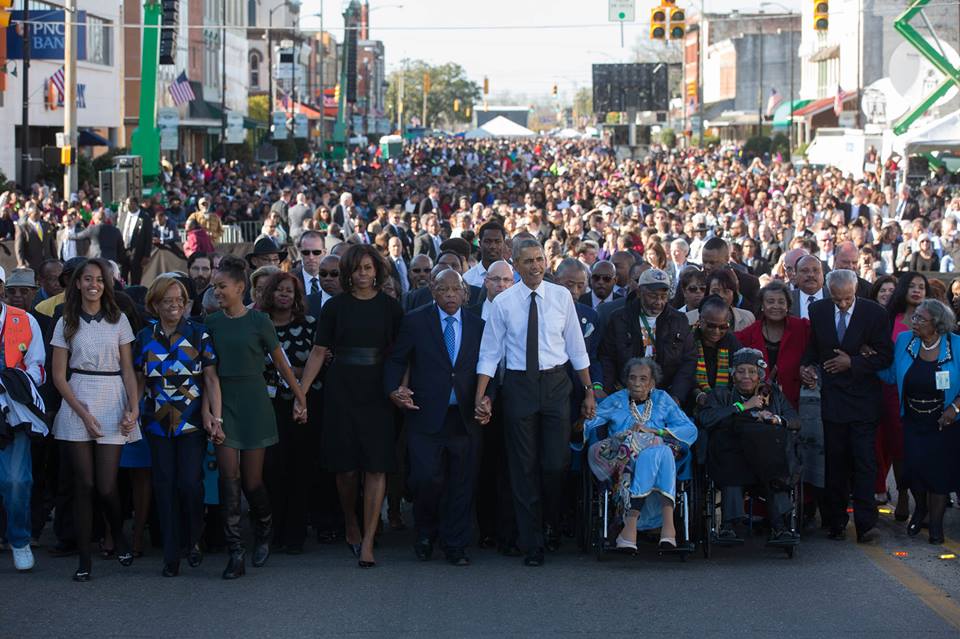 And here are a few more photos of LaTosha and her experience in Selma yesterday and her commentary that I am sharing with her permission…
Yesterday I was unexpectedly selected as part of a delegation to cross the bridge with the President of the United States and his family. I actually stood directly behind the first family. I'm still very happy about the experience. I walked with The foot soldiers and the first family. Can't get no better than this.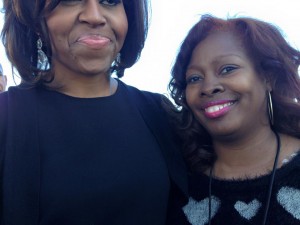 First Lady Michelle Obama and LaTosha…(My friend cut off Mrs.Obamas head but I still appreciated this opportunity)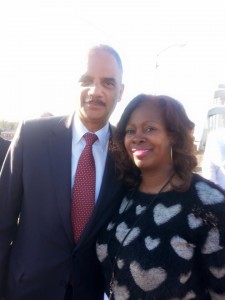 Got to take a photo with former Attorney General Holder...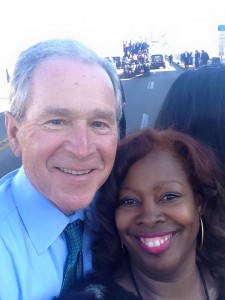 A familiar face…Former President Bush and LaTosha…(Guess who gladly took a selfie and cracked a joke?!)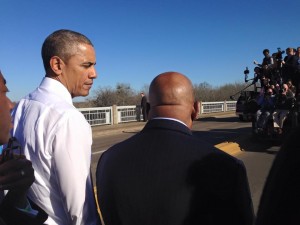 President Obama and Congressman John Lewis, one of the protestors beaten on "Bloody Sunday"…(I asked the President for a selfie and he cracked a joke and said, "I can't take a selfie with you because then everybody would want one." But I did get a photo from walking across the bridge behind him while leading freedom songs with him and his family, and foot soldiers.)
Any thoughts?
Comments
comments