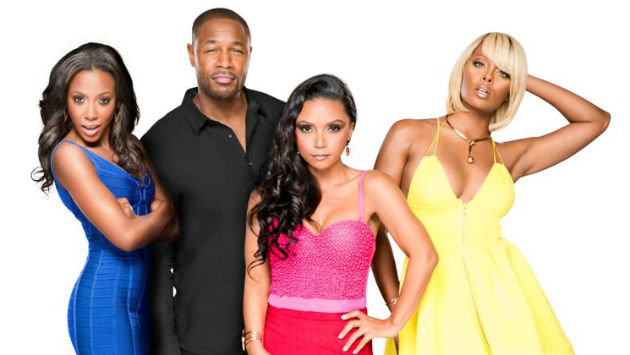 Hello World,
So admittedly, this recap is late as I normally post my recaps of "Born Again Virgin" on Thursday mornings! But when breaking news comes into play as it did last Thursday, I have to be prepared to roll with the punches so to speak. So please forgive me especially since it's Sunday, and we're going to church today 🙂 (You are going to church today, right?)
Considering the Floyd "Money" Mayweather fight last night, this episode goes right along with that as in this episode Kelly is excited about hosting a fight party! Apparently, the pr exec is known for her fight parties that feature her six-feet sub of "pure deliciousness" that she lovingly prepares herself.  Donovan, on the other hand, wants to compete with her by hosting his own fight party that features his popular crab dip. Remember Donovan can cook! But for the time being, he acquiesces to her desire to be the only one hosting the fight party.
While Kelly prepares for the party that evening, Jenna fights a mean case of "Writer's Block." She is supposed to churn out an article entitled "10 Things To Do On a Date Without Having Sex," but the born again virgin is bereft of any ideas which I don't understand. For the record, there are plenty of things to do on a date without having sex. Here are just a few off the top of my head – dinner and a movie, a day trip, dancing – none of these has to include sex to be fun.
Tara, who is usually self-centered, helps Kelly prepare for her fight party by vacuuming their place. But knowing her friend like she does, Kelly knows Tara is up to something and asks what she wants. She asks to borrow $100 for "womanscaping." However, she becomes undone when she discovers that her waxing lady has gone on tour with Beyoncé and won't be back for some time.
Between Jenna's mean case of "Writer's Block" and Tara's missing Wax Lady, Kelly is incensed that the two won't take the focus off of themselves for once and help her prepare for her fight party. As she cuts vegetables for the party and chews out her friends at the same time, she cuts a chunk out of one of her fingers and should go to a hospital emergency room. But that would mean she would have to cancel her fight party and she refuses to let her friends or Donovan win in their attempts, whether intentionally or not, to derail her plans.
Now that Jenna and Tara realize just how important this party is to Kelly, they decide to handle their own problems. First of all, Jenna takes a shower as Kelly has been asking her to do all day so that she can get ready for the party. As it turns out, she gets ideas for her article in the shower! I have found that anything with an "ing" at the end helps me to get ideas – whether it is showering, running, driving…Tara waxes herself. While her results are not as good as Jenna's results, she gets it done. Now the two can focus on helping their friend, who has camouflaged her bandaged bleeding hand with a stylish boxing glove, host the fight party.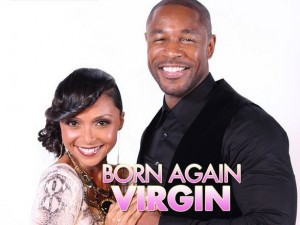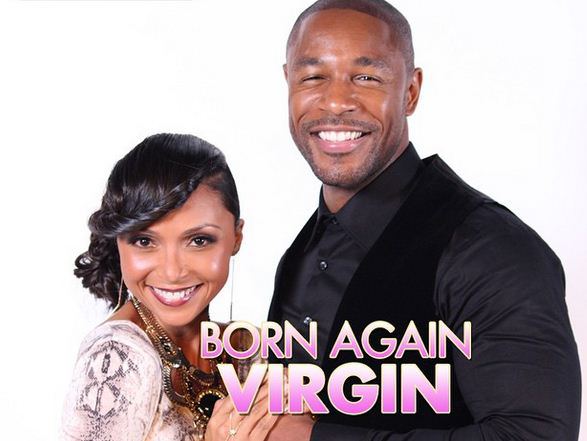 But just when the fight is about to start and after Kelly party goers have begun chomping on her sub of "pure deliciousness," she turns on the television to discover that nothing is on. Jenna forgot to pay the cable bill! Without the main course of the fight to devour, Kelly's party is now a lost cause. Donovan, going in for the kill, suggests that everyone come over to his place where they can eat his crab dip AND watch the fight. Kelly, at this point, has no choice but to turn on her friends, accusing Jenna of sleeping with a whopping 50 guys (soooo that's why she's a born again virgin) and Tara of never having a real job! But the women find a way to end their fight as they watch "Mahogany" once their cable has been reactivated. They quote one of my favorite lines from the movie. "Success is nothing without someone you love to share it with."
I believe the last two episodes of "Born Again Virgin" for this season will air this Wednesday, but according to Deadline.com, TV One has ordered another season of the show so the show will return early next year!
Any thoughts?
Comments
comments