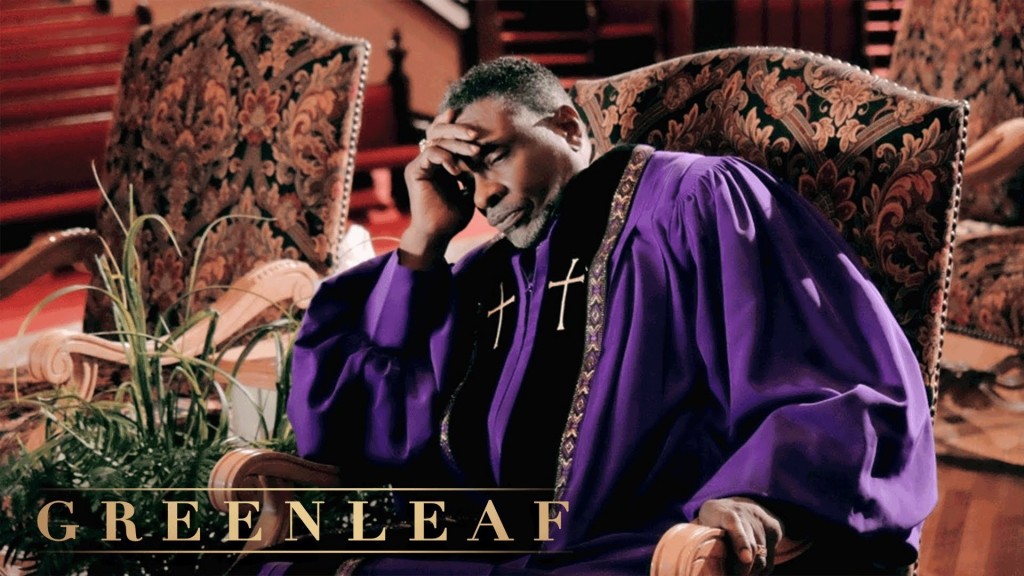 Hello World,
So I've missed two weeks of recaps as two weeks ago, I interviewed Deborah Joy Winans who plays Charity on OWN's"Greenleaf" in place of my weekly recap (if you haven't checked out "'Greenleaf' Star Deborah Joy Winans Shares About New Greenleaf Gospel Album, Her TV Husband & Her Aunt CeCe: My Interview (With Audio, please do so!) and last Wednesday was my wedding anniversary, but babay, I'm back!
I swear (and I don't LOL) "Greenleaf " never fails to disappoint! This show just works! I'm not even sure why yet, but I every week, they serve up the drama and I just eat it up!
So on to the recap…
Pain in the Pews…
There's nothing sadder than a preacher preaching to empty pews, and that is where Bishop Greenleaf is headed if he doesn't get right with God or somebody…The episode starts with him in an empty sanctuary recalling how he had just preached…He was sweating and shaking and saaanging "my living shall not be in vain" but the congregation was not moved…Correction, some were moving but in the opposite direction….Someone got up and left right in the middle of Bishop's sermon and the sanctuary wasn't even full to begin with…
The head deacon or deaconess (which I prefer to call her because how many times do you get to say deaconess) confirms what you can already tell: Attendance and tithes are down at Greenleaf and have been for four weeks! She pleads with the Bishop get a "fresh face" in the pulpit….someone who is "unsullied." She suggests Jacob or even Grace to which Bishop responds, "She's the one that got us into this mess." Yes, Grace, the Bishop's favorite child, is now on the Bishop's hit list! He assures the deaconess that Greenleaf will survive it all. But the deaconess replies, "The Lord doesn't want His church to survive, He wants us to thrive." Amen and pass the offering plate LOL!
Orange is the New Black…
Mac is finally wearing an orange jumpsuit in prison as he should be after the family secret that he sexually molested his niece is out in the open. But Lady Mae knows that another secret is being kept but this time by the Bishop. Apparently, Mac has something on the Bishop and is using that secret to blackmail him. She tries to get him to share the secret but he remains silent to her anger.
The fallout from the shoot out at church continues to reverberate as $4500 is needed to secure Lady's Mae's annual Women's Day event at the Peabody Hotel, but the money hasn't been approved by the powers that be at the church although the expenditure is usually approved without issue. Lady Mae decides to take out her own checkbook and write the check for the amount. Let the church say, "Ouch." How many tithes went into that $4500?!

He's a Healer…
One of the reasons that I love Grace's daughter is her inquisitiveness particularly as it relates to Scripture…As the daughter of a pastor, I'm so used to hearing Scripture that I don't necessarily see the word of God with fresh eyes. But I imagine that if I was introduced to Scriptures a bit later in life, I would have just as many questions (although I still have questions…don't get me wrong…) Sophia asks her mother Grace, who can still quote Scriptures by heart although she had been away from the church for many years, why did Jesus have to heal the blind man in Mark 8:23-26 twice? You know I've never gave it much thought, but why would Jesus, who is the Healer of all healers, have to heal twice to get it right…Obviously, there was a deeper meaning as the blind man says at first, " I see men as trees, walking." So this verse is where the title of this show comes from…More to be revealed later in the recap…read on church!
That's Just My Baby Daddy…
For all of this time, it has been a mystery regarding the identity of Sofia's father. At one point, I thought her father may been Noah, but we learned in last week's episode that Ray, a white man that Grace met in Phoenix after she fled from the Greenleaf estate, is Sofia's father. And despite the fact that Sofia is about that Greenleaf estate life, Ray wants full custody of her as Grace left Phoenix without properly informing him of her plans. She gets served the papers at church…
Speaking of Lawsuits…
Grace is not the only one who is heading to court and finds this out at church…Bishop Greenleaf meets with Alexa's attorney as the attorney alleges her client was fired without cause. Remember Jacob's side piece? (Kerissa makes a joke about side pieces as Kerissa and Jacob attempt to help their young son put puzzle pieces together. When the boy picks up a small piece that goes one side of the puzzle, she says Jacob should help as he is good with side pieces…funny…) Alexa's attorney (and Alexa is in the meeting too by the way) says a lawsuit won't be filed if the Bishop compensates for her loss. Now with the tithes going down and Lady Mae writing a check for $4500, where is the Bishop supposed to get some cash pray tell?
In a moment of synchronicity, Jacob comes to see his father just as Alexa and her attorney are finishing their meeting with the Bishop…And this isn't the only time that Alexa is mentioned in the episode…So obviously Alexa will continue to be a temptation for Jacob…
But for the moment, Jacob is not thinking about Alexa and pleads with his father to reinstate him at Greenleaf. Instead of reinstating Jacob, the Bishop attempts to redirect him by reminding him that being a pastor was never his dream and that he only became involved in the church after Grace left. Jacob finally gives up trying to convince his father that he is ready to return to Greenleaf and instead apologizes for getting involved with Alexa. The Bishop says, "Pray for her. She's chosen a painful path." What does that mean, saints?!!
Ever Seeing but Never Perceiving…
For all of Sofia's inquisitiveness with her mother, Sofia is totally quiet in youth Bible study so much so that the leader asks her what she thinks of Mark 8. Although she didn't know what to think when she asked her mother, she has obviously continued to think about the passage and she has an answer for the leader. She says that every person is rooted in something although we cannot necessarily see it with our natural eyes…I like that…
Gaming the System…
Although Jacob doesn't necessarily perceive it, his actions are rooted in pleasing his father although he has a funny way of showing it. Since his father won't reinstate him at Greenleaf, Jacob decides to go to the other megachurch in town – Triumph (where Alexa is a member) – and convince Pastor Skanks to hire him there…Jacob approaches the pastor while he is playing basketball at a gym…The pastor lets out an expletive when he realizes that Jacob, the crown prince of Calvary, is coming to him for a job…Okay, I need at least one pastor, other than Grace, that I can admire on this show…
Instead of simply hiring Jacob, Pastor Skanks (as his name suggests, he really ain't 'bout nohin') shows that he is really playing chess rather than basketball and tells Jacob that he must set up a meeting with the Bishop so that Pastor Skanks knows that he didn't hire the Bishop's son behind his back…
Almost a Golden Wedding Anniversary…
In the midst of all this, Bishop and Lady Mae are celebrating 45 years together! (Ironically, my parents celebrated 45 years of marriage on Sunday!) Well, let me correct what I noted. Bishop celebrated their wedding anniversary by sending her flowers but he later sees the flowers nearly dead on the floor of her office. If Bishop wants them to make it to their golden wedding anniversary, he better tell Lady Mae everything…
Just Call Me Nicety…
I think my favorite character next to Grace is Lady Mae because she is the champion of being nicety…She can be so nasty but because she says and does almost everything with a smile on her face. You think she is being nice when she is really being nicety…nice plus nasty equals nicety…After she discovers that Melisse,  chief housekeeper at the Greenleaf estate and better known as Lovita Alizé Jenkins-Robinson LOL, is the one who confirmed there was shooting at the church to the media, she turns around and gives her one of those scholarships (you know the ones that are used to keep people quiet). In other words, she has paid for to go to nursing school simultaneously releasing from her job at the Greenleaf estate…
My Secret
So actually Bishop isn't the only one in the family who is holding on to a secret in the wake of the Mac revelation…Kevin, Charity's husband, has a secret too…but it's the worst kept secret on the show…The leader of a local charity Adrian becomes particularly friendly with Kevin and he reveals to him that he doesn't want to be like his father who left his family when he was a little boy…Adrian assures him he is not like his father…Hmmm…whatever…It's obvious that that this man has feelings for Kevin and Kevin might be feeling him too…Although Kevin has twins on the way, even his desire to be a good father won't be enough to squelch his other desires…
Below is a video from Jacob's b-ball game with Pastor Skanks….
Y'all I'm tired…but those are my thoughts…What y'all think of my recap of episode 11?
TWO MORE EPISODES LEFT!!!
Any thoughts?
Comments
comments