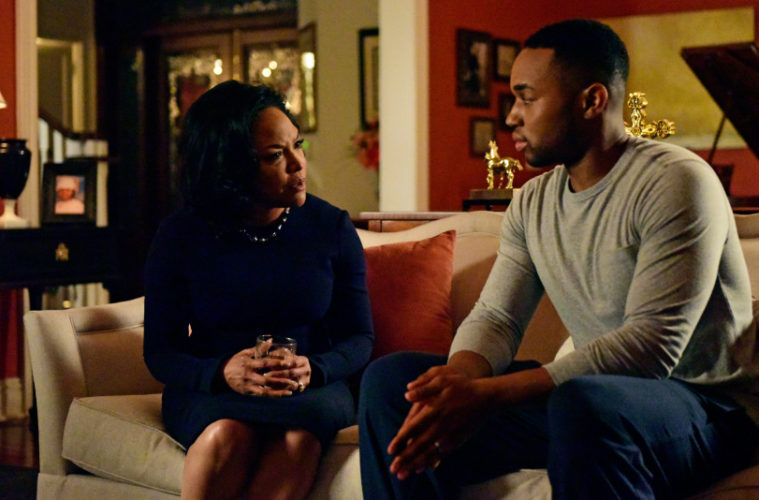 Hello World,
The Greenleaf family has almost as much drama as this year's presidential election, and it's certainly more fun to watch! That is for doggone sure!!! So let's get to this week's Greenleaf recap!!!
Chile, this episode of Greenleaf begins and ends with Kevin Satterlee, husband of Charity Greenleaf-Satterlee…Also, before I go any further, the Greenleaf – The Gospel Companion Soundtrack Volume 1 will be officially released THIS Friday! If you want to hear a sample of the album and read more about Deborah Joy Winans, who portrays Charity Greenleaf-Satterlee, this blog post is for you – "'Greenleaf' Star Deborah Joy Winans Shares About New Greenleaf Gospel Album, Her TV Husband & Her Aunt CeCe: My Interview (With Audio…
Comin' Out Hard…
Alright back to Kevin…We all know that Kevin is struggling with his sexuality, but when is he going to tell Charity? That is the real issue…When this episode begins, Kevin has spent yet another night on the coach and sees Charity coming down the stairs, ready to head out of the door. He asks where she is headed, and she tells him she is going out for a walk on the lake…And he's not invited nor permitted to come after he invites himself…
Kevin isn't the only man in the Greenleaf estate struggling with how to tell something. Jacob Greenleaf is scheduled to meet with his father and Pastor Skanks about being hired as a pastor at Triumph, the rival church of Calvary…(So you know a church shouldn't have a rival, right? Okay, back to the recap..) and Kerissa is right to worry about Jacob defecting. His move may cost them their home in the Greenleaf estate after all, but Jacob ferreted out another reason for Kerissa's apprehension: Alexa. His former sidepiece is now attending Triumph after Bishop fired her. He assures her that she is his only one and even compliments her on her sexy arms while Zora is upstairs playing gangsta rap so loudly it thumps through the ceiling…PKs are always causing a ruckus LOL…And I should know since I am one 🙂
Rome is Burning…
Although Lady Mae already contributed $4500 out of her pocket to secure the grand Peabody Hotel for her Women's Day event in last week's episode of Greenleaf, there is still trouble afoot. Connie, head of the deacon board of Calvary, comes to see Lady Mae and asks her to consider moving the event to a less prestigious hotel, the River Bluff, as fewer women will be attending the event. At the smaller hotel with smaller rooms, Connie can still make the event look like a big deal. At the larger hotel, the lower turnout will be more apparent, she explains. However, Lady Mae is not having it and insists that the event remain at Peabody.
Connie then attempts to make a deal with Lady Mae. If she allows Grace (who inspired Calvary members to give the most they have given in recent times) to preach for at least three months , she will be able to calm down the rumblings of discord and disapproval she's heard from members regarding all of the drama that has gone down at Greenleaf lately…
Instead of considering Connie's deal, Lady Mae lets loose of one of her one-liners. "If Rome is burning, then she is the one who set it on fire!"
Here Comes the Judge…
Grace and her baby daddy Ray, who has been clean and sober for eight years, head to court to settle their dispute about where their daughter Sophia lives. Although Sophia testifies that she would prefer to stay with her mother at the Greenleaf estate, the judge decides that after school is out in two weeks, she will return to Phoenix with Ray for 90 days. Despite wanting to stay with mother, Sophia feels caught between the two and is having a hard time dealing with the dichotomy that is her family…
While the Bishop is not an official judge, Jacob along with Pastor Skanks finally meet with the Bishop for Jacob to explain why he wants to be a pastor at Triumph. Pastor Skanks tells the Bishop that spreading the gospel is the most important thing and if Jacob can help spread the gospel, even if it is at Triumph, then that is good. Even if the Bishop sometimes has questionable motives, he usually comes off as a respectable man of God while Pastor Skanks just comes off as a shyster. Something tells me that spreading the gospel is last on his list of priorities…He's up to something…I wonder if we will find out what before the season is over…
Although Bishop undoubtedly does not agree with Jacob preaching for with his rival, he gives him his blessing but he tells him that he will be one to tell his mother…
Green Light…
Adrian believes that Kevin has given him the green light to get his flirt on as the two meet for a cozy dinner at a restaurant…Lights are flickering and glasses are clinking so it seems that is what Kevin had in mind…But when Kevin gets Adrian straight so to speak, Adrian says, "Why are we at dinner?" before leaving in exasperation…
Exasperated in her own right and needing some direction, Grace goes to see her Aunt Mavis. Aunt Mavis, portrayed by Oprah, says, "Well look who exists." Clearly, a visit from her favorite niece is overdue. Grace discovers that her Uncle Mac used his influence with the city government to have her club shut down, but she still manages to give advice to Grace. She says now that she accomplished what she came to do…i.e. Veni, Vidi, Vici or  you came, you saw, you conquered (with Mac in jail) she has the green light to head back to Phoenix where she can co-parent with Ray. But for some reason, Grace feels compelled to stay in Memphis…
You Da Man…
In a conversation with her father, Charity notices that the Bishop's hand shakes. Not wanting to be the last one to know everything as she usually is, she confronts her mother about her father…Incidentally, she seems to be the only Greenleaf child that notices her father is exhibiting symptoms of an illness. While Lady Mae neither confirms or denies her daughter's suspicion, she does tell Kevin to "man up" and explains him it's up to him to make things right with Charity…
Later when Lady Mae sees Bishop, adorned in a cream FILA jogging suit, lounging on the coach before bed, she tells Bishop that she is no longer content to be the woman behind the man. Rather than have Grace in the pulpit, she can be in the pulpit as a Greenleaf does need to be in the pulpit and Bishop agrees that Grace is not the best choice. And at the same time, Bishop knows that speaking once a year at a Women's Day event does not make one qualified to preach. Lady Mae also pleads with him again tell her what Mac has on him, but he still doesn't want to say…
The Whole Truth…
But finally, there are some that do want to tell the whole truth. Even as Grace fights for her daughter, she is also still grappling with her feelings for Noah. He comes to see her after he explains that Isabel is coming back to town and what that they mean for their relationship…Although Grace and Noah look nice together, maybe too much has happened for them to be the couple they once were as teenagers…
Meanwhile, Kevin goes to the nursery where he is ready to tell the whole truth to Charity. He tells her that although he loves her and wants to be a father to their twins, he's been having feelings and that he's prayed about the feelings but they won't go away. Charity asks, "What kind of feelings?" Kevin responds with "Feelings about men." When she asks him if he is gay, he says he doesn't know. By this time, Charity is crying and is so overwhelmed with emotion that she falls to the ground.
Grace hears sirens from her room and in the next scene, everyone is out front as an ambulance has arrived in front of the Greenleaf home for Charity! After Charity and the twins are stabilized at the hospital, she tells Kevin he can go home…
Speaking of feelings, I really felt that scene! That was the best scene of the season for Deborah Joy Winans and Tye White, who portray the challenged couple…And that was the end of the episode…
Check out that bombshell moment between Charity and Kevin below…
So I'm expecting more explosions in next week's episode of Greenleaf…Will the Bishop tell his children AND the church that he is ill and what does Mac have on him anyway? Will Charity tell her family what Kevin told her? Will Jacob get back with Alexa now that the two will be reunited at Triumph?
What do you think of my Greenleaf recap of episode 12?
Any thoughts?
Comments
comments