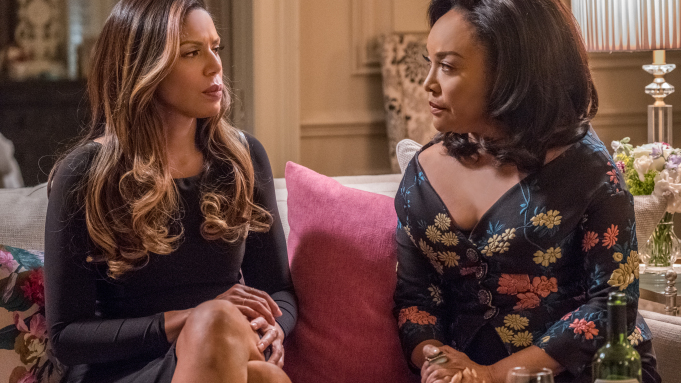 Hello World,
Y'all, our favorite megachurch drama OWN's "Greenleaf" is coming back on Tuesday, Sept. 3 at 10 p.m. EST to kick off Season 4! That's right, Saints! No more rushing home from Bible Study to tune into the Bishop & Lady Mae show on a Wednesday!
"Season Four finds the Greenleafs attempting to maintain a united front in the face of losing Calvary to Bob Whitmore (Beau Bridges) and Harmony & Hope Ministries, but secrets past and present create what could be fatal fractures in the family's fragile foundation. Lady Mae (Lynn Whitfield) and Grace (Merle Dandridge) form an uneasy alliance as they endeavor to reclaim their church from Harmony & Hope — Grace from within the church where she's operating as interim head pastor and Lady Mae using her persuasive ways from the outside. But Grace's mission becomes complicated when a mysterious phone call sets in motion a chain of events that threatens to reveal her biggest secret yet. The Bishop (Keith David) continues working to mend his rift with his wife Lady Mae, while day by day Harmony & Hope's grip on Calvary tightens."
Below is the trailer:
There was a LOT in that trailer, right?! I won't break everything down until Season 4 kicks off but it looks like we will finally find out what happened with Grace in Phoenix, Noah Kendall, Grace's first love from Season 1 is coming back and Charity may be sleeping with the enemy aka the fine black guy from Harmony & Hope Ministries!
The hit megachurch drama series "Greenleaf" is produced for OWN by Lionsgate in association with Harpo Films and Pine City.  Executive producers are Oprah Winfrey, Craig Wright, Clement Virgo, and Kriss Turner Towner.
Y'all can catch up on the show's complete three seasons on Netflix AND by reading my "Greenleaf" recaps! Here is "Greenleaf Finale Recap, Season 3 Episode 13: The New Life…"
And if you want to read recaps of all of Season 3, just go to the search button on the upper right and search by using the term "Greenleaf Season 3!"
So are you ready for Season 4 of OWN's "Greenleaf?" Y'all know I am!!!
Any thoughts?
Comments
comments