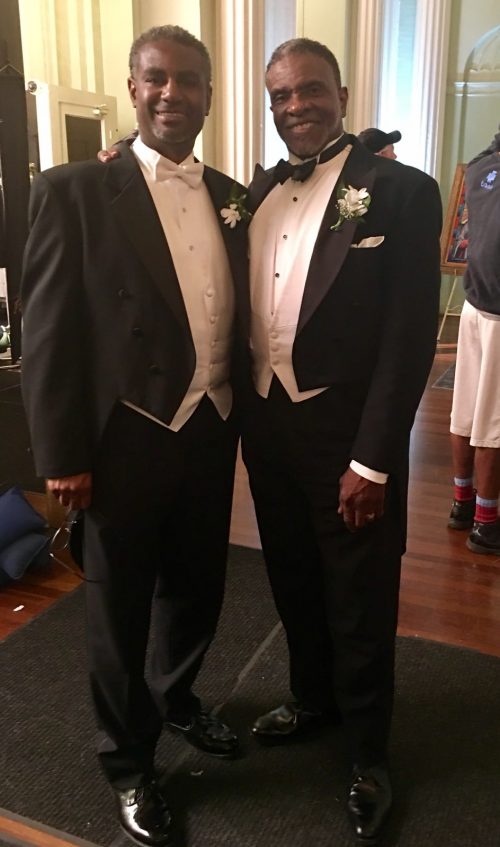 Hello World,
As OWN's "Greenleaf" is my favorite television show, I was excited when I met Greg Mitchell, by chance, at my nephew's college orientation earlier this summer. Greg is the stand-in for Keith David, who portrays our beloved Bishop Greenleaf. And after our conversation, he agreed to be interviewed in anticipation of "Greenleaf" returning on Tuesday, Sept. 3! Hallelujah Saints!
I was inspired after reading about how Ava Duvernay, who is the creator of another OWN hit TV show "Queen Sugar," left her career in publicity to start her career in making films at 32 years old, but Greg did the same thing at 50!!!
So below is Greg's bio followed by my interview with him.
Gregory M. Mitchell is the President/CEO of GM Legacy Enterprises since 1999. He is the principal of PROforma formerly Mitchell Media & Marketing, founded in 2003. He the lead 2nd Team Actor (stand-in) for Keith David and Lamman Rucker on the successful cable TV series "Greenleaf" (OWN Network). Gregory has also been featured on "MacGyver," Marvel's new "Ant-Man 2," and he has been cast as a lead in two new short films.
1. You are the CEO of GM Legacy Enterprises and the principal of Mitchell Media & Marketing now PROforma Optimum Business Solutions. How did you get into acting? 
It's very interesting how I got started. Acting was something that was a childhood dream growing up in Detroit. Unfortunately, there weren't many outlets for me to turn to in terms of getting any kind of training or anything of that nature. We didn't have a whole lot of theatres or things of nature in my area and as a young man, inexperienced, I had no idea of where to even begin. I never mentioned it to my mom because otherwise she sure would have found something for me but I never mentioned it. I was also heavily into sports and that kind of ended up taking priority. So I kind of left that in the back of my mind and never pursued it.

Interestingly enough, life took its course and I ended up in the business realm and that's where I've been for the last I don't know how many years. I'm 52 now, and two weeks before my fiftieth birthday, I'm sitting and watching television and the thought crossed my mind, 'What would my life be like had I pursued acting as a career path?' And the Lord quickened in me that it's never too late. I was like, 'What? I'm almost 50 years old! That's a young man's sport. Naw' And then once again, He quickened in me that the industry has come to my back door. And at this point in my business career, I own an agency. I've owned an advertising agency for 19 years now, and I really haven't been engaged in the day-to-day operation for maybe about a year in terms of just every day.  So I had time on my hands. And I just began to think, 'Wow, the industry is at my back door. Production is readily available. And I have time on my hands so why not put myself out there and just see what happens.'
2. So what was your next step?
My business mind kicked in, and I said, 'Let me put a plan of action together and let's execute and let's see what happens.' Again, it was two weeks prior to my fiftieth birthday. That was my thought process.  Let me at least get started before I turn 50. And this was on a Saturday evening at about 9 p.m. when this thought process began. I'm not really one to let grass grow under my feet so the next morning, I got up and I pulled some photos together. I usually keep my head shots up to date for business purposes so I had a couple of those. The ones that I had were probably two years old. And I had a favorite selfie. I think we all have a favorite selfie. So I armed myself with those three photographs and I got online and started looking up some different casting agencies. I made a list of five extra agencies. I said, 'Well, let me start there since I have no experience.' I'm a bootstrapper.  If I can just get my foot in the door, then I can learn from there. I just need to get on somebody's set so I can see exactly what goes on and figure it all out.

So I made a list of five extra agencies in the Atlanta area and that was on Sunday. And I said, 'I'm going to send emails on Monday morning.' Well, on Monday morning, I ended up being busy. I didn't get a chance to send out all five of my emails. I actually was only able to send out one and then I focused on the business that I had that day. I sent out an e-mail to the agency that was at the top of my list.

The next day, around noon, I get a call. Because in my email what I said was, I'm new to the field. I don't know what I'm doing; however, I do know what I want to do if given an opportunity. These are some headshots and if nothing else, I would appreciate if someone would give me a call back and give your opinion of my look and whether or not you think that there may be interest – if you think that I have a look that may be of interest to a casting agent.
3. So did you get a response from the only email that you sent?
The young lady that calls said, 'I am responding to your letter.' She said it was a very interesting letter. 'I've never received one like that. Typically, we never respond when we receive information from someone that may have submitted their information. We're either interested or we're not. If we're not interested, we don't call. But I decided to call whether we're interested or not because you asked me about our opinion. I thought that was interesting so I'm calling you to give you my opinion.' She said, 'When I received the email, I saw your photographs, and I thought that you had a great look. I passed your pictures around the office to the other representatives and everyone agreed that you have a great look. If you can act, there's a great possibility that you can do something in the industry.' She said, So there you go. If this is what you want to do, I would highly suggest that you do it.'
4. Wow! Did she have anything else to say after she said all of that?
She said, 'So what is your plan? What's next for you?' I said, 'Well, I was hoping you would tell me what's next.' She said, 'Okay, I would like to have that conversation, but I need to go into a meeting. And if you don't mind, I will call you later.' I said, 'Great, call me later.' She calls me back at the end of the day about 4:30 that afternoon. She says, 'Mr. Mitchell, I've never experienced this before, but I have a few things I want to talk to you about.' She says, 'Remember I had a meeting I had to go into earlier?' And I said, 'Yes.' She said, 'That meeting was with one of our production clients. It was a post-meeting to just discuss final plans for the first episode of their new season. So we've already cast our reoccurring staff for their show; however, while in the meeting and going over some last minute details, the owner of the agency said to the production client that I want you to look at a new photograph we received today. I think he has a very interesting look, and I just want your opinion.' So they put my photo on the table and the production client said, 'Wow, he's got a great look. What are your plans for him?' They said, 'Well, we really haven't even had a chance to talk to him in detail yet.' The client said, 'Well, if he's available, we would like to have him.'

So she calls me back and she's telling me all of this. So I'm like, 'Is this a reality show? Because I'm not really interested in any foolishness.' She said, 'No, it's a scripted show on Oprah Winfrey's network. It's called 'Greenleaf.' 'Greenleaf' happened to be one of my favorite shows because for many years because I worked in that field for 20-something years as an employee and then when I started my own agency. I was the chief marketing officer for New Birth Missionary Baptist Church many years ago. So of course, I was elated. They asked, 'Are you available tomorrow?' 'And I said, 'I can clear my schedule for tomorrow. What time do you need me?' I'm thinking we're going to have a meeting. Then she said, "Are you available for the next six months?' And of course, I'm like, 'What?!" She told me they were interested in having me as part of the reoccurring background which are extras in a reoccurring state. She said, 'If you're available, they would like to make you a part of the regular background as one of the church employees. And they will be filming for the next six months and they would like for you to be a regular on the show. ' So I was like,'Yeah, absolutely.'

So I actually started on set the very next day. This was in November of 2016. Nov. 12, 2016 was when I had the thought, and I started on 'Greenleaf' on Nov. 16. I had the thought on a Saturday and by that Wednesday, I started that morning at 6 a.m. I had no reel, no resume, no nothing. Only two professional headshots and a selfie.
5. So what was your first day on set like?
So Wednesday was my first day on set as a background and then I was there again on Thursday. I was off on Friday. When I walked into the studio on Monday morning, one of the PAs (production assistant) walked up to me and said, 'Hey, the director wants you to stand in for Keith David today. He is the bishop on the show.' Now, mind you, this is technically my third day on the show, and I didn't even know what a stand-in was. But if the director has requested me to stand in, then I'm going to stand in. I just need someone to tell me what I exactly I need to do. I said, 'As long as somebody tells me what I need to do, fine.' So they gave me a quick overview as to what a stand-in does. They gave me the script. When you're in the background, you don't need a script because you don't have lines. So they hand me a script and the director says, 'Thank you for doing this for me. From the very first day you came on set, I took note of you because you and Keith David look a lot alike. So when his stand-in called in sick today, I immediately thought you would be a perfect stand-in for him.'
6. So what does a stand-in do?
In theatre, a stand-in would be called an understudy. And in theatre, the understudy would step in if the main actor cannot perform a particular night. As a stand-in in film and television, obviously, you don't step in if they can't be there. But what you do do as a stand-in is that you actually take the actor's place in all of the technical rehearsals. You partner with the camera operators, the director, the photographer, the first ad which is short for assistant director. But basically, you are there for their purposes.

While the main actors are in hair and makeup for the next scene that we're going to be shooting, a stand-in is on set and we're going through full rehearsals of the scene so that the director of photography who is responsible for the cinematic look of the show and lighting can make sure that all of that is right. The principal actors don't have the time to be out there for that process. A stand-in is typically similar in complexion, very close in height, so there are similarities between the stand-in and the actual actor. The reason for that is because we are there to make sure that the lighting is right for that actor. You're partnering with the camera operators, and the camera operators are practicing their moves and how we're actually going to shoot a scene. Your height is important because the cameras are being adjusted to height levels.

So by the time the main actors come back out, the lighting has already been taken care of because we're about the same complexion. The cameras are set for height because we've already done full rehearsals walking through the entire scene. The main actors rehearse first and then we see what they did and then we reenact that. We rehearse a number of times so by the time the main actors come back out from hair and makeup, everyone knows exactly what they're doing. So that is what a stand-in does.

So every main character has a stand-in? Every individual in a scene has a stand-in so it's not just the main characters. The main character has consistent individuals that represent them; however, if it's an actor that may just be coming in for the day, a day player, or one of the reoccurring actors that is not one of the lead actors, then we rotate. For example, if Keith David is not in a scene but Lamman Rucker is in a scene, then I will stand in for Lamman as well. You remember Kevin who was a part of the show, I've stood in for Kevin. Once you become a professional stand-in, your complexion, your height and all of that becomes less important, and it's about knowing exactly what you're doing. And that's what happened to me. I've been a stand-in for every, at some point or another, man ever associated with the show including Rick Fox. He's 6'8 so literally, I would stand on a box.

Do you have to memorize the entire script? Yes. But let's say that Lamman and Keith are in the same scene, then obviously, I can't stand in for both of them. In that case, they would bring another stand-in in just for that day for Lamman because Keith is my priority.
7. Did you ever imagine that you become the official stand-in for Keith David, Bishop Greenleaf on the show?
When I became a stand-in, when I stood in for Keith on that first day, and that same day, after doing a couple of scenes, it was unfortunate for the young man who called in sick because he lost his spot to me. After standing in for a few episodes, I learned that we're not expected to learn the lines. However, I didn't know any better at first so the very first day that they gave me a script, I learned the lines. I didn't know that I didn't have to but I was foolish enough to want to be prepared in case I did. I learned the entire script for that scene in about 15 minutes. And so when we did a rehearsal, all of the other stand-ins were reading their scripts. They noticed that I didn't have a script in my hand. They were extremely impressed by that and that's part of the reason why they decided to make me Keith's permanent stand-in.

After doing this for a couple of episodes, I began to realize that this is the best training that I could possibly get because I ended up taking a couple of acting classes after I did a few episodes. But what I discovered in the class is that everything I was being taught, I already knew because I was exposed to the process every day. I was learning every day from the likes of Keith David, from the likes of Lynn Whitfield, the likes of Lamman Rucker and these talented individuals. I was unconsciously studying and learning because I didn't realize what I was taking in. And the actual instructor himself pulled me to the side after a few classes and asked me, 'Why are you here? You seem to know this stuff already.' I took an inventory and now that I knew what the class consisted of, I realized I could save that money. All I had to do was pay very close attention to what was going on on set. The great thing about being a stand-in is that you have access. You have the ability to stand close to the set and learn and hone your craft.
8. So what can you tell me about this upcoming fourth season of "Greenleaf?"
I can't tell you too many details but it does start on September 3. I can tell you that it's going to be an amazing ride. I can tell you that it really starts to dig a little deeper into the family history. It's going to be very enlightening, and it will be an emotional roller-coaster.

I saw Noah Kendall from the first season in the trailer for this season. Yes, Noah is back. Yes, this season is going to be very exciting. I can tell you that. You do not want to miss an episode. I will say that for sure.
9. I know you have had a long career in business and have met all kinds of people, but have you been starstruck on set at all?
No, I haven't. The only person that obviously moved me most was meeting Oprah who is one of our executive producers. I was excited the first day that I encountered her on set. She was in her trailer for most of the day. So here's a funny story. We were at lunch, just finishing lunch as a matter of fact and everyone, pretty much, had returned to set to finish a scene. It just so happened that I wasn't in that scene along with a few other people so we were still casually sitting, just talking. So in comes Oprah and a couple of her team members. And of course I'm like, 'Wow there she is.'

So lunch is over and catering is already cleaning up. They're disposing of all of the remaining food. Oprah is looking for food, but they have literally disposed of most of what was left. The caterer was absolutely in shock. All that was left were salads because they had not gotten to the salads. And there wasn't a whole lot of the salads left either. So when she walked in the door, I looked over at him and his eyes just got big. She's like, 'Hey Kenny.' And he's like, 'Hey, Ms. Winfrey. Are you coming to eat lunch?' And she said, 'Yeah.' He said, 'Oh my God. No one told me. When you didn't come out, I assumed that someone brought you lunch in your trailer.'

And she said, 'No, we didn't request lunch in the trailer.' He said, 'I am sorry.' There's a restaurant not far from the studio that she loves. He said, 'I will send someone to the restaurant that you love. I know what you like. I can send someone down there and have it for you in 20 minutes.' She said, 'No, that's okay. You don't have to worry about that. I see you have some salad over here. I will just put something together.' He said, 'No, no, no, it's no problem.' She's like, 'No, Kenny, don't do that. It's fine. I will just have some of this salad.' So she scraped together a meal of salad and whatever toppings were left, and she was just as content with that.

So my first opinion of her was, Wow, she really could have made him jump through hoops to accommodate her but that's not who she is. So that was my first encounter with her. She is as down-to-earth as you and I are and sweet as she could be.
10. What are your future plans in acting after 'Greenleaf?'
I plan to work as a principal actor after finishing with 'Greenleaf.' And the entrepreneurial spirit within me won't allow me to just stop at that. I want to do the whole gamut – in front of the camera, behind the camera. I'm actually on the verge of starting a casting company casting extras. My casting company ProCAST USA will launch soon. Follow ProCAST USA @ProCASTUSA on Instagram for news and updates.

My experience has really set me up to want to help others who are trying to get into acting.
Alright Saints, we can hold on till September 3 for the start of Season 4 now, right? If not, read my "Greenleaf" recaps! Here is "Greenleaf Finale Recap, Season 3 Episode 13: The New Life…" And if you want to read recaps of all of Season 3 or Seasons 1-2, just go to the search button on the upper right and search by using the term "Greenleaf Season 2 or Greenleaf Season 3!"
And if you would like to have conversations about faith, relationship, pop culture and more, please click on this link to subscribe to my blog 
!
Any thoughts?
Comments
comments