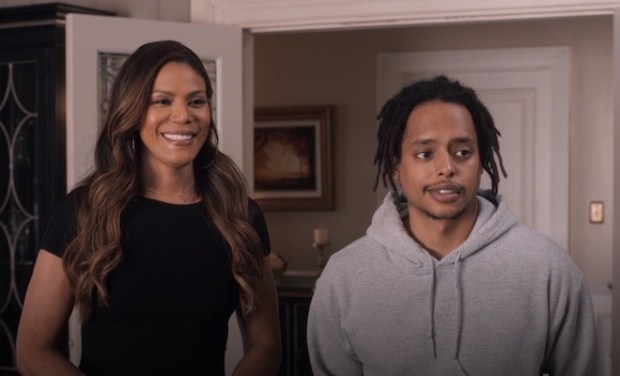 Hello World,
Will Charity ever stop choosing the wrong man? That question and more will be answered in this Greenleaf Recap Season 4 Episode 6: The Stranger…
Stranger Things…
It still strikes me as strange that after three seasons of functioning more as sworn enemies than mother and daughter, Lady Mae and Grace are kind to and understanding of one another this season. This is never more apparent than it is when Grace finally confesses to her mother that she has a son.
This week's episode picks up after Grace's confession. "Don't you have anything to say?" says Grace. "I just told you that I have a grown son." Had this been last season, Lady Mae would have probably accused Grace of trying to destroy the family and launched into one of her dramatic monologues. But this is a new day. At this point, Lady Mae only asks to see a picture of A.J. She follows up with asking Grace if she has prayed about the matter. She ends with, "So may I meet my new grandson?" Grace says she wants the family to meet him, but she is unsure of where he is as they recently argued. She also tells Lady Mae that her son has a prison record.
Just then, Charity walks into the kitchen and senses the tension. "What happened now?" she says. Lady Mae says, "This has to be kept in the family." Charity says, "Who else would I tell?" We know that Phil DeMars is going to find out about all of this just as soon as she can leave the kitchen.
In the next scene, Grace calls A.J. again but has to leave a message. "I know you're upset about the money. I told the family about you. They want to meet you. Tonight if possible."
Later, Lady Mae and Bishop discuss the strange turn of events. "What has you so so transfixed?" Lady Mae asks Bishop. Bishop reflects on a conversation he had with Gigi 25 years ago. She had left home and called him from somewhere in Chicago. "She called, needing money. I thought she was obstinate, righteous and proud, but she was really pregnant, scared and lonely."
Lady Mae wants to make things right with Grace and A.J. as well. "We need to graft him into the family and put him where the sun would do him some good." I like that metaphor. (a plant metaphor for the Greenleafs)
At Calvary, Jacob walks up on Karine looking at a video of that strange fight that Jacob had with all of the Memphis Red Devils. She tells him he is now known as, "Pastor Holyfield."  But he laughs it off despite the fact that the altercation cost him his job.
Strange Bedfellows…
🤦🏾‍♀️ #Greenleaf pic.twitter.com/pIdByCU2KQ

— Greenleaf OWN (@GreenleafOWN) October 9, 2019
As predicted, Charity runs to Phil DeMars to blab about Grace's new son. "Stand up," she tells him. Once he stands, she says, "You're going to need to sit down. Grace has a secret son. She gave him up for adoption. She's supposed to be the good one," she says with glee. But Phil doesn't immediately respond the way she had anticipated he would. "It's not like she had an abortion," Phil says. "He's an ex-con and was in jail for five years for burglary," she offers. "But that's more about him than her," says Phil in response. These two, not-so-strange bedfellows I'm afraid. They are just thirsty, I swear! She tells him that she hopes to meet A.J. that night as the family wants him to come over for dinner. Before she leaves to snoop for more dirt, Phil tells her that her hair looks nice. I must admit that it does. It is swept to one side and very curly.
Jacob sees Charity leave Phil's office and asks, "Are you in trouble with Phil too?" Charity has to come up with a cover quick. "I called Judy Whitmore and told her we weren't singing that song anymore." "But I heard Carlton practicing that song with the choir," Jacob says. Charity keeps it moving to keep from answering more questions.
Speaking of answering more questions, Grace realizes why she was unable to get in touch with A.J. for a while. "Hey, it's A.J. I've been arrested," he says once she answers the phone. She takes off for the Memphis police station. A.J. pleads with his mother to be his alibi. Apparently, he was arrested for a pharmacy robbery, but he wants Grace to say she was with him at his apartment the previous evening. He remembers that Aaron the attorney said that Grace was very kind, even to a stranger. "Pretend I'm a stranger. I can't go back to jail."
You can see that Grace is struggling with his request, but in the end, she decides to stick out her neck for her son for once. The police officer, who makes her sign a sworn statement, also makes sure that she knows that "lying to a police officer is a crime."
Back at Calvary, Phil and Jacob finally meet regarding Jacob's fight. "I was breaking up a fight," Jacob explains. But y'all know Phil aine tryin' to hear his explanation. Basically, Phil says it's above him now as Bob saw the fight on television. Jacob wants to fight Phil, but he keeps it together although he is tempted to give him a taste of what Phil saw on television.  "You better leave before I do something I regret." So Jacob is officially and completely unemployed.
Kerissa has a meeting as well. She meets with the buyer of their land. She confronts him about his connection to Harmony & Hope Ministries. In an effort to extort him for more money, she tells him that she will tell her husband about that connection. Kerissa wants out of the Greenleaf estate and NOW! "This check isn't even half enough of what we need." The buyer doesn't seem all that fazed by her threat, but he does give her more money. He also tells her that she has to keep quiet now. But after the business is over, he makes a move on Kerissa! He tells her that her husband is only giving her "half of what you need. I would make sure that you were always taken care of." Y'all know that got Kerissa excited, but she keeps her wits about herself for the time being. She tells him she may just take him up on his offer  but only"after the check clears."
And Kerissa ain't the only one who contemplates stepping outside of the marriage. In the next scene, Jacob holds his cell phone in his hand as he stares at the top contact: Tasha Skanks…(I think Tasha is a better match for Jacob actually. Yes, I'm saying this again…)
Hey Stranger…
But before Jacob can act on his thought, Kerissa walks into his office. "Hello Handsome, I was just thinking about you," she says to him. She tells him that she managed to scrape up a few more dollars to put an offer on their dream home. They plan to go out to dinner to celebrate, but Lady Mae calls.
"I think you should come home." She tells him that Grace has a son and he needs to meet him tonight. But Kerissa aine tryin' to be second, even to Grace's secret son, especially since Lady Mae delivered the news. "Can you put me first?" she asks. "Can you man up and be my husband for once." She reminds him that he has lost several jobs lately and she hasn't made a big deal of the sad situation. She has a point there. But Jacob has made up his mind. "Are you coming or not?" he says. "Does it look like I'm coming?" Kerissa responds bitterly. Well, Jacob's rejection was the incentive she need to call the buyer back. "The check cleared," she says.
At the Greenleaf estate, A.J. finally gets the opportunity to meet his family. "Welcome to the family," Lady Mae says. (Did y'all catch when she asked to Marisol to put up all of the valuables before he arrived though? LOL) Lady Mae and Bishop agree that he's a "perfect mix" of Grace and Noah. If you say so…"How would you like to meet your cousin?" Lady Mae asks. She explains that Zora lives in the "hippie bungalow." (If Kerissa and Jacob ever move, will Zora willingly move with them? Hmmm…I wouldn't…) She takes him to Zora's spot and Zora is Zora after her grandmother leaves. "So A.J., you wanna get high?" He says, "I thought you were a Christian." Zora comes back with, "I'm Christian, not crazy." Smh…
Unfortunately, an uninvited person shows up at this overdue family reunion. A detective wants to see Grace. He tells her that he doubts what she said about A.J. and his alibi and accuses her of concocting the story with him. Apparently, security footage  at the police station shows Grace having a serious conversation with her son. Grace accuses the police officer of trying to pin something on her son.
But Lady Mae is not unconvinced that her grandson is not guilty of robbing the pharmacy. "Did you do it or not?" she asks A.J. after she tells Zora to make herself scarce.
You WILL answer Mae. #Greenleaf pic.twitter.com/lKaCVSJo5O

— Greenleaf OWN (@GreenleafOWN) October 9, 2019
"Could you please answer the question?" But before he can answer, Charity shows up with a baby blue balloon with the words "It's a Boy" on it. This chick…
Lady Mae is only momentarily interrupted but gets back to her interrogation. "A.J., would you answer the question?" A.J. still says nothing. That sets Lady Mae off and she goes into one of her signature speeches. She says,"You've never met anyone more formidable than me. I'm a formidable adversary and I'm even more formidable as a friend…I'm more useful to you than riches." Worried that the family's last remaining connection to Calvary could be tarnished, she advises Grace to get right with God. "As a Christian and as a member of your church, I'm imploring you. You go down to that station and tell them the truth." A.J., who still hasn't answered any of Lady Mae's questions, leaves.
As all of this was unfolding, Kerissa was with that buyer, a white gentleman. She complains to him about Jacob. "I found the house, I found the money. He can't even tell his mom no for one night." He takes her rant as an opportunity to comfort her. "What are you doing?" Kerissa says. "You know what I'm doing," he says just before he kisses her. She collapses into his arms like the morals she claims to have…
Once she gets home, Jacob asks, "Where have you been?" Of course, she lies about her whereabouts. But Jacob doesn't seem all that concerned at the moment. He was just waiting for her to come home to be with Winkie as he has to return to Calvary for some business.
Grace also leaves the estate to follow her son back to his apartment where she finds him packing. "Don't you want a family after all this time? If you leave like this, they're going to think you're guilty." Despite Grace trying dissuade him from leaving, A.J. doesn't want to chance being locked up again. (Why didn't he answer Lady Mae's question?) She gives him her car keys. "Take good are of yourself," she says. "You do the same," he says before throwing the keys back to her. I didn't expect that…(Did y'all see when he packed those pills in his bag? He did hit up that pharmacy…But maybe not for money…Maybe he's sick…He could be on drugs but he wasn't all that excited when his cousin tried to get him to get high with her..)
When AJ said he would figure it out, he meant it. #Greenleaf pic.twitter.com/aBLX0NZf3B

— Greenleaf OWN (@GreenleafOWN) October 9, 2019
Now that Charity has more information on A.J., she rushes back over to Calvary where Phil is still working. She tells him that A.J. is a robbery suspect and that Grace offered herself as an alibi. "She's lying." Charity says. And she tells Phil that she has recorded Grace saying she's lying. That bit of information gets Phil hot and bothered. They begin kissing as if she has told him the most romantic sweet nothings. Why can't she see that Phil is using her?
Speaking of romance, for the first time since season 2, I think, we see Bishop and Lady Mae in bed together. They are just lounging, but it shows that they are getting closer. He tells her a story about a girl that he was told about before he met the girl. "You're going to love her," he was told. He said that stranger was more wonderful than he had ever imagined. "What's to come is just like that girl. It may be better than you think." Bishop tells Lady Mae that she was that stranger. He's trying to get Lady Mae to continue to hope that they will get Calvary back although their situation continues to deteriorate.
Finally, at Calvary, as Jacob goes to his office, he hears a couple laughing together in Phil's office. He peeks into the glass door and sees his sister Charity all up in Phil's arms as they passionately kiss…Just a Judas…betraying her family with a kiss…Unless Charity gets some intense therapy, I think her men picker is just broken…Until next week, y'all…
Thank you sooo much for reading my Greenleaf Recap Season 4 Episode 6: The Stranger… and my other recaps so far. If you would like to keep up with OWN's "Greenleaf," and my recaps, please click on this link to subscribe to my blog 
!
Any thoughts?
Comments
comments