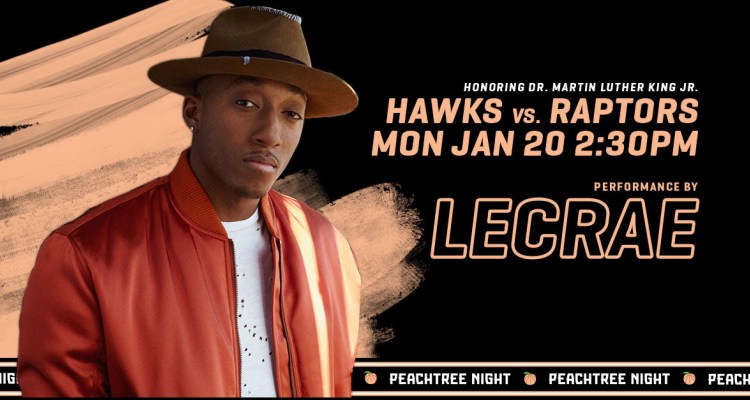 Hello World,
Award-winning inspirational hip-hop artist Lecrae will be performing at the Atlanta Hawks annual MLK Day game on Monday, Jan. 20!  He will be performing at both halftime and postgame when the Hawks take on the Toronto Raptors.
Lecrae has won two Grammys and nine Dove Awards including the 2019 Album of the Year for his collaboration with Atlanta producer Zaytoven, Let the Trap Say Amen. Lecrae's ninth album, Restoration, will be released on Reach/Columbia Records in March 2020.
"I'm excited to take the court with Atlanta's finest. I want the city to come celebrate MLK Day with me and the Hawks," said Lecrae. "I'm honored to celebrate the legacy of Martin Luther King Jr. on a historic day."
The game at State Farm Arena has an early 2:30 p.m. tip off and the Hawks have a special ticket offer for groups of 10 or more to celebrate the MLK Holiday at State Farm Arena. Each ticket as part of the 'Faith and Family' offer includes $10 worth of food and beverage credit that can be used at restaurants inside the arena. Fans can go to Hawks.com/Lecrae to learn more.
Along with serving as the annual MLK commemorative match-up, the date is also a Peachtree Night game, which features the Hawks wearing their 2019-20 Nike Peachtree City Edition uniforms and the accompanying Peachtree-themed basketball court. The remaining dates for the Hawks "Peachtree Nights" are:
1/18 vs. Detroit Pistons
1/20 vs. Toronto Raptors
1/22 vs. Los Angeles Clippers
2/20 vs. Miami Heat
2/22 vs. Dallas Mavericks
3/31 vs. New Orleans Pelicans
4/7 vs. Detroit Pistons
For more info on Hawks Peachtree Nights, visit Hawks.com/Peachtree. Be sure to follow Lecrae on all social media @Lecrae.
# TrueToAtlanta
#PeachUpATownDown
Any thoughts?
Comments
comments