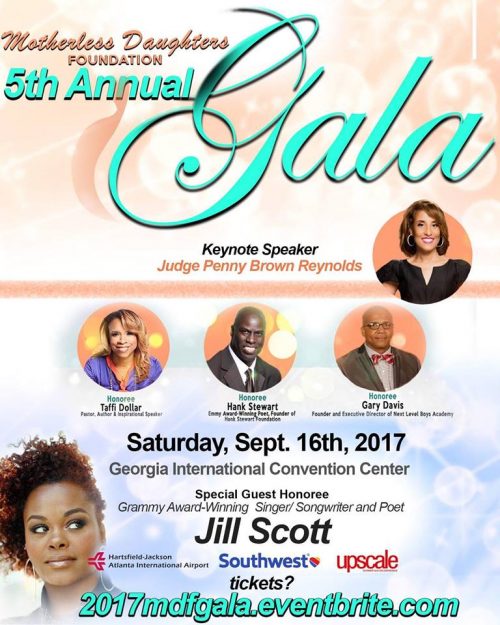 Hello World,
The Motherless Daughters Foundation will host its Fifth-Annual Gala — what may be the organization's largest and most exciting fundraising gala to date — September 16, 2017. The semi-formal affair will take place from 6 p.m. to 10 p.m. at the Georgia International Convention Center at 2000 Convention Center Concourse in College Park, Georgia. Doors open at 5 p.m.  Judge Penny Brown Reynolds, an Emmy Award-nominated executive producer, speaker and television personality AND ordained minister, will deliver the keynote address.
MDF will recognize Grammy-Award winning singer/songwriter Jill Scott, the founder of Blues Babe Foundation, a North Philadelphia-based nonprofit focused on cultivating academic and artistic success in youth coming from the most underserved communities of North Philadelphia and Camden.
 The complete list of honorees includes:
Jill Scott, singer/songwriter and founder of Blues Babe Foundation, a North Philadelphia-based nonprofit that provides a free summer camp for youth, among other services
Taffi Dollar, co-pastor, World Changers Church International; author and motivational speaker
Hank Stewart, Emmy Award-winning poet and founder, Hank Stewart Foundation
Gary Davis, founder and executive director, Next Level Boys Academy
Emcees for the evening will be WAGA-TV Weekend Anchor Deidra Dukes and Shaunya Chavis-Rucker, broadcast personality, and division chief for the Fulton County Office of Broadcast, Cable and Film.
"We are both humbled and excited to recognize honorees who are exemplars in supporting and empowering our youth — from one spectrum of the globe to another," says Rassalyn Willis, founder and executive director, the Motherless Daughters Foundation. "There's no question empowering today's youth through opportunities, access, mentoring, skills development, education and more helps to ensure their future success."
The event that serves as the nonprofit's major fundraiser will kick off with a walk down the red carpet and include a seated dinner, entertainment, and silent auction of exciting items such as travel, cultural and dining experiences, autographed memorabilia and unique treasures.
The Motherless Daughters Foundation provides a mentoring program for girls ages nine to 15 living without support of a positive mother figure in their lives. Through Motherless Daughters, girls are paired with relatable mothers; they also have an opportunity to participate in summer camps plus year-round educational and enrichment experiences. Girls receive scholarships and donations of clothing and school supplies and more.
Atlanta First Lady and affordable housing developer Sarah-Elizabeth Reed serves as brand ambassador for Motherless Daughters, and Xernona Clayton, CEO of the Trumpet Awards Foundation, Inc., is honorary mother for Motherless Daughters, which was founded by president/executive director Rassalyn Willis. A community activist, Willis is owner of Xclusive Hair Studio and Spa in historic College Park, Georgia.
Individual gala tickets are $75. Money raised will go toward providing scholarships, career development programs, school supplies and clothing, computer purchases, housing for homeless individuals participating in the programs and transportation to personal enrichment events. For more information, go to www.motherlessdaughtersfoundation.org or call (404) 669-9800.
Sponsors include Hartsfield-Jackson Atlanta International Airport, Southwest Airlines, Georgia Power and Upscale magazine.
About the Motherless Daughters Foundation
The Motherless Daughters Foundation is a nonprofit 501(c)(3) organization committed to embracing and encouraging the growth and development of young girls entering their adolescent years without the support of their natural birth mother due to unforeseen circumstances. Through enrichment programs focusing on self-awareness, social development, and community involvement, our hope is to provide an environment that will build character, promote confidence, release charm, and cultivate the beauty that each "Motherless Daughter" beholds.
Any thoughts?