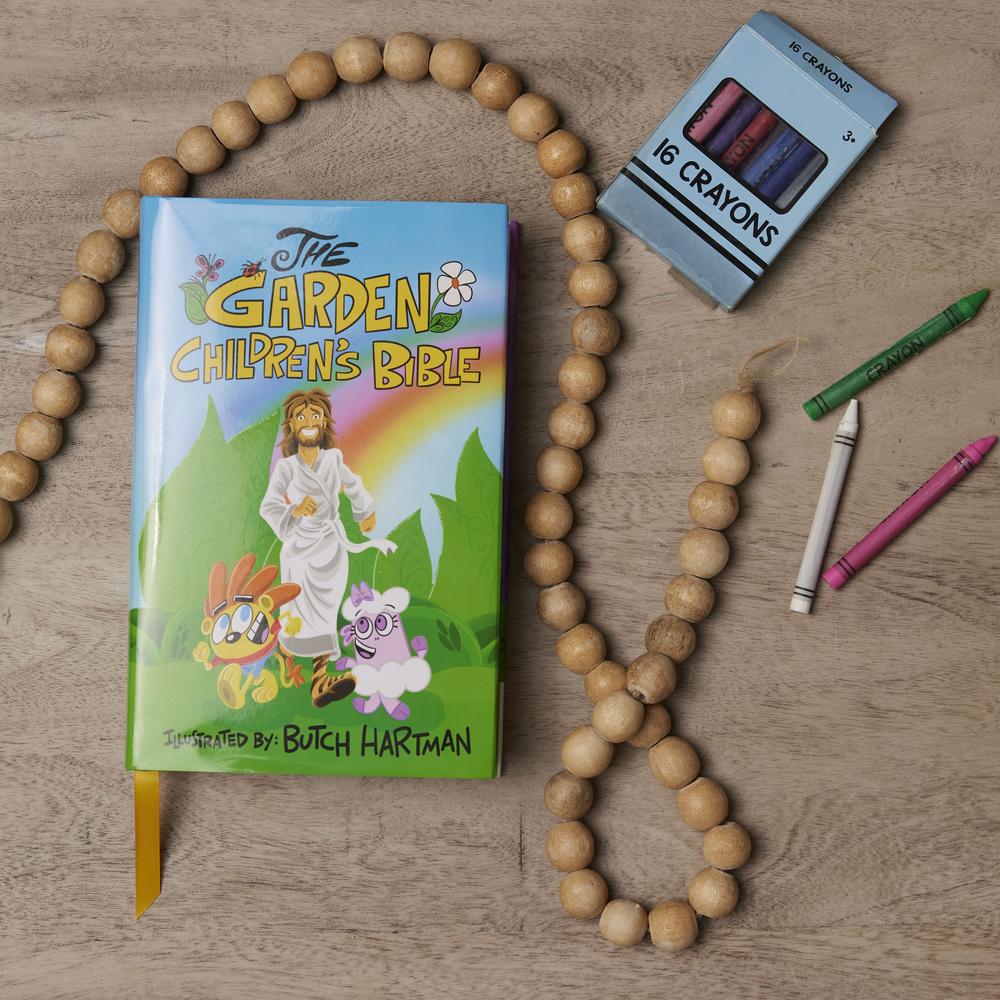 Hello World,
As a new mother of one-year-old twins, I read children's books to my girls every day! Although they cannot read yet, I want them to develop a love for words and introduce them to all of the adventures that unfold in books! But let's face it, before my girls will understand the words and appreciate the adventures in their books, they are looking at the illustrations in the books! Obviously, I would love for the Bible to be a part of their reading repertoire as it is filled with beautiful words and amazing adventures. But without illustrations that appeal to children, I doubt that I could get them to pay attention. So when I received the opportunity to review The Garden Children's Bible, I knew I had to do it!
Thomas Nelson, an imprint of HarperCollins Christian Publishing, in partnership with award-winning illustrator, Butch Hartman, is pleased to announce the release of The Garden Children's Bible. The Garden Children's Bible is designed to help kids delight in God's Word and start a firm—and fun—foundation for their faith! Based on the new animated "The Garden" series by Hartman ("Danny Phantom" & "The Fairly OddParents"), The Garden Children's Bible invites kids to understand the gospel in an entertaining and truth-centered way as they read the Bible alongside stunning stories and Hartman's signature illustrations.
"I took on the assignment of drawing The Garden Children's Bible because of one word: legacy," says Hartman. "Children will learn the word of God through reading and enjoying this Bible for years to come and, to me, there is no greater honor than that."  
In this Bible, as in "The Garden" series, Hartman's characters Lenny the Lion and Lucy the Lamb provide hundreds of application notes and helpful facts in clear, easy-to-understand language. More than 100 Bible story original illustrations, and five full-color comic strips from the animated series are included as well.
"We have deeply enjoyed our partnership with Butch Hartman. He's a faithful Christian and his deep passion for helping children place their faith in Christ is infectious," said Philip Nation, vice president and publisher of Bibles for Thomas Nelson. "I believe that The Garden Children's Bible will be used to draw many children into a lifelong practice of reading the Bible."
As a black mother, I appreciate that a black mother is illustrated within the Bible's pages. To highlight Colossians 3:12-17, a black mother is featured. I also love the illustration for when Jesus is baptized, he looks so joyful as a glorious dove flies above his head! I appreciate the fierce illustration of Deborah, the woman judge. I want my girls to see strong women in the Bible and the illustration of Deborah will help them do just that. God is referred to as The Boss, which He most certainly is! I also love how at the beginning of every book in the Bible, there is a simple listing of who wrote it, when was it written, and why it was written. As a journalist who has been taught to always answer who, what, when, where, why and how, that simplicity appeals to me. I look forward to reading this Bible to my girls over the next few years as well as watching them eventually read it for themselves! I most certainly recommend that you get a copy or copies for the children in your lives, particularly at this time of the year: Easter.
Below are all of the specific details about what is offered in The Garden Children's Bible, which is written in The International Children's Bible® (ICB) translation.  This translation was created especially for children in the third grade and up and provides the ideal blend of readability and fidelity to the original meaning of the Scripture text.
Presentation Page – Personalize the Bible by recording a memory or note
Bible Book Introductions – Concise overviews highlight important events in each book
300 Character Callouts – Sidebar notes presented by Lenny, Lucy, and "The Boss" bring emphasis to key Biblical concepts
Activity Endsheets – Activity pages at the front and back of the Bible
Full-color multi-page comic section based on the animated series
Bible Learning Lists – Names of God, Bible Verses to Memorize, Miracles of Jesus, Scripture Promises
End-of-page Cross-references – Find related passages quickly and easily
Topical Index and Dictionary – Kid-friendly tools teaching how to use the Bible
Miracles and Parables of Jesus – Charts create a quick reference to important events
50 Scripture-based Prayers
Satin Ribbon Marker
4 Pages of Full-color Maps
10-Point Type Size
To buy a copy of
The Garden Children's Bible, 
click on
THIS LINK
for the FaithGateway Store!  I received my copy for free as a member of the Bible Gateway Blogger Grid, and this blog post serves as my honest review.
Any thoughts?