Hello World,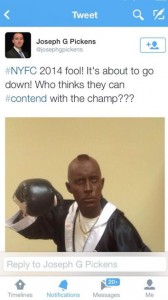 Although I love the church…I really do…And my father is a pastor…And my uncle is a pastor…And my grandfather was a pastor up until he passed away…From time to time, I have to acknowledge churches that need to consider their ways to put it nicely…To that end, below are three stories about three churches I'm giving the side eye to this Sunday morning…
1. Southern Baptist Pastor Under Fire After Church Staffer Dons Blackface For Boxing Skit During 'Fundamentalists Conference,' Pleads Ignorance...To read the story, go to dailymail.co.uk. And if you would like to take a look at the skit, below is the video…
2. Pastor Orders Female Members To Remove Underwear So God Can Enter Their Bodies…To read the story, go to newsone.com.
3. Ex-Westboro Baptist Church Member Grace Phelps-Roper Regularly Attends Synagogue Shabbat Services…To read the story, go to huffingtonpost.com.
Any thoughts?