Hello World,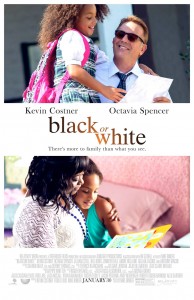 Last Thursday, I had the opportunity to attend the Atlanta screening of Kevin Costner's new film "Black or White." In a word, the film was "heartwarming." Below is the official description of the film:
"Black or White" is the story of a grandfather Elliot (Academy Award® winner Kevin Costner) who is suddenly left to care for his beloved granddaughter Eloise. When her paternal grandmother Rowena (Academy Award® winner Octavia Spencer) seeks custody with the help of her attorney brother Jeremiah (Anthony Mackie), the little girl is torn between two families who love her deeply. With the best intentions at heart, both families fight for what they feel is right and are soon forced to confront their true feelings about race, forgiveness, and understanding. Anchored by an all-star cast and based on real events, the movie is a look at two seemingly different worlds, in which nothing is as simple as black or white.
Although "Black or White" is a family-friendly story, assumptions that black and white people have of each other are uncovered and harsh truths on either side are also addressed, which is timely considering the current climate of American race relations in the wake of the Trayvon Martin and Mike Brown shootings. The end result is that both families, black or white, are equally loving and stable, although different and flawed. Also, in spite of some of the heavy topics of the film such as drug addiction and white privilege, there is plenty of humor! Look out for the character Duvan!
Kevin Costner & Anthony Mackie attended the screening and illuminated more about the film and what led them to get involved. Costner revealed that he believed in the film so much that he gave $9 million of his own money to make sure the film was made. "This film doesn't victimize black people. It doesn't victimize white people." He also expressed his hope that as many people as possible would see what he saw in the film, but admitted that he doesn't have control over that. "I have to turn this film over to God now because it's not mine anymore."
Anthony Mackie revealed that like his character Jeremiah who confronted his drug-addicted nephew, Eloise' father, about his failure to take responsibility for his life, Mackie's older brother Calvin Mackie, a successful entrepreneur, had a similar conversation with him years ago. Mackie also said, "Your first thought isn't what makes you racist. It's your second and third thought."
Here is a trailer for the film:
Any thoughts?