Hello World,
It's hard to believe that the first month of this New Year, 2015, is almost gone. Although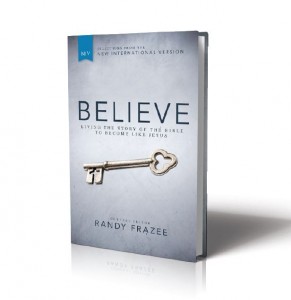 some of us may have faltered a bit on our resolutions or goals or given them up altogether already, it is still early enough in the year to get back on your plan!
If reading the Bible more is one of your goals and or resolutions, maybe seeing the Bible in a fresh way could help get you more excited about reading God's word. Zondervan recently released "Believe, NIV: Living the Story of the Bible to Become Like Jesus" a topical abridgement of the Bible designed to help readers discover 30 key beliefs, practices and virtues of the Christian faith. With Randy Frazee, senior minister of Oak Hills Church in San Antonio, Texas, as its editor, "Believe, NIV" is organized in 30 chapters that address three questions: "What do I believe?", "What should I do?" and "Who am I becoming?" (Confession: This format makes the Bible an approachable book versus the 66 books that I should have read all the way through by now!)
In the first section which is under the heading "What do I believe?", you can learn more about 10 areas including Personal God, Salvation and Eternity. In the chapter Personal God, you are introduced to David, a poet, singer, shepherd, warrior and king, who described what it means to have a personal relationship with God. He marvels that, "Your eyes saw my unformed body, all the days ordained for me were written in your book." I've seen that verse, Psalm 139:16, before, but it still hard to fathom that God has a colossal heavenly library that literally contains the books of the lives of the billions of people that inhabit this world! As an example that God knows when the books of our lives begin and end, Hezekiah, the king, was also included in the chapter Personal God. At 38 years old, he got sick and was about to die. However, since Hezekiah had a personal relationship with God, he prayed, asking God for more time to live. God heard his request and added 15 more years to his life! I remember when I was a little girl (if I am remembering correctly) this woman who had cancer at my church, shared that she prayed to be able to raise her children. She eventually did die from cancer, but she was able to raise her children until they became adults…
"What should I do?" is the title of the second section which incorporates 10 themes including Bible Study, Single-Mindedness and Giving My Resources. I learned some information I frankly did not know before while reading the chapter Bible Study. (I hope my father does not read this post!) Did you know that Moses is thought to be the author of the first five books of the Old Testament? Also, prior to Moses, the word of God was simply verbally communicated from one generation to the next! Here is the another piece of important information that I missed: Psalm 119 is the longest chapter in the Bible. Also, the entire chapter is devoted the benefits of reading and studying the Bible. Here are three of the verses: "I rejoice in following your statutes as one rejoices in great riches" Psalm 119:4, "Your statutes are my delight; they are my counselors" Psalm 119: 24, and "Your word is a lamp for my feet, a light on my path" Psalm 119:105.
The third and final section is entitled "Who am I becoming?" Love, Self-Control and Humility are three of the 10 topics covered in this section. I especially gravitated to the Self-Control section because if you have ever been a passenger in my car, you know this is an area that I need to work on. Thankfully, the word of God has many examples of what happens when you fail to control yourself. The life of Samson, who struggled with sexual self-control, is illuminated in this section. As a result of his lack of self-control, Samson lost the amazing physical strength given to him by God and was blinded. Samson's life is compared with the life of Joseph, who had plenty of reasons to lose control, but ultimately he did not. Joseph's brothers sold him into slavery, he was wrongfully accused, and he was jailed for a crime he did not commit. Still, he continued to trust God and control himself and was placed in a position of authority as a result.
Below is a video about "Believe, NIV."
"Believe, NIV," has a companion book "Think, Act, Be Like Jesus," which was released jointly with "Believe, NIV." Written by Randy Frazee with Robert Noland, this book explains how to grown as a follower of Christ and become more like him in our thinking, actions and character. This book can be read with "Believe, NIV" or separately as an individual study.
So what do you think of this new approach to the Bible? Guess what? You can check it out for yourself! I partnered with Zondervan to give away three copies of  "Believe, NIV: Living the Story of the Bible to Become Like Jesus" All you have to do is leave a comment on this blog post and share this blog post in social media whether it be a Facebook post, Twitter, etc. To prove that you shared this blog post, send a screen shot to me at jacqueline@aftertheatlarcall.com or just point it out to me if you are one of my Facebook friends or if you follow me on Twitter. The first three people to meet these requirements will receive a free copy of "Believe, NIV!"
Any thoughts?
Note: I did receive a free review copy of "Believe, NIV" but all of the opinions expressed are my own:) .