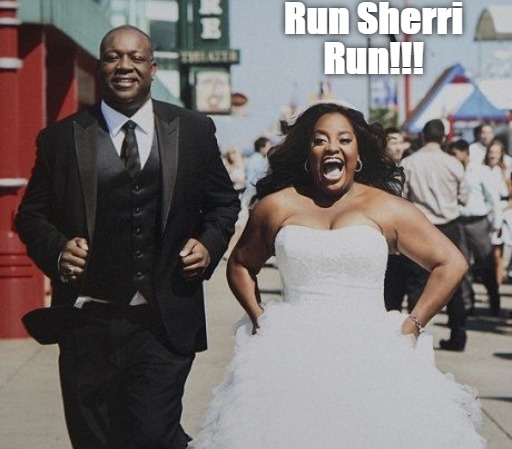 Hello World,
So two posts ago I posted an excerpt from an article summarizing what Sherri Shepherd said about her ex-husband Lamar Sally in a recent interview on the The D.L. Hughley Show. Below is how Sherry explained why she married him when she said many of her friends and celebrity colleagues warned her not do so.
"I was in a place in New York by myself, lonely," she said. "At the time I was in my 40s and scared. I was like, 'I'm getting older, who's going to want to be in a relationship?' It was a lot of stuff done out of fear. I was also raised to in the church to believe you can't have sex before you get married, so I was horny! The whole celibacy thing, this idea that it's better to get married than to burn. So I got married too because I was horny, and look, we never had sex."
Well, Lamar clapped back, penning a letter that he released to TMZ! He accused her of abandoning the son they agreed to have together via a surrogate. However, the son (who is biologically Lamar's son but not Sherri's as a donor egg was used) was born after the couple broke up. Still, according to People magazine and TMZ, Sherri pays $4,100 in child support to Lamar each month! Although she is keeping up with her payments, he claims she has abandoned the child, called her bitter and recommended that she go to therapy – despite all of this, he says he is "praying" for her! Additionally, he claims that she blackballed him in Hollywood and has not has any TV writing jobs as a result.
(Aside: Regarding his claim that she abandoned the child, Sherri told me herself via this blog that his claim wasn't true. She said, "…I have a son w special needs that I talk about incessantly… do I seem like the type of woman who would 'abandon' a child? A woman who would shirk her duties where children are concerned – if you have followed me at all- you would know that isn't the case at all…must be more to the story, yes? Well I stop there, because I can feel the Holy Spirit tip tapping me on my shoulder; and it's also too quiet in the family room which means Jeffrey is doing something he ain't suppose to be doing! God Bless." She commented on a post "Sherri Shepherd Jokes About Giving Her Surrogate Baby to Raven Symone & More on 'The View'" that I wrote in 2015.)
Now I can understand that what Sherri said hurt his pride, but her truth is her truth whether he likes it or not!  Furthermore, if someone was paying me thousands of dollars a month, I would suck it up and chalk it up to a contentious divorce. And of course, TMZ had a get a response from Sherri after Lamar's clap back! She said she didn't blackball him at all. In fact, she said she hopes he does get some writing gigs so that her child support payments can be reduced! I hear that!
You can check out Sherri's full response to Lamar's response HERE on TMZ.
In other Sherri Shepherd news, the comedic duo of Sherri Shepherd and Kym Whitley will serve as hostesses for for the Multicultural Media Correspondents Association Dinner. The dinner is being held today at 6:30 p.m. at the National Press Club in Washington D.C. With music by DJ D-Nice, the exclusive, invitation only gala is attended by media influencers, policymakers, executives, corporate and advocacy organization allies and Hollywood VIPs.
The event will honor the accomplishments of media industry legends and luminaries of color, including "The Fly Jock" Tom Joyner, NBC 4 news anchor Eun Yang, EMMY Award winning journalist Veronica Villafane, and digital media executive Parker Morse. Congresswoman Val Demings(D-FL.) will also be honored for her seminal work to increase media diversity, and there will be a special tribute to John Singleton including family members.
MMCA is a nonpartisan/nonprofit organization leading a call to action to increase media diversity. In just its fourth year, MMCA has become a trusted convener and facilitator of thought leadership, resource and information sharing and strategic engagement between multicultural media stakeholders, tech and media decision-makers, policymakers and private entities committed to increasing the percentage of diverse media stakeholders and content. www.mmcadc.org; @mmcadc on all platforms.
Any thoughts?
P.S. Know this…Just because someone says they're "praying" for you doesn't mean it's a good thing…
Comments
comments