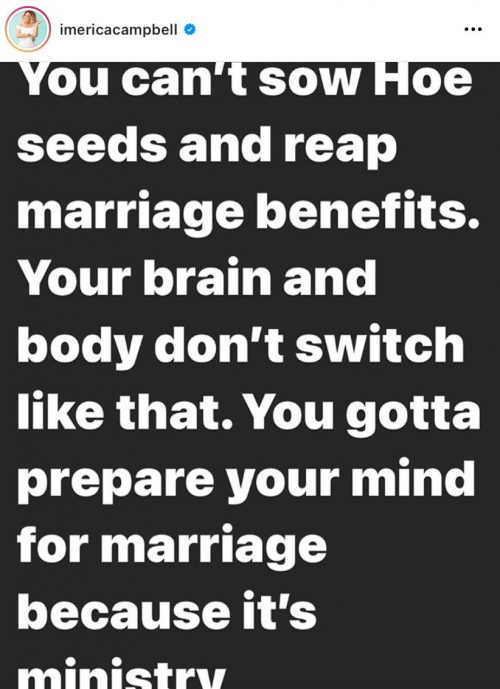 Hello World,
First of all, Erica Campbell's post about "sowing hoe seeds" did it what it was intended to do: get folk talking about her upcoming podcast. See her IG post below:
View this post on Instagram
To me, what she is said is a no brainer. Look at this like this: You can't be eating ice cream, cake, cookies, brownies, pie, etc. for years and then expect to be satisfied by meat, vegetables and water all of a sudden! (Sexual appetite is a phrase for a reason!) In order for any habit to stick, you have to ease your way into new behavior. Pardon me for being blunt but "hoeing" (obviously from the word "whore") is a bad habit, and it takes a while for any habit – good or bad – to be created.
According to healthline.com, it takes "anywhere from 18 to 254 days for a person to form a new habit and an average of 66 days for a new behavior to become automatic." So if you want to turn a hoe into a housewife or a househusband, you need to allocate at least 254 to days to practice this new behavior. And even then, I believe after a new habit has been formed, there may be a relapse into old habits every now and then!
In sum, if you want a faithful wife or a faithful husband, it's probably best to marry someone who is by nature a faithful person; however, if that hasn't been that person's history, that person needs to have been in a faithful relationship for at least 254 days. For me, it would have to be longer…
But folk don't see this issue the same way that I do. Veronica Wells of Madame Noire says Erica Campbell's theory is "baseless." Below are a few of her points with my rebuttals afterward:
It's a shame that in 2020, with everything else going wrong in the world, we are still falling into this trap of comparison, exalting one woman at the expense of another—with the validation of a man being the ultimate prize.
Me: Erica Campbell made no mention of a gender in her post. "Hoe" is a slang word for a "whore." The definition of a "whore" is "a person who engages in sexual intercourse for pay." While a "whore" is typically associated with a woman, that does not have to be the case according to the definition of the word. Additionally, I assume Erica is not talking a person who engages in sexual intercourse for pay. Rather she is talking about a person who is sexually promiscuous. Furthermore, Erica Campbell has talked about her husband Warryn Campbell's sexual infidelity in their marriage which even resulted in a pregnancy so it is very possible that she didn't mention for a gender for that reason. And it's likely that she has intimate knowledge of what she said in her post…
Rarely, do we hear people still deeply entrenched in the church say it is hard to go from virginal and pure to being sexually expressive—even in the context of a marriage ordained by God. If there's anything about this post, I agree with it, it's that flipping the switch can be difficult. But I'd argue that your sexual behavior and having the capacity to maintain a marriage don't always go hand in hand. Maintaining a marriage, being honest, committed, loyal to someone is more about mindset than sexual promiscuity.
Me: I don't have as much of a problem with this paragraph. However, I don't how Veronica Wells got all of that from the few sentences that Erica Campbell posted. I think she needs to listen to her podcast before making the assumption that she said being sexually pure before marriage is ALL that it takes to have a happy marriage. I don't think anyone who is happily married would say that…
I've never sat in a church when someone spoke honestly enough to say that there's not a formula to life and there certainly isn't one to love and marriage.
Me: This statement makes me sad. I have mostly gone to one church my whole life (my father is pastor emeritus of that church), and it has not been preached that there is a set formula to life and love and marriage. I've been taught that there are precepts that typically lead to living a fulfilling life and having fulfilling love and marriage in your life, but I've also been taught that it's your personal relationship with God which ultimately dictates how you live your life and if love and marriage is in God's plan for your life. How one Christian leads his or her life may look very different how another Christian leads his or her life according to God's will for that life. And though I believe that all Christians will experience love in his or her life, that love may not be romantic love, which is also dictated by God's will. If Veronica Wells is open to it, I hope she explores more churches where these principles are explained…
Anyway, that's all I have. Sex is an appetite just like other appetites. Going from feast to famine is problematic whether it's food, sex, etc.
Any thoughts
Comments
comments