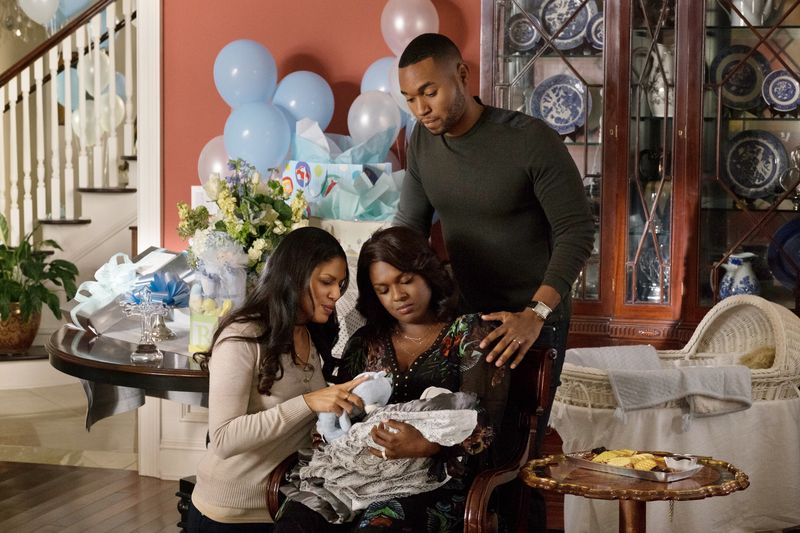 Hello World,
Back in August, I told y'all that Deborah Joy Winans was pregnant, but since then, I hadn't come across any updates…and so I wondered if something had gone wrong…But praise be to God, Deborah Joy Winans and her husband Terrence William did become parents to Terrence David Williams back in October although she only officially announced it via People magazine this month (a wonderful time for a birth announcement no less)! As she told ESSENCE back in August, it was difficult pregnancy due to fibroids unfortunately. Please read an excerpt of the People magazine article by Georgia Slater below…
Deborah Joy Winans is feeling grateful for her baby boy after a difficult pregnancy journey. The Greenleaf actress, 38, welcomed her first child, son Terrence David Williams, with husband Terrence Williams in October, and tells PEOPLE that she's "on the mend" following a painful pregnancy involving fibroids, noncancerous tumors that grow in the uterus.  Winans, who stars in OWN's new holiday film A Sisterly Christmas, gave birth to her son via an emergency cesarean section three weeks before her due date. Baby Terrence weighed 8 lbs, 2 oz. at birth. Read the rest HERE. 
Below is Deborah Joy's Instagram post about the People magazine article….
View this post on Instagram
God bless this couple on their new journey as parents!!!
Any thoughts?
Comments
comments