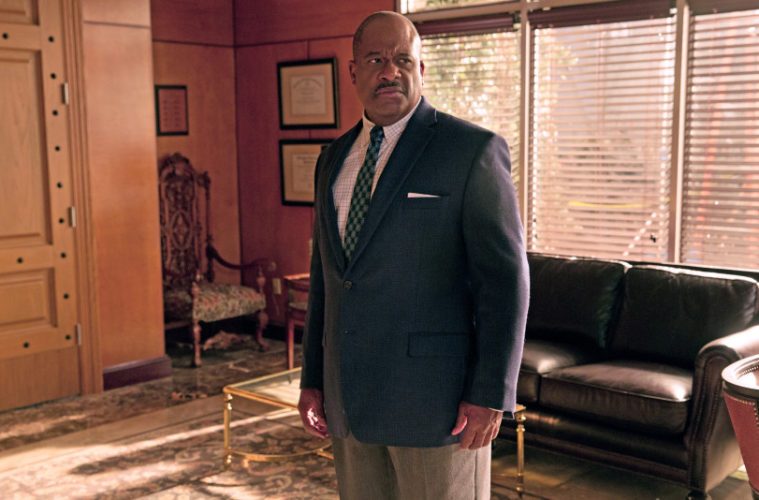 Hello World,
This week's Greenleaf recap will focus on Robert "Mac" McCready, the general counsel of Greenleaf World Ministries and brother of Lady Mae Greenleaf as his inner workings were explored in this episode…
A little background before I jump in…Mac is on Grace's hit list because she believes that he molested her sister Faith and the molestation was a contributing factor in her sister's death although the rest of the family doesn't seem to believe that Mac was molesting his niece…Now that you know that, we can move on…
It Was All a Dream…
This episode begins with Mac in his plush, modern high-rise apartment that was probably secured through tithes and love offerings. He is shown with a light-skinned black girl…I wonder who she is, but then he wakes up. So obviously he was dreaming about this pretty girl, who looks similar to Grace's daughter's Sophia…What is he doing dreaming about this young girl?
Anywho, once he wakes up, he gets dressed and heads downstairs to the lobby of his high-rise apartment complex where he sees this girl. Apparently, she lives in the building and is having a difficult time with her mother as she tells him that her mama is off her meds…Obviously, she feels comfortable in confiding in him for some reason….
Memphis Man of the Year…
Once he arrives at Calvary, we learn that he has been named "Memphis Man of the Year," but while this accolade is a milestone in his career, federal auditors are in the building and are a threat to his standing. Obviously, this audit could be trouble for the Greenleafs, but Mac is trying to handle it. They request the minutes of deacon board meetings for the last three years! Simultaneously, Mac is also concerned about Charity's new hire Carlton, the music director. He tells Charity that Carlton has filed lawsuits against previous employers and that he is concerned that Carlton may do the same thing at Calvary. However, Charity points out that Carlton filed those lawsuits because he was discriminated against due to his sexuality and how that won't be a problem because everything is already out in the open. Mac is not convinced and determines they need to meet with Carlton.
Daddy Issues…
To his surprise and at the wrong time considering a camera crew will be arriving to highlight Mac for his award, Mac's father, apparently a drunk, shows up on the Calvary campus. Mac's father, who looks like a broke down Dick Gregory with a cane, waits for Mac in his office. His father congratulates him on being named "Memphis Man of the Year" as he read about in the local newspaper and tells him his mother would be proud of him if she was still alive. Mac barely responds except to put some money in his hand and get him out of the building. Apparently, Lady Mae's father is not welcome for some reason.
Mac encounters Zora, Jacob's daughter and Sophia, and they ask him questions about the validity of Jesus coming back from the dead and the existence of hell. Mac gives the answers you would expect to them, and Sophia says, "He doesn't seem so bad." Obviously, Grace has told her something about her great uncle.
Lady Mae also confronts her brother after she hears her father somehow got onto church grounds although he is not welcome. Mac assures her that he will take care of the issue and goes to see Noah Kendall, head of security, about the matter. Noah tells Mac that a new person on their security team was not aware that their father was not allowed on the Calvary campus. While in Noah's office, Mac overhears Noah arguing with his fiancée Isabel about the cost of a wedding cake she wants to buy for their wedding. More on that later…
Speaking of daddy issues, Jacob is still trying to get back in the good graces of the Bishop after being removed from his post following his adultery revelation. Since Mac is a direct conduit to his father, Jacob meets with Mac to show him his business plan about getting his father back on television. As I said in last week's recap, I wondered why his father hasn't been on television before considering the success of his ministry. From Jacob's conversation with Mac, it is apparent that Bishop Greenleaf has been on television before and something bad happened. Mac says the bishop "will never go on TV again." Hmmm….I wonder what happened….Mac also gives Jacob a reality check despite the the fact that he presented a solid business proposal. He tells him now that Gigi is back, "there's no way you'll get reinstated." Jacob questions Mac and says, "You're still here." So obviously, Mac did something that he could have been banished for but was kept on anyway….Maybe Grace is right about her unc.
There's Something About That Name…
Although Mac is a somewhat agitated about the audit, he feels he is handling things until he shows up in the conference room with the minutes the auditors requested, but no one is there. Instead, he sees Grace's business card on the table. Just her name is enough to get him riled up especially when he later discovers that the auditors are now requesting the personal tax returns of the Greenleafs for the last three years. They ask him to explain what are "love offerings" as the term appears several times on the minutes. Mac explains that love offerings are financial offerings that members bless the Greenleafs with above and beyond their usual tithes. The head auditor asks Mac if the Bishop has been reporting love offerings.
In the next scene, Mac stomps into Grace's office and shouts, "You need to stay the hell out of business." Grace is understandably confused about Mac's anger and asks him to explain himself. He tells her what happened with the audit. She tells him that the auditors came to her and simply asked her if they had any programs for disabled vets. But Mac is not buying it. Obviously, their conflict has nothing to do with the audit, and his next words prove it. He says, "You don't know what you don't know." But Grace tells him that she does indeed know and says her words so calmly even while he looks like he is about to blow up even when he is alone in his office afterward.
Flashing Lights…
Although Mac is amped enough to have a heart attack, he has to calm down because the camera crew has arrived and he is about to be interviewed about being "Memphis Man of the Year." As expected, Mac says all of the right things in front of the cameras like giving credit to the Lord for his award and how young people should "read, study and stay in school" to achieve what he has achieved…
But after the cameras and lights are off, Bishop approaches Mac to have a private conversation with him in his office. (Aside, did you notice that Bishop's new assistant is on the plump side and wears glasses?…obviously, she won't be a temptation to Jacob like Alexa was…) Bishop is mad that he had to learn from the auditors that they are requesting his tax returns. He says, "When were you going to tell me? After they put me in prison." So, up until this point, I wasn't sure that the Bishop was a bad dude but this conversation has confirmed that the Bishop is not the upright man that my father, who is also a pastor, is. Oh well…He tells him that he needs to fix this issue and stop going all over town looking for people to save…Wonder what that means?
While Bishop is upset handing over tax returns, Lady Mae is incensed when her father has returned to Calvary again at the worst time. It looks like the "Memphis Man of the Year" reception is being held at the church because Mac is in a tux in this scene…The father has called Lady Mae, his daughter, a "high-yella whore." Wow! Instead of just being drunk, Lady Mae's father now has blood above his eyebrow. I wonder what happened. She says, "I cast you down in the name of almighty Jesus." Mac tries to handle the situation by giving his father more money although Lady Mae tells him to not give him a cent.  After the father shuffles off with his wad, Grace stands there, staring at Mac, which is enough to get him all paranoid again.
In the midst of all of that, Mac calls Noah's fiancée and tells her to order the $800 cake her and Noah were arguing about. He says the cake will be their wedding gift to them…It seems that he is always trying to find a way to buy loyalty…
Home Sweet Home…
After a long day at Calvary and the "Memphis Man of the Year" event, Mac returns home to see the young girl in the lobby. Apparently, she does not feel comfortable going to her place. This really grown man invites the young, forlorn, girl up to his place. Mac fixes himself some whiskey and gives the girl a non-alcoholic beverage initially. Mac tells her that he was once a disillusioned young person himself and even tried to commit suicide at 12 years old after his mother died on some train tracks. She was crossing the tracks in front of a train that was stopped, but she didn't see the other train coming. Obviously, the title of this episode has to do with that incident.
Mac explains that the mother had a co-dependent relationship with him, and the train incident happened after he refuses to care for her in way that a child shouldn't have to care for an adult. He says he told his mother that he had a girlfriend and wouldn't be available to her in the same way. (Does this explain his pathology? Is this why he goes around town trying to save people like the Bishop said? Did his emotional growth stop at that age as a result, and that is why he is attracted to young girls? I don't know. I'm no psychologist…) The girl, who seems suicidal herself, can relate to his feelings, and he agrees to give her "just a taste" of whiskey. The episode ends there….
So I'm convinced at this point that Grace is right about her Uncle Mac…
If you watched this episode, did I get this Greenleaf recap correct?
Below is a snippet of Mac's office face0off with his niece Grace…
Any thoughts?