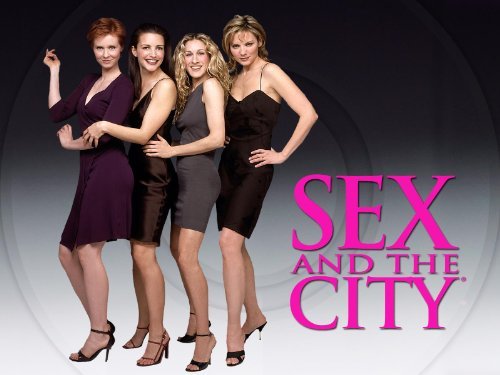 Hello World,
Do you know what today is? It's their anniversary…the 20th anniversary of the debut of the now iconic television show Sex and the City…yes, when we first met Carrie, Charlotte, Miranda and Samantha! My love for the show has been documented in many posts on this blog since the show debuted on HBO Jun 6, 1998! And on today, its 20th anniversary, I must again pay homage to the show that was referred to as a "personal love letter to single women everywhere" and certainly helped me navigate my singlehood days…
As it turns out, I'm not the only one who wants to pay homage to the institution that was Sex and the City, journalist and author Jennifer Keishin Armstrong is also doing so in her new book "Sex and the City and Us: How Four Single Women Changed the Way We Think, Live, and Love."
By the bestselling author of Seinfeldia, a fascinating retrospective of the iconic and award-winning television series, Sex and the City, to coincide with the show's twentieth anniversary.
When Candace Bushnell started writing her "Sex and the City" column for the New York Observer, she didn't think anyone beyond the Upper East Side would care about her adventures among the Hamptons-hopping media elite. But her struggles with singlehood struck a chord, making her a citywide—and soon nationwide—sensation.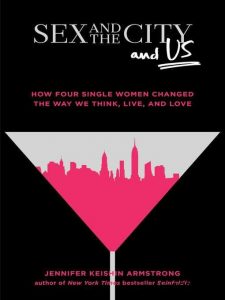 Beverly Hills, 90210 creator Darren Star brought Bushnell's vision to an even wider audience when he adapted the column for an HBO series. His four main characters: Carrie, Charlotte, Miranda, and Samantha, forever branded the actresses that took on the roles, redefined women's relationship to sex, and elevated the perception of singlehood. With their fashion-forward lifestyle, they launched a barrage of trends, from fabric flower accessories to Manolo Blahnik shoes to Cosmopolitan cocktails.
Read the rest of the description at Amazon.com…
And if you want to support Miranda, I mean Cynthia Nixon (the actress who portrayed Miranda) as she runs for governor of New York (yes, GOVERNOR) particularly as it is SATC's 20th anniversary, head on over to store.cynthiafornewyork.com!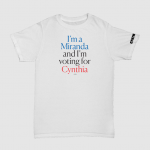 Finally, if you've never experienced Sex and the City, the vault of treasure that is this show will be opened up on Friday, June 8 on E! Following a special Sex and the City episode at 7 p.m., hold on for the Sex and the City 20th anniversary marathon of every episode ever starting at 7:30 p.m.!
And here is a scene from the last episode of SATC (Spoiler Alert. Don't watch if you don't want to know how it all ends…):
Any thoughts?