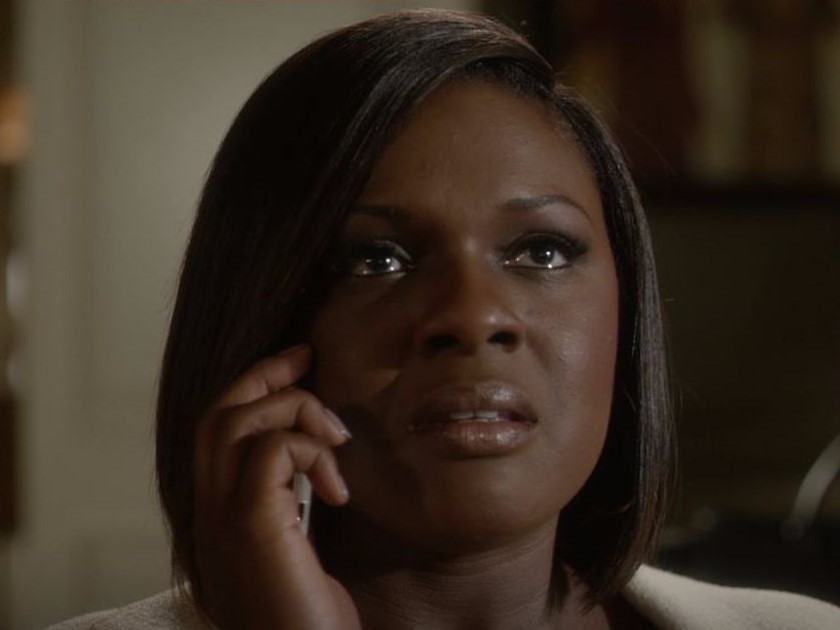 Hello World,
Whew! Part 2 of the Mid-Season Premiere packed a wallop, didn't it? I won't dillydally anymore. Let's just dive into this OWN's "Greenleaf"  Mid-Season Premiere Recap, Season 2 Episode 10!
Call Me Maybe…
This episode begins and ends with a call. Lady Mae calls her estranged sister Mavis to invite her to their brother Mac's memorial service of sorts to be held on Moss Lake at sunset on Saturday. Mavis doesn't answer the call so Lady Mae must leave this information in her sister's voicemail. In addition to describing the logistics of the service, she tells her sister that this may be a new beginning for everyone. Mavis may or may not call her sister back.
Grace and Darius seem to be moving right along with their new relationship as she sleeps over at his place although they don't sleep in the same bed. I should hope not, Pastor. Although she is the associate pastor of Calvary, Grace does opt to skip Sunday morning service. Darius tells Grace that he is considering a job offer in New York, particularly since they agreed that he won't write about Grace even though her murdering the Man of the Year is the hottest story in town.  In every episode since Season 2 began, Grace seems to be drifting farther and farther away from her calling to preach. Was she really called in the first place? Maybe…(Aside: Her bruises healed fast, right?)
Jacob believes he has been called to preach outside on his land to people without the burden of a building. He tells the small gathering, "I asked God what should I do?" particularly since he has no money. He says the Lord said to him, "You know what to do." "He told me to feed my word to my sheep." So Jacob preaches a word and then hands out food to the people with his supportive wife and beautiful children at his side. Of course, Jacob's open-air preaching does not go unnoticed by the other Greenleafs across the street. Lady Mae tells Jacob. "The two of you didn't learn anything from your season with Basie." (Where is Basie, pray tell?) Bishop is plainspoken with his criticism, telling his son he is following in Basie's footsteps all the way to hell! If you can't say, "Amen," say "Ouch!"
Sophia seems to be fulfilling her calling at the children's church as she demonstrates the permanence of God's love with a candle atop a cupcake that won't blow out no matter how many times you blow on it. The children squeal in delight! Oh to be a child again when all was solved with a cupcake and a candle!
Although Charity is the baby of the Greenleaf siblings, she is definitely grown as her ex-husband has vanished like a ghost! It looks like Kevin told her that he is gone for good in that note from last night's episode! Lady Mae asks Charity to get in touch with Kevin and find out what's going on with him. She calls him and leaves a message. "It's the person who you called your best friend."
Like her cousin, Zora has a calling of sorts as she helps her father set up a website in the style of a Go Fund Me page where they solicit donations to support the ministry. Despite her support of her father, she hasn't completely left Basie and the Triumph church behind. Sophia and her boyfriend Roberto along with Zora and one of Roberto's friends go bowling. Obviously, Sophia and Roberto hope his friend can lure Zora away from Isaiah but Zora doesn't seem to be feeling Roberto's friend as she gives him the bland face the entire time they interact at the bowling alley.
Your Body's Callin'…
Bishop asks his bride out to lunch and tells her, "What a pleasure it it to have you as  partner this life." How sweet! Lady Mae agrees to have lunch her holy hubby who is planning a seven-part series "From the Pit to the Palace." I wonder who was in the pit and who is now in the palace…Anywho, he is considering turning the series into a book. But his plans to have an intimate lunch with Lady Mae are shelved when a major donor, a Ms. Rochelle Cross (LeToya Luckett) wants to have lunch with Bishop and his wife. He asks his wife if she doesn't mind a "threesome." Lady Mae opts to bow out of the lunch as she is not feeling up to meeting someone new but encourages her husband to meet with the woman without her if the woman's check has cleared the bank.
Charity approaches Aaron about hiring a private investigator to find Kevin. Before Aaron obliges though, he leaves yet another message on Kevin's voicemail telling him that Charity is looking for him and lets him know that if he wants to remain hidden, he doesn't have to tell anyone where Kevin has found himself. Where do you think Kevin has gone?
Obviously Bishop has not met this mysterious Ms. Cross before and automatically notices her leopard booties and bare legs. I love her pixie cut! I'm not sure why Ms. Cross made such a sizable donation to Calvary but apparently she was once a member of a Gethsemane Baptist Church. Is that the name of the church that Bishop burned down where Basie's father the caretaker apparently died? Remember Bishop didn't think the caretaker had a son. He remembered that the caretaker had a daughter…Could she be the caretaker's daughter and ready to get revenge? As a major donor to the church, Bishop offers her a membership in the Bishop's roundtable which comes with access to the church jet apparently…Okay…But Ms. Cross says the only access to a roundtable that she needs is the roundtable where she and Bishop are meeting. I guess that mean's she wants private access to the man. With that, Bishop takes out his handkerchief and wipes moist droplets of sweat from his face. "Check please," are his final words.
Instead of meeting in a restaurant, Grace and Charity take a trip over to the parsonage to have dinner with their brother and his wife Kerissa. Although Grace missed church on Sunday, she heard that her brother is forming a church across the street. Although it is not a building, the most important part of a church, the bodies, are making his endeavor hard to ignore. In addition, the three Greenleaf siblings haven't spent time together apart from their parents in a while and they need to catch up with each other.
Almost immediately, Jacob and Kerissa ask Charity about Kevin and why did the two of them break up. For the first time since Kevin and Charity's marriage began to deteriorate, Charity admits the exact reason why. "Kevin is gay," she says before she starts laughing. What a weird reaction. And then Jacob starts laughing. But at the same time, I understand. Sometimes, a situation is so painful and startling that you just have to laugh or you will cry. She also explains that Kevin doesn't want to be gay and maybe that is why he has disappeared.
Now that the ice has been broken, Grace can get into the ultimate reason why she wanted to meet with her brother. "I want to get a sense of how committed you are to this street corner preaching." She further explains, "it was a crazy idea when Basie had it." Obviously, Jacob and Kerissa are offended. Kerissa says, "Do you think you are only person who God talks to?" But then Grace offers to let Jacob have her job as associate pastor and challenges him to be there for the family since Bishop is sick. "You cannot desert the family." "Like you did," Kerissa responds. "Somebody is needed to manage things," Grace continues.  Jacob says he likes the freedom of not having to worry about raising money for upholstery and paint, etc. Grace tells them she is thinking about moving to New York since her views don't seem to fit in with the church's views. Please, she just wants to be with her new man.
Call Him Up…
When Bishop returns to the estate, he finds Lady Mae in their red living room. She tells him, "I'm waiting for the Lord to guide me to the right scripture for Saturday."
As Grace and Charity come into the family home, she calls out Grace for her hypocrisy as she was gone for 20 years until recently. "You want to accuse Jacob of deserting the family?"  She continues, "We put in our time so it's your turn now."
Zora and her father take a look at his website and discover that donors have contributed roughly $3,100 to the ministry. Jacob wants to use the money to buy food for the people, and Zora tells her father she is proud of him. But Kerissa suggests the money be used to create a building fund and does not seem as committed to Jacob's ministry calling as she did at the beginning of the episode. "Not unless the Lord wants me to build," he says. It seems that Jacob is content to have a simple ministry but maybe Kerissa feels that his outreach should be a stepping stone to a larger ministry like the one across the street…
Later, Aaron approaches Lady Mae in her office and tell her that he must leave Calvary. She tries to convince him to say. In the end, she accepts his resignation. "Would you give your father my fondest regards." I'm guessing the only way that Kevin will come back is if Aaron goes.
Grace decides to tell the whole story of what happened in her fight with Mac to Darius and says he can write about it he chooses to do so. Darius has something to tell her as well. He is not taking the job in New York.  To me, if you are called to do something, you must be willing to make sacrifices for the calling. Obviously, at least for right now, Grace and Darius are called to be together. They kiss…And just maybe Grace is still called to Calvary although she needs to call Jesus and get some direction from Him and Him alone…
In the final scene, the family meets on a rock in the middle of a creek (not a lake) for their memorial service for Mac. Surprisingly, Grace shows up and even releases a tear as Mac's ashes are released into the water. Mavis doesn't show up though and it doesn't seem like she even acknowledged her sister's message. More will be revealed I know…
Thank you sooo much for reading my Greenleaf Mid-Season Premiere Recap, Season 2 Episode 10 and my other recaps so far.
If you would like to keep up with OWN's "Greenleaf," and my recaps, please click on this link to subscribe to my blog 🙂!
Any thoughts?