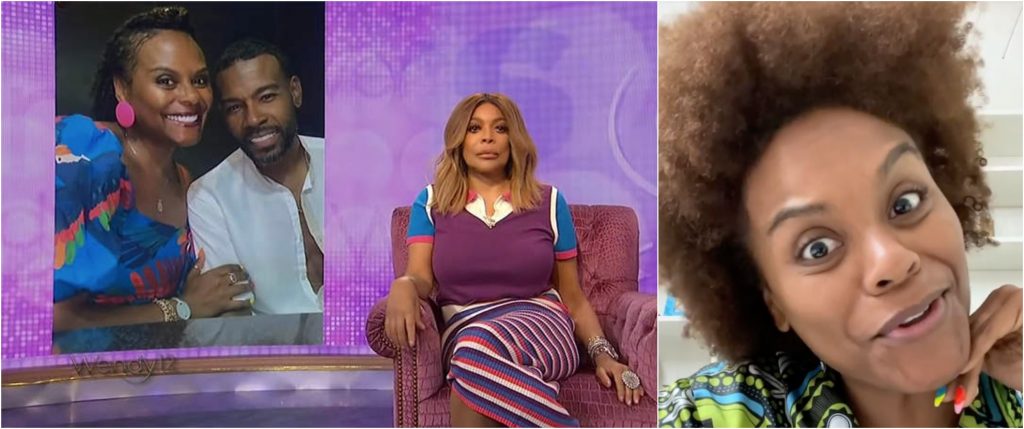 Hello World,
Other than the surprise release of now disgraced entertainment icon Bill Cosby from prison last week and the resulting controversy when his former television wife Phylicia Rashad tweeted her support of his release, Wendy Williams coming for vegan influencer and actress Tabitha Brown was the talk in the pop culture universe!
I won't get into the former because I just don't feel like it, but discussing the latter is my sweet spot: pop culture, relationships and Christianity…So let's go…
First of all, Wendy Williams was just doin' Wendy when she shared her opinion of Tabitha Brown's recent Instagram announcement that she had retired her husband Chance Brown from his job with the Los Angeles Police Department where he has worked for 15 years. Apparently, he took the job shortly after they moved to LA to support her dream of becoming an actress. While she appreciated his support, she was never comfortable with the fact that her husband had to wear a bullet-proof vest to work. If you haven't seen the original announcement, check it out below because it will give you some context for Wendy's commentary.
View this post on Instagram
So on The Wendy Williams Show on Thursday, she critiqued Tabitha's announcement during her hot topics. First of all, for those who were aghast that Wendy fixed her mouth to critique Tabitha, c'mon y'all! That is what she does for a living. Her mouth is her money maker. She is always going to say things that shock people because she comes from the world of being a shock jock. So just get over that aspect of it. Tabitha Brown, conversely, has a created her lane from being sugary sweet and that's commendable because it's probably much harder to do. But although Tabitha is known for being sweet, chile her classy come back probably cut Wendy to the core because it was complete from a Christian point of view. Check out Wendy's initial commentary and then Tabitha's clap back below…
It was complete for a few reasons:
1. She started off with, "God bless you." Anytime someone responds to you with "God bless you" and then continues from there, but you 'bout to get a Christian cuss out to include a church hug at the end!
2. She addresses her pain. One thing I love about my savior Jesus Christ is that whenever people who were in pain came to Jesus (and we all are in some form or fashion), he always addressed their pain. Chile, Wendy came for Tabitha, who is a Christian, so Tabitha felt compelled to address her pain. In her deep Southern accent, she said, "Ooh, my God, the pain this woman must be in. Wendy, the pain you must be in to feel this way."
3. She gives her a history lesson. She tells her that unlike Wendy and her former husband Kevin, Tabitha and her husband Chance, married for 23 years now, have been broke together longer than they have been conventionally successful. They truly struggled before they succeeded is how she put it. Additionally, Chance only got his stable job as a police officer to support Tabitha who had more whimsical aspirations i.e. being a creative. They agreed that once she achieved her dreams, she could, in turn, support him in his dreams. And now that Tabitha is making money as a vegan influencer and as an actress on The Chi. Lastly but most importantly, none of it means anything without having God being first in their lives and marriage. Her exact words were, "It's also the power of allowing God to be first in your marriage. That's how it remains successful, we keep Him first. He is first in our marriage. Not money, not business, not success, but God. He's first."
4. She wraps up with prayer. Now in some Christian circles, prayer requests are as revealing as gossip. When some people ask you to pray for someone else, in the very next breath, some people will spill all of the tea of exactly why that person needs prayer. Being that Tabitha is gracious, her prayer request didn't reveal it all, but it did reveal enough for Wendy to know that Tabitha knows that Wendy's failed marriage is in no way comparable to Tabitha's marriage. This is what she said: "I pray that love finds you. True love. I pray it finds you, and it holds you tight. I pray that someone will love you enough to see you when you are not well, to see when you need true support, to see you when you need compassion, to see you when you need kindness. I pray that somebody loves you enough to sacrifice their life for you. I pray that type of love finds you so that you can understand why I don't want my husband to put his life on the line anymore, wearing a bulletproof vest if he don't have to, and if that's not his desire."
And it was all said with a smile. I'm sure that God was pleased with how Tabitha conducted herself in her complete and classy clap back…And what Tabitha said is true, when Christ is the head of your marriage or even just the head of your life, He will lead you to do things that other people will not comprehend…
That being said, God also gave him men egos, which are often wrapped up in how they provide for their families. And the fact is, while some men may say otherwise, many husbands, deep down, do not want their wives to be the primary breadwinner.
That was Wendy's experience. And this is what she said: "Nope! I was married to one of those. 'I make the money!' and so on and so forth…'Go live your dreams! Buy a business! Stay with me, but go, go, go!' See how that turned out. I predict that this marriage is going to be on real rocky ground in a moment. 'Live your dream'… Then they invest in stuff and they lose the money. They invest in something else then the money gets swindled or stolen. Then they invest again and he comes home and throws his bag down. She's like 'What? What?' And he's like, 'I can't do this and this is your fault. You're over here making all of your money and stuff, and you had me quit my job.' 'And I can't find my live like a child.' You understand what I'm saying? No, you work. Being a cop was a big part of his identity, he liked it but she came to him and said that."
And they get resentful and act out as a result. In Wendy's case, her ex-husband had a whole baby with his side chick although from her own account, he was a cheater from the beginning. His extreme behavior aside, it is a proven fact that men prefer to the primary breadwinners in a household. See an excerpt below from "Men Get Stressed When Their Wives Make More Money Than They Do" by Cory Stieg:
The number of women who are the primary breadwinners in their families is on the rise. According to 2018 research from the U.S. Census Bureau, in one in four heterosexual married couples, women make more than their male partners.

But a new study from the University of Bath suggests that this trend is impacting male partners' mental health. The study examined 6,000 American heterosexual married couples over the course of 15 years to see how this shift has impacted people's physical and mental health, life satisfaction and relationships.

They found that men felt the most anxious when they were the sole breadwinner in the family, and the least stressed when their women partners were contributing 40% to the household income. But as women made more money past that point, men become "increasingly uncomfortable" and stressed, according to the findings.
I know that not every. single. husband. has a hissy fit when his wife has more coins, but generally speaking that is the case. As society continues to modernize, sometimes to our detriment, we still have to respect how men are made and have been made. And Oprah has said the same. See an excerpt of "Oprah Winfrey Explains Why She Never Got Married to Stedman Graham" by Peter Sblendorio below:
"We would not have stayed together, because marriage requires a different way of being in this world," she continued. "His interpretation of what it means to be a husband and what it would mean for me to be a wife would have been pretty traditional, and I would not have been able to fit into that."

Winfrey, 63, didn't expound any further about what exactly being a traditional husband and wife means to Graham, but clearly the longtime TV personality isn't exactly traditional by anyone's standards with a net worth of over $3 billion.

Read the rest at nydailynews.com.
In a traditional marriage, typically the husband is the primary breadwinner. And I believe this practice makes it trickier for a highly successful woman to get married. Not impossible by any means but tricky though.
So while I agree with Tabitha Brown's classy clap back, I also agree Wendy Williams was not completely wrong in her assessment about the general nature of men although she is likely misguided about Chance Brown, who seems miles away from Kevin Hunter. Thank God…
And that's all I have to say about that…
Any thoughts?