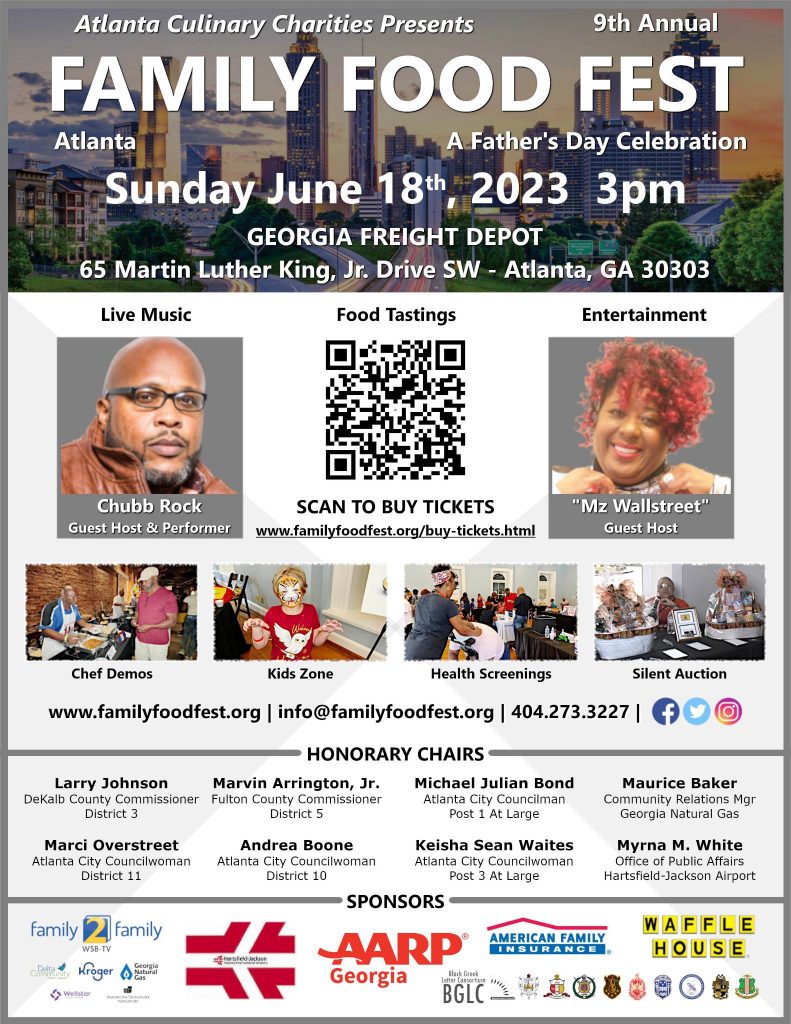 Hello World,
If you're looking for something to do today with the fathers in your family, by all means check out the 9th Annual Family Food Fest: A Father's Day Celebration TODAY at the Georgia Freight Depot from 3-6pm!
Family Food Fest Atlanta is a multicultural Father's Day charity fundraiser and food-tasting celebration through which fathers and men who impact their families and community are celebrated. The 501.c3 nonprofit Atlanta Culinary Charities, whose mission is to work with boys and girls in after-school programs and on weekends, produces this event each year on Father's Day. This event brings families together in a fun and energetic atmosphere. Many chefs, cooks, caterers, restaurants, and everyday dads and men display their culinary skills and talents.  Female chefs are on hand as well.
During this event, you will sample various foods throughout the day, including special vegan/vegetarian dishes! The Family Food Fest Atlanta festival is for everyone and is open to the entire family. The idea of this family-oriented event is to enjoy some excellent cuisine from well-known chefs, cooks, caterers, and restaurants. With an "all-you-can-eat" admission price you will be able to taste delicious appetizers, entrees, desserts, and beverages. Also, activities will be available throughout the day including live entertainment, kids zone (face painting, balloon art, caricatures, cotton candy), chef demonstrations, silent auction, health zone (screenings, literature, giveaways), and much more.
With 2023 being the the 50th anniversary of the birth of Hip Hop, I love that Chubb Rock is a guest host! I loved dancing to his music when I was in high school! If you're unfamiliar with him, please see this bio:
Chubb Rock (Richard Simpson) is a legendary Brooklyn, New York-based hip-hop artist/radio host who released several successful Hip-Hop albums in the early 1990s. Chubb first appeared nationally with his 1988 self-titled debut "Chubb Rock." He moved to Atlanta and had a radio show before leaving the station to start his current radio programs called "The Chubb Rock Show with SiMan Baby" and "Diggin' In Tha Crates."
Additionally, my friend Kiplyn Primus will be there! Kiplyn Primus hosts "The Local Take With Kiplyn Primus," heard Saturday mornings at 7 am on Jazz WCLK 91.9. She also works with businesses and organizations interested in paid underwriting schedules on Atlanta's Jazz Public Radio Station. Kiplyn is a graduate of Howard University and Clark Atlanta University and has a long career in public and commercial media. She is a veteran facilitator for StoryCorps' Atlanta studio.
For tickets, click HERE!