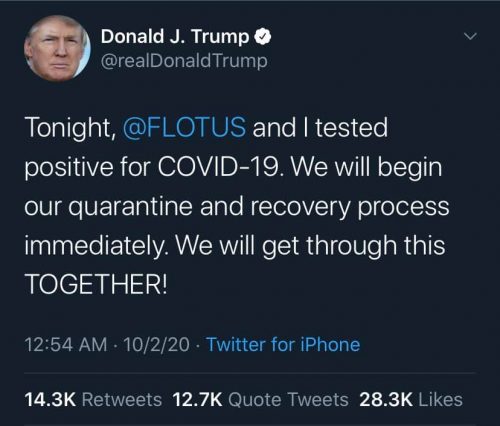 Hello World,
Even if you're not a fan of President Trump, we all have to admit The Apprentice reality star turned politician knows how to get headlines and change the topic of the national conversation when he sees fit. A week ago Sunday, The New York Times reported that the president only paid $750 in taxes during 2016, the year he was elected president. Of course, that revelation caused a flurry of conversation. Although some may have thought the president won the presidential debate on Tuesday, others criticized his approach to debating and his directive to the white supremacist group Proud Boys. But by Friday, he managed to trump both of those conversations by announcing in the wee hours via Twitter that he and the First Lady have been diagnosed with the scourge of 2020 – COVID-19. And just like that, there has been very little talk of his taxes, debate performance and Proud Boys directive since.
In fact, because of his ability to get headlines and shift the national conversation AND penchant for being less than truthful, some are questioning if his diagnosis is even real. In The New York Times article, "Liberals Ask: Why Should We Believe Trump Has the Virus?" reporter Davey Alba included tweets from The New Yorker staff writer Jelani Cobb and actor Susan Sutton.
Here is Jelani's tweet below:
Are we sure this is true?

— jelani cobb (@jelani9) October 2, 2020
Here is Susan's tweet below:
True? Or just an engineered delay tactic in light of the #election next month? Fake news? #trump #TrumpVirus #FakeNews #Election2020 https://t.co/FFkjWZ2Xey

— Susan Sutton (Actor) (@SusanSuttonACT) October 2, 2020
And my husband is also skeptical. I do, however, believe he is sick and others do as well. And because that is the case, there are those who are praying for his recovery and asking others to join them. Below is Bishop T.J. Jakes Instagram post about praying for him:
And Bishop has received quite a few critical responses to this post. Below are a few:
With all due respect Bishop. Donald J. Trump was the one who turned this into a political issue.

With all due respect we should have been praying that the lord changed his heart and wicked ways. You reap what you sow.

More humane? Did you hear what he said about Joe's son the other night?? Donald isn't humane.
In a Facebook group that I'm a member of, one member posted this statement:
Praying🙏🙏🙏🙏 for our president and country as he flies off to Walter Reed Medical Center "out of an abundance of caution" for the next several days. I do not agree with many of the policies and personality, but as children of God, we MUST pray for him and his family.🙏🙏🙏🙏
And below are some of the responses to this post:
I saw this and had to double check and see if I was in a Trump support group. As others said, I wish no ill will towards him but the fact remains that he and his Trumpicans downplayed this pandemic the entire time. God has a way of humbling us. This situation should be his wake up call.

I'm not calling the fire department because the plantations on fire.

211,000 people are dead because of his lack and failure to protect this country naw then he tried to disrespect RBG wishes not to fill her seat until after the election nope the fool was asking for karma it comes back 10 fold strong.
So let's dig a little deeper into what was said. One of the reasons why people are having a hard time praying for the president is because since the news of this pandemic broke, the president has been playing it down and even said as much to Bob Woodward.
Additionally, he has eschewed methods of curtailing the virus such as social distancing. When public health experts warned about holding large rallies and leaders responded such as North Carolina Governor Roy Cooper, rather than try to work within the guidelines, the president responded by moving the GOP convention to Florida before ultimately bringing it to the White House. Although it's not clear where businessman and 2012 Republican presidential candidate Herman Cain contracted COVID-19, Cain attended a Trump rally in Tulsa and according to a photo he tweeted, he was not practicing social distancing. Unfortunately, Cain died not long afterward due to COVID-19 complications.
Also, Trump has rarely been seen in public in a mask and in Tuesday's debate, the president made fun of former vice president Biden for wearing his mask AND on top of that, according to Chris Wallace, the moderator for the debate, no one other than Wallace, Trump and Biden were supposed to be free of masks according to the official rules. But Trump's family did not wear masks and when they were presented with masks to wear, they did not accept them.
And speaking of those around him, Trump is not the only one in his circle to have been recently diagnosed with COVID-19. According to USA Today, at least 11 in his circle have come up positive with coronavirus. It is believed that many of them contracted it while attending the announcement of Supreme Court nominee Amy Coney Barrett at the White House Rose Garden last Saturday. Some believe this twist of events is a case of divine distribution or the last case that the notorious RBG tried as an attorney before THE JUDGE of all judges, the Lord! Reportedly, before she died, she requested that her place on the Supreme Court not be filled before the election, but within days of her death, her dying wish was ignored by the president and the Mitch McConnell who refused to even entertain President Obama's nominee of Merrick Garland during 216 when Justice Antonin Scalia died February of that election year.
See the meme below: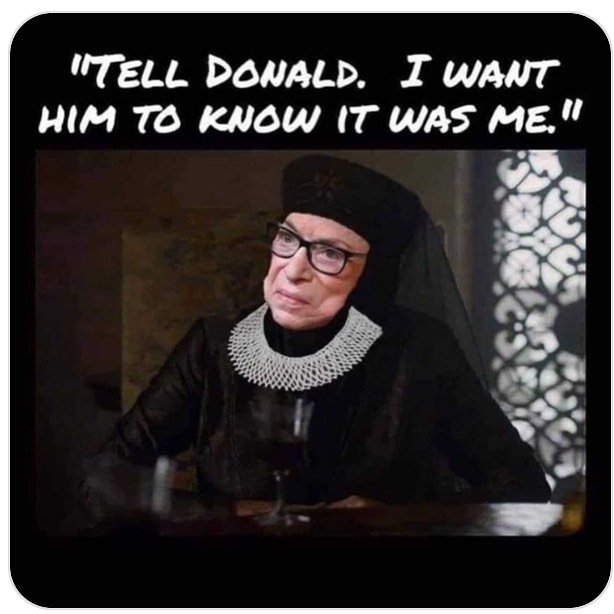 Now in Scripture, we are advised to:
"I urge, then, first of all, that petitions, prayers, intercession and thanksgiving be made for all people—  for kings and all those in authority, that we may live peaceful and quiet lives in all godliness and holiness." 1 Timothy 2:12
However, in the Word, it also says:
"Do not be deceived: God cannot be mocked. A man reaps what he sows." Galatians 6:7
So given all that has been presented here, what are you opting to do? Will you or have you been praying for the president?
Any thoughts?