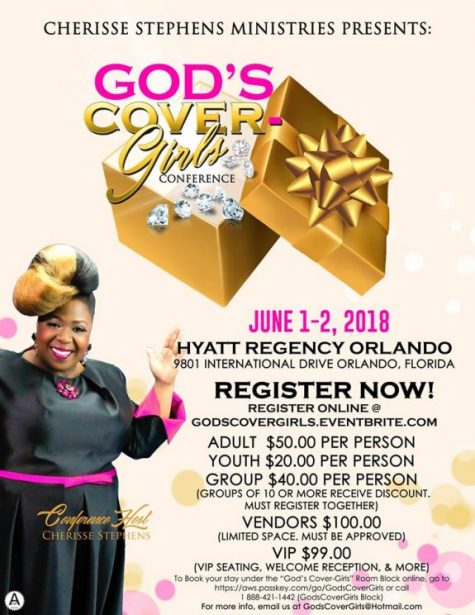 Hello World,
Women and girls from around the globe will gather at the Hyatt Regency Orlando, June 1-2, 2018, for the God's Cover-Girls Women and Girls Conference. This conference was founded by Cherisse Stephens, CEO of Cherisse Stephens Ministries. This year's God's Cover-Girls Conference (GCGC) theme, "No Shade, All Son" is sure to bring inspiration and empowerment!
Our message is clear! It's your Time to SHINE, no matter what you've faced in the past. Our gathering will be a time of empowerment, healing, spiritual growth and self-awareness. We have organized classes, workshops, worship, a vision board party for the youth, shopping with specialty vendors and so much more! Orlando has so much to do and see.
Focusing on self-esteem and awareness, training for success, healthy living (mind, body and spirit), and more, GCGC offers something for all ages. Those looking for spiritual renewal, strategies to jump start their careers or discovering their life's purpose, will find that the nationally recognized speakers will arm them with the tools for success.
Evangelist Cherisse Stephens, renowned Gospel recording artist, author and television host, founded Cherisse Stephens Ministries in 1994. Since then, the ministry has hosted several major conferences including Spring Forth into Destiny Family Conference, Prophetic Encounter and more. Cherisse Stephens is a graduate of The University of Phoenix and Grand Canyon University, where she received her associate of arts, bachelor of science in Business and master's degree in Leadership. She is also a media specialist in the Gospel music industry and has hosted television for TBN's "Praise The Lord" program and WATC's flagship TV program; "Atlanta Live." Additionally, she has also produced her own shows that air via television and social media.  She has also appeared on The Word Network, TCT, Impact TV and many other Christian and secular networks.  Cherisse Stephens is an international recording artist and her music continues to bless the nations. Most importantly, Evangelist Cherisse Stephens is proud to be the wife of Preston L. Stephens and the mother of their two awesome sons, Preston & Brandon. Her goal is to be the Proverbs 31 Woman, which is the Ultimate God's Cover-Girl!
"We desire to provide a real-life transforming experience – spiritually, emotionally and physically for every woman and girl we encounter. I believe that faith-based teachings combined with practical application, truly empower people for change," says Stephens. "We've been hosting these life-changing conferences for years, and each year we're blessed to offer scholarships for our youth to attend our conferences, thanks to our sponsors and private donors. This year is no different. We are looking for businesses to sponsor a girl, a family or even a women's small group to help offset the costs," Stephens says.
Attendees can register for the conference through GodsCoverGirls.Eventbrite.Com and through our online store via Square Market. Adult registration is $50; $20 for Youth; and $40 for Groups of 10 or more if registering together. The VIP registration is $99 per person and includes VIP seating, welcome reception and more. Vendor registration is $100 and available on a first-come, first-served basis as space is limited. To book rooms, go to aws.passkey.com/go/GodsCoverGirls  or call 1 888-421-1442 (God's Cover-Girls Room Block). For more information about GCGC 2018, e-mail GodsCoverGirls18@gmail.com or call the administrative office at 678.341.0371.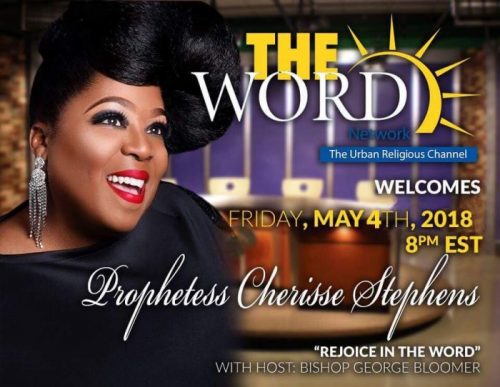 Finally, Evangelist Cherisse Stephens will be appearing on The Word Network THIS Friday, May 4 if you would like to get a taste of her ministry. Please see the flyer to the left for the details!
Any thoughts?